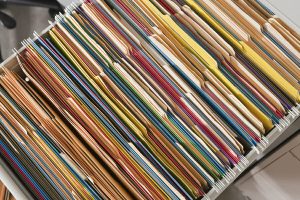 If this picture of files is how you keep employee records, today's DisruptHR talk is for you. For everyone else, consider what Louise Rogers tells her Edinburgh, Scotland audience just a good reminder about the value of HR technology, and, we should add, the importance of not letting tech overshadow the human part of your job.
That latter part, that's her closing enjoinder: "With all of this technology," says Rogers, CEO of Human Resources Intelligence, "We can't forget our humanity. It's the most essential skill."
Freeing up HR to focus on the workforce, to actually be able to implement some of those programs you hear about at conferences or read about here on TLNT, that's the benefit of HR tech. "The joy of it," Rogers exclaims, describing her journey from handling requests and managing paper, to being able to do more with people. Technology, she says, "Can provide us with the insights to support better decision-making or develop plans that will enable our businesses."
Of course, technology not only is changing the way human resources is practiced, it has already changed the way work is done. And more change is occurring as AI makes it possible to automate more of the routine and repetitive work. "HR needs to be at the forefront of understanding these changes to help our businesses navigate them," Rogers says. Enabling HR professionals to do that is the value that HR tech brings.
"In the end," she says, closing, "HR tech is there to help you."
In partnership with DisruptHR, TLNT presents some of the best Disrupt presentations from events across North America and now the world. Disrupt talks are modeled on the TEDx concept: Short, to the point talks on all things HR — talent, culture and technology.