Do you remember when job-hopping was an immediate resume red flag? A list of short-tenured positions with different companies implied a candidate's reluctance to commit or inability to stay employed. Why hire someone who probably won't stick around long if you're just going to have to find a replacement a couple of years or even months down the road?
Times are changing, as unfilled positions outnumber the unemployed. With more than 7 million US job openings, the possibility that a more rewarding career opportunity exists is luring talent away from their employers to explore greener pastures. So, does this mean that job-hopping is now the norm?
To find out, we surveyed 1,171 active and passive job seekers spanning various industries and company sizes. Not only had 51.7% of survey participants left a job voluntarily in the past five years, but also 75.5% of employed respondents planned to stay with their current employer no longer than five years. Moreover, 35% of employees admitted to job searching on the clock – reinforcing the temptation of a seemingly better gig (and costing employers valuable time and money).
What employees want
If job-hopping really is more typical than taboo, employers need to double-down on their retention strategies. After all, US businesses are losing $1 trillion every year due to voluntary employee turnover, according to a recent Gallup report.
In our survey, we asked employed respondents to imagine they've received a job offer at another company – what could their current employers offer to convince them to stay? Here's how their responses ranked (note: participants could select up to three answers, so percentages add up to more than 100%):
Raise or bonus (48.6%): Due to the rising cost of living and tendency for older Americans to delay retirement due to insufficient savings, it's not surprising that nearly half of employees selected monetary compensation among their top three incentives to stay.
Better benefits package (25.1%): When's the last time you took a good look at your benefits package? You might be long overdue for re-evaluating your offerings as part of your retention efforts.
Healthier work/life balance (22.1%): Burnout is now an official medical diagnosis and a 2017 survey of HR leaders found 95% agreeing it's "sabotaging workforce retention."
Clear growth/advancement opportunities (21.6%): Similarly, 11.7% of employed survey respondents said "few growth/advancement opportunities" would be the primary reason they'd leave their current job.
Flexible/work-from-home scheduling options (14.7%): Allowing for remote work can also help your staff strike the work/life balance they desire.
Meaningful recognition (11.7%): Don't forget to acknowledge your team for a job well done, professional milestones, and personal achievements – a little bit can go a long way.
Promotion (11.3%): A new role more than likely comes with a pay increase and addresses the need for growth.
None of these things/nothing (11.3%): Well, it's not technically one of 20 ways to improve retention, but survey results confirmed that you can't keep everyone aboard for the long haul, no matter how hard you try.
Paid time off (PTO) (9.4%): Giving staff another reason to enjoy their vacation or spend time with family is always a plus.
Training opportunities (8.5%): Not only did employees want a clear path for growth, but also the tools and resources to accelerate their journey.
Other (8.4%): Common "other" answers included increased staffing levels, management changes, better communication, and greater transparency.
Student loan repayment assistance (4.3%): Recent college grads carry approximately $30,000 in debt, so it's easy to see why this work perk is gaining traction.
Regular performance feedback (3.6%): Address this need by holding bi-weekly or monthly 1:1 meetings between staff and team leads/managers.
Wellness programs (3.3%): Whether or not these programs make your employees healthier, they can help enhance the perception of your employer brand and company culture.
Tuition reimbursement (2.8%): Supporting employees' interest in continued education can help them grow professionally and personally.
Relocation assistance (2.0%): The average commute is getting longer, which can persuade an employee to seek a job opportunity closer to home.
Free food/snacks (1.4%): A stocked kitchen on site isn't the silver bullet for retaining staff, but never underestimate the power of small perks.
Casual dress code (0.9%): Is it time to retire the suit and tie? A mere 20% of offices enforce a strict dress code, according to a survey by Lyst.
Pet-friendly workplace (0.9%): This one is low on the list, but it is by no means a far-fetched tactic for employee retention.
Volunteer opportunities (0.4%): The chance to give back during work hours ("volunteer time off") can be appealing to community-minded individuals.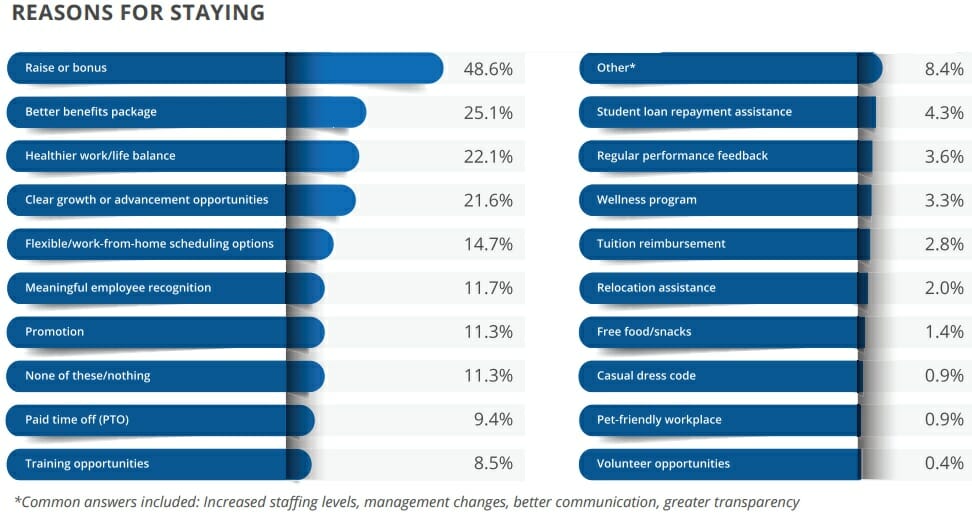 Think beyond dollars
Given respondents' interest in raises, bonuses, promotions, PTO, and student loan repayment assistance, money talks in the realm of employee retention. However, employees surveyed clearly valued opportunities to grow, learn, and advance their careers.
If you want to keep your best talent aboard, help them pave a more distinct path toward their goals. Offer the resources, tools, and training to get them there, and provide meaningful recognition, feedback, and support along the way.
Lastly, consider how your company culture affects your staff's propensity to stay or leave. Small perks like wellness programs, casual dress codes, and flexible scheduling options can make big impacts – they add up to create an enviable workplace culture that cannot be found anywhere else. Combine those perks with a healthy work/life balance, and you'll be on your way to better retention rates.
Job-hopping is now a norm, so that means you should kick your retention efforts into overdrive and show your employees that the grass isn't always greener on the other side.