2022 – very shortly it will all be over.
And what another huge one it's been for HRDs.
2022 has been the year where an estimated 50 million Americans have voluntarily quit their jobs (averaging more than 4 million a month), and where the battle to hire scarce talent is an almost ongoing one.
It gave rise to the 'Great Resignation' (which has actually been happening for a lot longer), and also coined the term 'quiet quitting' – a phrase that's arguably just a substitute for 'disengagement'.
The reality of these numbers can be seen in Bureau of Labour Statistics data which suggests that each month during 2022, there were around four million more openings than there were people being hired (10 million compared to 6 million). This is typically bad news for an economy, because when people quit, they do so for higher-paying jobs – and so employers pass this on in the form of higher inflation (and so the cycle continues).
So how would you sum up 2022, and what will trends in 2022 tell us about 2023?
Tomorrow we bring you what experts predict will feature most in the year ahead, but before this, we cast our gaze over 2022 to pull out some of the key trends we've identified:
2022 was the year when…
…offices demanded workers to come back to the office
Employers decided enough was enough, and for many, 2022 was the year the homeworking holiday came to an end.
In the week following Labor Day, office usage in ten major metro areas neared 50% of 2020's pre-pandemic attendance, according to data crunched by propert management company, Kastle Systems.
On top of this, a survey of more than 160 major Manhattan office employers between August 29 and September 12f by The Partnership for New York City, a business industry trade group, found 49% of Manhattan office workers were currently at the workplace on an average weekday – up from 38% in April. It predicts 54% of workers will ultimately return to an office setting by January 2023.
The results seem to chime with a recent survey by the Society for Human Resource Management, which found that managers overwhelmingly had 'negative perceptions' still about those that worked from home.
Despite employees favoring remote work, [what Goldman Sachs' CEO claimed was merely an 'aberration'), some – it seems – are reluctantly trudging back to the workplace. In the US, for example, fewer employees are now working hybrid (46%) compared to the global average (49%). One-third (31%) of US employees are the office five days a week (source: www.hcamag.com).
However, not all are going back without a fight. Clarify Capital recently questioned more than 1,000 Americans, and found 68% of remote workers would now consider searching for a new job than go back to the office. Many still need some serious perks to lure them back. To even consider returning to the office, 34% want flexible working hours; 33% want their own office space, and 32% want casual dress. A further 30% wanted a four-day work weekend, and 29% wanted health stipends.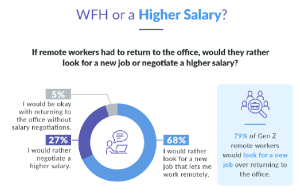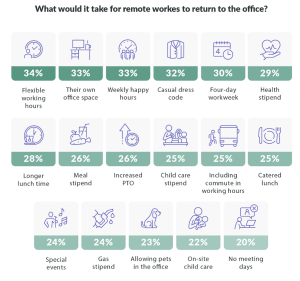 … more staff wanted to skip work
 With 'The Great Resignation' in full flow and the emergence of 'quiet quitting' in 2022, it was perhaps no surprise that staff were spending 2022 looking at ways they could skip off work – possibly to find work elsewhere.
Analysis of Google searches by Frank Recruitment Group (see below), has revealed that during 2022 searches for 'realistic excuses for missing work' jumped from 173,910 in 2021 to 234,870. Searches for 'good excuses to miss work' nearly doubled from 96,640 to 147,220 while 'believable excuses for missing work' leapt from 111,740 to 168,730.
All-told, the top ten keyword searches for searched for nearly 5 million times.
Commenting in the figures Dr Shané P Teran of SP Consulting said as well as highlighting instances of disengagement, the figures also be a sign that staff are not being allowed to work flexibly.
She said: "People are not experiencing the grace and understanding from employers that they need; which leads to a resolve of faking it but escaping by any means necessary."
She added: "People are needing to take more time off in order to manage the long-lasting stressors that come with readjustment". It's also true that employers are readjusting, often with the result that workloads are higher, more deadlines are fixed, and the overall culture of self-care is spoken, yet not often enforced and supported."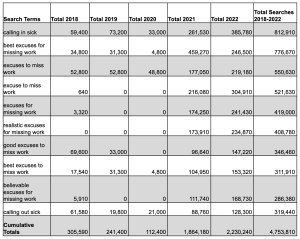 …layoffs were starting to get people worried
Even before Twitter, Facebook and HP announced big end of year layoffs, IT employees were already getting twitchy about their job security.
In July alone it was revealed that more than 40,500 people had searched "tech layoffs" compared to 480 last year, with this particular search term has increasing by 3,015% between June-August 2022.
 Amongst the top searches were 'Tesla layoffs' (74,000 in June 2022) and 'Coinbase layoffs' (49,500).
It wasn't just tech sector layoffs that were getting people worried. Tending searches in the first half of 2022 included 'startup layoffs' (an increase of +15.9K% since last year); 'bank layoffs' (up by +1.6K% since last year); 'mass layoffs' (which increased by +1000% since last year); and 'company layoffs' (which have risen by +650% since last year).
…when inflation dominated everyone's lives
 In 2022 where inflation reached more than 8.2%. Even those it has since fallen to 7.7% (and by a larger than expected amount), it's still at its highest since 1982, meaning employees have less in their pockets in real terms.
All-told, real (inflation-adjusted) average hourly earnings fell 3 percent, seasonally adjusted, from July 2021 to July 2022, the Bureau of Labor Statistics reported.
When factoring in a decline in the average workweek since a year ago, the result is a 3.6 percent drop in real weekly pay for the average hourly worker.
Reflecting this, it's perhaps no surprise that employer review site, Glassdoor, has just announced that 'inflation' is its 'Word of 2022'.
Its own analysis of its platform revealed that during 2022, there was a 232% spike in mentions of 'inflation'. This represents a threefold increase compared to 2021. Meanwhile the share of employee reviews mentioning 'salary' and 'pay' negatively increased by 14% this year.
Discussions mentioning 'layoffs' and being made 'redundant' surged by 101% this year in Glassdoor reviews – a measure of just how anxious employees really are.
By comparison, mentions of the word ''flexible' saw a growth of 11% in 2022, as employees discussed flexible hours and working arrangements. Previous Glassdoor research has found that 60% of people with flexible working patterns feel happier and have a better work-life balance.
Other notable mentions:
Legal updates:
March: President Biden signed the Ending Forced Arbitration of Sexual Assault and Sexual Harassment Act. Amending the Federal Arbitration Act, it allows staff subject to pre-dispute mandatory arbitration agreements to pursue claims related to sexual assault or sexual harassment in court. The law also allows workers to choose how to pursue their cases after sexual assault or harassment has occurred.
May: The US Department of Labor's Wage and Hour Division (WHD) enforces the Family and Medical Leave Act (FMLA), which enables workers to take time off for mental health treatment for themselves or to care for family members.
 October: To prevent the mis-classification of workers, which "deprives workers of their federal labor protections, including their right to be paid their full, legally earned wages," the US Labor Department said it would make it more difficult for companies to treat workers as independent, or 'gig', contractors.
Top news stories…
January:
* Apple becomes the first publicly traded company to exceed a market value of $3 trillion
* The Supreme Court blocks the Biden administration from enforcing its vaccine-or-test requirements for large private companies.
February:
* After revealing its first ever drop in daily user numbers, the share price of Meta falls by 26.4%, with Facebook losing $230bn in its market value, the biggest one-day loss in history for a US company.
* The cumulative death toll from Covid-19 breaks the 900,000 mark
April:
* Amazon workers at the JFK8 in Staten Island vote 2,654–2,131 to form the Amazon Labor Union, making them the first workers to unionize
* The Bureau of Economic Analysis releases data showing that in the first quarter of 2022 GDP declined at an annual rate of 1.4%, marking the first time GDP shrank since the second quarter of 2020.
* Ketanji Brown Jackson becomes the first Black woman confirmed as a Supreme Court Justice in a 53–47 vote.
May:
* Across the country, thousands of people protest against the leaked draft from the Supreme Court of the United States in defense of abortion rights.
* The official death toll since the start of the Covid-19 pandemic exceeds one million.
June:
* Florida reports the first cases of the Omicron BA.4 variant
* The Iowa Supreme Court holds that abortion is not a protected right in the state.
* The Supreme Court rules that the Constitution of the United States does not confer a right to abortion, thus overruling the 1973 case Roe v. Wade.
* The Supreme Court rules that schools and public employers cannot regulate employees exercising religion.
July:
* Federal judge Charles E. Atchley Jr. issues a preliminary injunction to block the enforcement of an executive order by the Biden administration which seeks to protect LGBT individuals from educational and workplace discrimination at the federal level of government.
* A federal investigation into Amazon is opened by the Occupational Safety and Health Administration after the death of one of its New Jersey warehouse workers during the company's Prime Day event.
August:
* The national unemployment rate fell to 3.5%. The US economy adds 528,000 new jobs.
* OSHA opens a second investigation into Amazon following the deaths of two more people at the company's warehouses.
* Federal judge Sheryl H. Lipman rules that Starbucks must reinstate fired employees in Tennessee who attempted to unionize.
September:
* New York City sues the coffee giant for firing a union organizer.
* The largest strike of private sector nurses in the history of the country begins in Minnesota.
* The Department of Education partly reverses its earlier decision to forgive student loans.
October:
* Meta Platforms reports another earnings miss, losing 23% of its market value the next trading day. Meta CEO Mark Zuckerberg subsequently announces mass layoffs for 11,000 employees the following month, or 13% of its entire workforce.
* Elon Musk completes his $44 billion acquisition of Twitter.
November:
* The Federal Reserve hikes interest rates by 0.75% to 3.75-4%, their highest levels since 2008.
* Former President Trump announces he's running for president again in the 2024 election.
* San Francisco approves the deployment of robots capable of using lethal force in policing.
December:
* The Federal Reserve raises interest rates by 0.5 percentage points. The new federal funds rate is at 4.4%.
* President Biden and Congress agree to fund the government for an additional week to avoid a U.S. government shutdown.
* Starbucks baristas begin a three-day nationwide strike, protesting against the company's efforts to combat labor unions.