Note: The 2017 list was issued last month. Find it here.
To make it onto Bo Burlingham's The Best Small Companies In America, 2016 list on Forbes, a company had to meet six specific criteria. Although each criterion is critical, one stood out to me specifically:
"It has had the opportunity to grow much faster, but its leaders decided to focus on being great rather than just big."
The idea of leaders focusing on being great rather than big accounts for more than just their success with customers — something mid-market companies often ignore. This special element allows small companies to focus on hiring employees who will stick it out for the long haul.
With the war for talent still going strong, all companies need to target retention issues – starting with the hiring process. In fact, according to my company's recent report, Top 5 Predictors of Employee Turnover, smaller organizations have a greater ability to get employees to stick it out longer.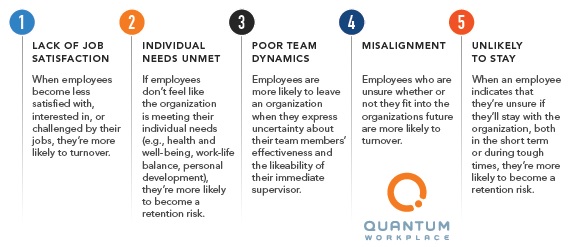 It's worth digging deeper, so here are three employee retention lessons mid-market businesses can learn from small companies:
1. Hire to fill careers, not spaces
Due to their limited hiring volume, managers and HR pros at smaller organizations take more time to fully understand and commit to their company culture. This allows them to hire based on cultural fit and smoothly transition new employees into their careers.
On the flipside, many mid-market organizations rush to fill open positions with warm bodies. Understandably, companies with more openings hurry to find qualified candidates to keep operations moving forward. However, rashly hiring employees with a specialization or narrow skillset without focusing on their expectations and personalities will damage your employee retention efforts.
What the best do: Blink UX is a user experience consultancy, one of Burlingham's selected few best small companies of 2016. It focuses on cultural fit throughout an employee's entire time with the company. Leaders begin by telling candidates during the hiring process they want them to retire with Blink UX. They go on to reward those who embody their culture and values by choosing at least two employees each year to become partners in the business.
Apply that: Hiring to fill open spaces for the long-haul will increase employee retention. Because mid-market organizations have multiple cultures throughout departments and teams, get employees involved in the hiring process. Use a panel of trusted non-managers during second round interviews to help narrow down candidates based on culture and fit.
2. Keep your promises
Unkept promises are bad for business. This is especially true when employees are promised important perks or benefits during the hiring process.
What the best do: At Service Express Inc. (SEI), an onsite maintenance company and another best small company winner, employees meet with a manager from the start to lay out personal, professional, and financial goals. Ron Alvesteffer, CEO of SEI, and his team work with employees to help achieve their goals.
Twice a year, managers follow up with employees to reassess goals and offer support – just as they promised from day one. Alvesteffer says this focus on his team has produced a yearly turnover rate of less than 10% and a customer retention rate of 98%.
Apply that: Offer benefits during the hiring process that employees can carry throughout their career. Employee retention relies on honesty and transparency from the beginning.
Keep yourself and your team accountable by holding quarterly meetings for managers to discuss benefits and perks and determine if employees are using these opportunities.
3. Be willing to help employees grow
Thanks to their focus on hiring for cultural fit, many smaller companies aren't afraid to hire entry-level employees with larger goals already in mind. In fact, because these candidates are excited about growing into their future, these new hires are exactly what you need to boost retention efforts.
What the best do: Tasty Catering, an Illinois-based catering company, takes employee opportunities to an impressive new level; Tasty's employees have launched 12 ventures of their own. The company not only offered its full-fledged support, but also gave funding to help employees start a bakery, gift company, and creative agency.
"I get to sit and watch like a proud father as these companies started by our employees continue to do well and deliver tremendous returns," said CEO Tom Walter.
Apply that: Look deeper into the attitudes and beliefs of candidates. Ask about their future goals with your company. Sit down with each person before making your final hiring decision, getting to know each candidate on a deeper level.
If it's a virtual position, use video interviews. Make second- or third-round interviews a bit more informal to learn more about the candidates.
This helps you create meaningful relationships and make hiring decisions that will strengthen employee retention. Even if someone isn't right for the position right now, they may be exactly what you're looking for in the future.