While employment opportunities in the technology sector have grown at twice the rate of the national average, high-tech firms have struggled to increase diversity within the workplace. Data compiled from voluntary disclosures to the EEOC reveals large racial and gender disparities within tech workforces as compared to the private sector overall. Recent studies show that improving ethnic and gender diversity within the technology workforce presents an economic opportunity that could result in as much as $570 billion in new value for the tech industry, and could add as much as 1.6% to the national gross domestic product. With a new analysis of challenges to diversity in the tech industry, it is an ideal time for employers to evaluate diversity initiatives currently in use.
In the past, experts blamed the American education system for failing to provide women and minorities with the type of instruction needed for future careers in technology-driven fields, thereby causing a lack of quality applicants in selected science, technology, engineering, and mathematics (STEM") occupations. Experts also opined that women and minorities self-selected away from STEM fields, contributing to a lack of diversity in the tech industry employment pipeline. Based upon that thinking, tech companies have focused diversity initiatives on efforts intended to increase diversity within the talent pipeline.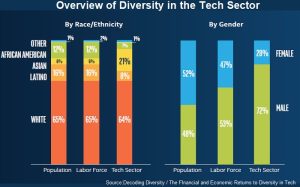 New research suggests that the lack of diversity in the talent pipeline is only part of the problem. In a recent report, the Kapor Center for Social Impact, an organization that aims to increase diversity and inclusion in the technology industry, opines that the lack of diversity in the technology sector results from a complex set of social and psychological barriers that occur across the length of the technology pipeline. While a lack of access to education impedes diversification of the tech industry, the report also cites environmental workplace problems, such as inhospitable corporate culture and unconscious bias, as factors that both impede the entry and facilitate the exodus of women and minorities in the tech workforce.
Research also suggests that taking the following steps may address environmental factors that cause underrepresentation in the tech workforce:
Articulate a company-wide commitment to diversity
A comprehensive organization-wide diversity initiative should begin with a commitment to diversity and inclusion that is articulated by the highest levels of management in the organization. A comprehensive strategy includes the evaluation of an organization's recruitment, interviewing, performance management, and promotion processes to identify potential biases and weaknesses. While employers can specify diversity goals, employers should seek advice to ensure that the articulated goals are compliant with state and federal anti-discrimination laws.
Consider implementing social accountability tools
Employers should determine how management will be held accountable for supporting and engaging in diversity and inclusion initiatives. A corporate diversity task force can be an effective tool to promote social accountability. Diversity task forces comprised of department heads and members of underrepresented groups can be tasked with promoting events to bring awareness to diversity and inclusion in the workplace, engaging teams in diversity and inclusion conversation, and reviewing and proposing policies and procedures to promote workplace diversity and inclusion.
Promote inclusion with targeted training
In addition to anti-harassment training, employers should consider providing training with exercises such as perspective taking and goal setting. Evidence suggests these exercises can improve attitudes towards diversity. Perspective-taking exercises ask participants to mentally walk in someone else's shoes. Goal-setting exercises can be adapted to ask participants to set specific goals related to diversity in the workplace (e.g., challenging inappropriate comments overheard in the future, coupled with training about response and reporting such incidents).
Consider implementing a mentoring program
Workplace mentoring programs can both engage management in diversity efforts and help retain underrepresented employees in the tech industry. Formalized mentoring programs can provide a mechanism for managers to develop assigned protégés, and these programs can help underrepresented groups who may need greater assistance finding a mentor. When successful, mentorship programs encourage mentors to sponsor their protégés for key training and assignments, regardless of their gender or ethnicity, which can lead to increased representation of women and minorities in management ranks.
Conclusion
Issues regarding diversity and inclusion are not static. Employers may need to periodically revisit diversity initiatives and goals. By utilizing empirically supported activities, however, employers can fine-tune initiatives to progress towards a more diverse workforce.