In the workplace, accidents can happen anywhere and at any time. It doesn't matter if employees sit at their cubicles all day and don't use heavy equipment: In every single work environment, there is a risk of on-the-job injury or illness.
According to the Bureau of Labor Statistics, in 2015, there were about 2.9 million reported cases of nonfatal workplace injuries or illnesses in the United States that happened at private businesses. In the public sector, there were 752,600 cases.
Over half the private industry injury and illness cases involved days away from work, job transfer, or restriction. And contrary to what you might suspect, of the 2.8 million reported injuries, 75% of them were among employees in the service sector. Workers in warehousing and transportation had some of the highest rates of injuries and illnesses, while rates among healthcare workers and those employed in the hospitality industry were not far behind.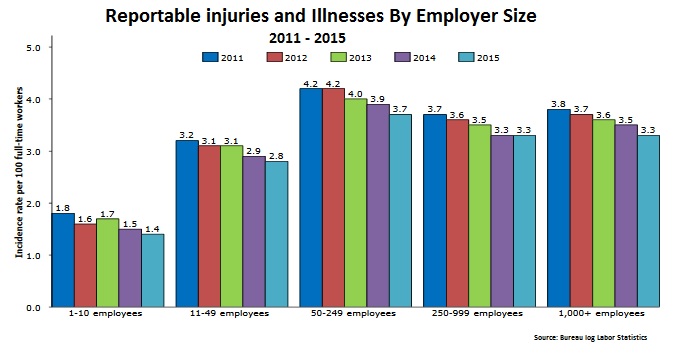 Though you should always take human error into calculation, there are a number of things you can do as an employer to avoid employee illness or injury. By taking the following steps, you'll be able to better manage your workers' compensation, as well as keep employees safe.
1. Thoroughly screen all employees
Before you hire anyone, you may want to require a drug or alcohol test, especially if the job is mostly physical. Ask interviewees on the application whether or not they have a history with substance abuse. You'll also need to inquire about their driving record if the job involves a lot of travel, and check certifications your employees say they have. As a general practice, it's a good idea to look into past employer references as well.
2. Ensure employees are properly trained
Do your employees receive proper training when they're first hired? Do you require that they update their training once every quarter or once a year? Are your managers looking over your employees to confirm they are following the safety practices you put into place? You need to make sure your workers learned all of the proper training procedures, and that they're actually utilizing them while on the job.
3. Provide appropriate protection
Many jobs don't require protective equipment. But if your employees are lifting heavy objects, doing construction or partaking in any type of physical labor, you need to supply them with protection. This could include a back-support brace, fire-retardant clothing, steel-toed boots or safety goggles. Even if your employee is simply picking up objects, over time, this range of motion could hurt their back and cause damage. Don't just think about the short term when coming up with your protection — take long-term precautions as well.
To guarantee that employees are wearing all the right equipment, make a checklist they can go over before they start work. If employees are consistently breaking the rules, discipline them for not putting on the protection. In some cases, you may need to let them go. You can't risk hurting them or your business.
4. Bring employees back to work
To close out a claim quicker, you can work with your injured or sick employees to get them back on the job as soon as possible. Even if your employees can't complete their old jobs, they can do something around the workplace to stay productive. Psychologically, your employees will be better off as well, since they'll return to their old routines and be around colleagues instead of alone at home and feeling listless.
5. Reassess your workers' comp premium
If you think you can get a less expensive workers' compensation premium, you should be in touch with your agent. You may be able to lock in a cheaper multi-year rate, or consider changing workers' compensation insurers when the market is soft and insurance agents are hungry for new customers. To get the lowest rate possible, you need to be able to prove that you have a clean workers' compensation history, you offer safety and training procedures and you're organized. Your agent will be happy to shop around for you if that is the case.
Workers' compensation insurance and claims can take a toll on a business. However, with some preparation and safety practices, you can decrease your chances of workplace illness and injury, as well as snag those lower rates.