At the end of the first quarter of 2017, 45% of small businesses reported that they were unable to find qualified applicants to fill job openings. Our own research, Becoming A People Company, shows that growth can be particularly challenging from a workforce perspective. 84% of HR leaders we surveyed said the struggle to find and recruit the right people for growth is a significant pain point.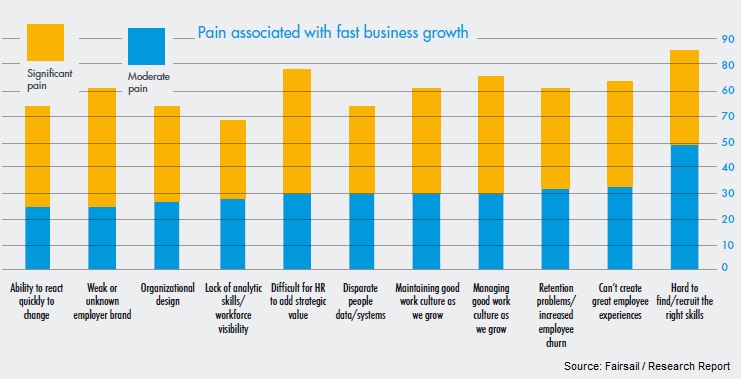 If jobs go unfilled, business expansion slows. Until recently many organizations would have relied on filling some of these specialized roles with foreign talent through H1-B visas. However, as President Trump has placed these under increased scrutiny, organizations must instead put a bigger focus on fostering and retaining existing "home-grown" talent.
Here are the five steps I recommend to achieve the best results in attracting and retaining talent.
1. Build a self-sustaining model with people science
The need to attract and retain the best talent doesn't ever stop, it merely evolves with the business. The first step for HR and people leaders is to recognize the need for and begin to build a self-sustaining model that ensures they can do so at the same rate to enable continuous growth. Digital data collection and analysis is the back-bone of this, enabling the HR team to use what they collect to make more informed, people-based strategic decisions to fuel productivity and business growth.
We've already seen sales and marketing teams go through this data science transformation over the last decade, with great success. Now it's the turn of people science. The HR function and model of the future will be more analytical, and data and systems-centric. The best businesses have already started making this transformation, with 93% of high-growth organizations in the US investing in chief people officers to put people data at the heart of their agile growth strategy.
2. Identify your skills gaps and your most talented employees
Once the decision to invest in people science and a self-sustaining model has been made, you must work to identify the skills gaps within your organization. That seems obvious, but our research found 60% of HR leaders would struggle to produce information about skills gaps and employee churn if their CEO asked for it today. Using the right HR technology to gather and analyze people data from digital reviews and employee engagement surveys, for example, is very valuable in identifying gaps and potential churn.
Then, you need to identify your potential "fillers" and best talent, already within the organization. Working with department leaders is vital for identifying these stand-out employees. Managers will naturally have the best sight of who has the most potential – and if they don't, then they should be trained to spot the vital markers.
Making it a strategic priority among senior management is also a must so that you have their buy-in to develop processes and invest in the right infrastructure to support your campaign.
3. Map out a route for individual and organizational growth
Now you've found the right people within your organization, you need to ensure they're in the right place. Almost half (47%) of HR leaders in our survey doubt that the best people within their organizations are in the right roles to drive growth. So, once you've identified your gaps and your best talent, you need to take the time to really get to know your employees and map out a route for their individual growth, which also supports your overall objective for organizational growth.
Ingraining into the company culture the expectation of regular 1:1 conversations between manager and their direct reports about areas of strength and growth will help to ensure employees are always in constant conversation about their personal development process at the company.
4. Invest in your "growth warriors" to get them where you need them to be
Once you've worked with your best talent to establish a professional roadmap, you need to invest appropriate resources into ensuring that they get there. This should be a joint exercise among the learning and development team, managers and business leaders to ensure that the right investments are being made. This is particularly important when it comes to highly-specialized roles.
There is also value in bringing these "growth warriors" together as a team so they can communicate, collaborate and potentially generate new ideas for the business. I've heard of businesses who cherry pick their finest young talent to create "junior boards" or "innovation squads." Initiatives like these help engage and motivate less experienced, but very valuable, members of staff while also upskilling them and focusing their creative energies towards the good of the business. Done right, it's a win-win situation.
5. Consider creative and personalized retention strategies
Retaining good people long-term has become very difficult. 41% of millennials expect to be in their current job for two years or less (compared to 17% of Gen X and 10% of Boomers). Given that more than one-in-three American workers today are millennials, HR leaders need to factor in this generational divide.
If people don't feel challenged and valued then they will look elsewhere and you'll be back to square one – and your competitor will be enjoying the value of your investment. Re-think your company rewards, incentives and culture in-line with the requirements of your most valued workforce members.
As the pressure to grow and innovate is a continuous one, HR leaders must take a leading role in ensuring their employer has the workforce it needs to get it done. It sounds simple, but our research reveals that many don't have the data and strategies in place to do so. By following these five steps there's no reason why you cannot foster and retain the talent you require for agile growth.