A new research brief by Aberdeen Group looking at Human Capital Management trends for 2014 highlights that talent acquisition — specifically the scarcity of talent available in the external marketplace — is the biggest driver of HCM strategy today.
Last year, we saw a lot of discussion around talent acquisition (in another report by Aberdeen, shortages of key skills were cited as a top challenge by 64 percent of respondents, up 55 percent from 2011) and as the economy continues to recover in 2014, it appears this trend will continue.
What are organizations doing to combat this? According to the report, the most commonly cited strategy by respondents involved developing front-line business leaders as talent leaders to create a vital connection between talent strategy and business execution.
Giving needed support to front-line leaders
The reasoning plays out in a connect-the-dots, A to B, "the knee bone's connected to the hip bone," fashion. If employees with the greatest ability to see both business needs and the skills/capabilities of the talent on the ground (front-line leaders) are empowered as talent leaders, it ensures communication between HR and business leaders around talent initiatives and increases the chance of identifying gaps in business strategy.
There's data to back up this strategy.
A study conducted by Aberdeen last year found that top-performing organizations were 73 percent more likely than all other organizations to have dedicated learning programs for front-line leaders, and committed 40 percent more of their training time to leadership skills. As the brief points out though, for the strategy to succeed it is important front-line leaders are given the necessary support and tools to handle talent processes as well as day-to-day business goals.
Yes, accountability DOES pay off
Technology and automated performance tools provide a plausible solution to this concern, offering greater efficiency to workforce processes. Currently, 56 percent of organizations report that line of business leaders are accountable for talent management initiatives such as hiring, developing, and performance management within their teams.
As you can see in the below graphic, this accountability pays off, increasing businesses likelihood of having employee development plans in place, offering a higher number of employees that exceed performance expectations, and seeing greater retention of high performers (which is especially important at a time when talent scarcity is a top concern).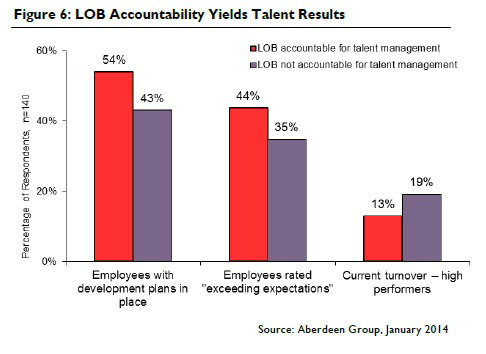 This originally appeared on China Gorman's blog at ChinaGorman.com.