Note: Today begins a 4-part series on compensation practices for small companies. Over the next four weeks, Margaret O'Hanlon will show how a small company typically deals with compensation, discussing each of a few key practices and what problems these may create as the company grows. Each week she'll offer her insights on how to improve these practices to avoid difficulties as the company expands from under 100 employees to 1,000. Each installment of the series will be published on successive Tuesdays. Links to the previous sections are here.

∼∼∼∼∼
If you're an HR office of one, busily juggling everything from beneficiary forms to incentive awards, it's hard to believe that you share any pressures with other HR managers. After all, your company and culture are unique, your CEO directs a lot of the key decisions personally and, often, market forces are exclusive to your products and/or services.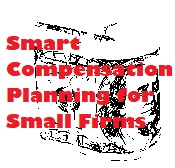 Nonetheless, consultants and researchers will tell you that there are some predictable similarities between the reward challenges of companies that are the same size and/or at the same stage of development. If you can learn from what others have done who were in your shoes, your program design decisions could be favorably influenced, and you can go home many more weekends feeling confident that you're an effective HR leader.
I am beginning a series with the goal of giving you that kind of boost.
When organizations are categorized, typical size categories are: Fewer than 100 employees; 100 to 500 employees; 501 to 1,000 employees; and so on. I will cover the first three sizes in the series and leave it at that. By the time a company has 1,000 to 5,000 employees, HR has a lot to go on. There is a good-sized HR budget, plus the total HR and compensation staff usually adds up to at least six practitioners who have had enough experience to know what "wellness" looks like.
Here's the principal that inspired me to write the series: If you start with healthy compensation habits, you'll be equipped to make healthy decisions as your organization grows. We'll look at case studies of typical compensation design and operating decisions based on company size and, respecting your organization's uniqueness, and offer things to take into account — rather than requirements — that should help you prepare for your company's (inevitable) future decisions. The emphasis in the discussions will be key decision points that could build or undermine HR's role as strategist.
The Health Gadgets example
Case background: Healthy Gadgets is a new medical device company with fewer than 100 employees who both research and produce its products. The company has one HR practitioner who wears many, many hats. Here are some of the compensation decisions typically made in a turbo-charged, highly fragmented setting like Healthy Gadgets'.
HR operating context: Predictable revenue and productivity are the company's overarching operating goals. Since there are no clear paths to achieving these goals yet, nor are there enough performance data to make reliable plans, day-to-day work can be erratic for everyone. Because the organizational infrastructure is in development, the CEO plays a very visible role in daily work and influences decisions at all levels of the organization including the selection of many new hires.

Let's look at the compensation practices you typically see in an organization of fewer than 100 employees. Note: Be sure to read the subsequent comments about how "healthy" these habits will turn out to be.
Setting salary
Salary administration practices are limited to one-off salary decisions made in tight timeframes. Employees arrive either to fill an urgent workflow demand or to become a "founding" leader of the business. HR doesn't have a budget for salary surveys. Managerial and executive recruits often find that their initial salary requests are approved. Other employee pay decisions are often based on data gathered from local job listings found on online job boards.
"Do your best with what you've got" is the mantra in one-person HR shops. The thing is, this way of managing salaries in small companies seems like a dandy quick fix, but ultimately ends up being short-sighted. Many "founding" employees will become long-term employees, whose entry salary will direct every future salary decision you make about them. Over- or under-paying now will cost real money, so the $3,000 that an online national survey costs is actually a negligible amount compared to the budgetary impact of overpaying salaries and HR tail-chasing.
Instead of giving the CEO and managers a blank page to work from, consider writing up guidelines from the start, identifying the parameters that salary offers should be based on, how internal equity should be considered in the mix, and so on. (If you don't take the reins, albeit gently, you're setting yourself up to be seen by the CEO and managers as an "order taker" starting from the very early days of the company.)
Implement a bonus policy
An annual bonus may be offered to all employees, but is often based on vague measures that drive short-term results. Payment of bonus is determined by the CEO after the "books are closed" and results are discussed with the board, if there is one. Employees gauge the probability of earning the bonus on what they've heard about previous years' practices.
Note that these practices tend to send employees the message that bonuses are discretionary and that individual performance has a very uncertain influence on annual results. Because of this, HR would benefit from coaching the CEO and managers how to talk with employees about how performance influences the bonus and how the bonus acts as a form of incentive. Otherwise, consider the long-term impact of employees developing the view of the bonus as a gift from management, like those turkeys that used to be handed out for Thanksgiving.
Have consistency in what titles mean
Job titles are played down in small companies; nonetheless, employees campaign for titles that signify leadership. Department heads assign titles when their employees put real pressure on them. However, some jobs are not assigned titles until they will need to be listed on the "About Us" section of website or when business cards are needed for a conference.
Consistency in titling will inevitably become important to company operations. Start from the beginning by at least settling on levels and associated titles in a broad way. You know, guidelines like the title, "Manager," can only be applied to those who run functions and/or oversee employees in a department, "Director" can only be applied to another specific role, and so on.
Adopt your payroll provider's system
HR has engaged a payroll provider, but has held off on other online administrative support. Most communications related to pay are about policies and deadlines.
Why not build a robust database from the beginning? Payroll providers often offer ways to organize employee data and run reports. Unless the provider's approach is too idiosyncratic to its own platform, consider adopting these services early, especially if you can integrate manager access, so employee data becomes SOP for them from the get-go.
Many payroll services offer auto-messaging capabilities that you can use for announcements to employees. Don't lean on these exclusively. They have a robotic voice that is nothing like the relationship HR wants to develop with employees, even via email.
This article was first published on Compensation Cafe.
Here are the other parts of this series: