There is a common misconception that contract workers are lower-level or not the "cream of the crop."
This misconception stems from the picture many people have in their minds of the clerical or blue-collar temps of the past who mostly took temporary work when they couldn't find a traditional job.
But today's contractors can be found in nearly every industry and in positions up to and including the C-suite. Companies can truly find cream of the crop contract candidates, particularly in the technical, professional, and health care arenas.
For many candidates, contract staffing is no longer a last resort or simply a path to direct employment — it is a chosen lifestyle.
"They like the flexibility"
"I have candidates that have been offered permanent employment and have turned it down because they want to work on contract," said Linda Blakemore, president of the Atlantic Pacific Group recruiting firm. "They like the flexibility and they make great money."
In fact, the 2012 MBO Partners State of Independence in America report found that 57 percent of "independent workers" (e.g., contractors, contract workers) consciously chose to work on a contract basis. Only 13 percent said they would go back to a traditional employment relationship.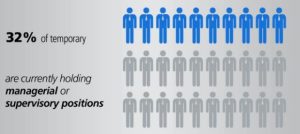 "These findings debunk the popular misconception that workers are forced into independence due to job loss or lack of alternatives," the report stated.
Furthermore, the recent Randstad Workforce360 Study found that one-third of contractors occupy high-level positions. Companies often bring in high-level executives on a contract basis to serve as interim executives or consultants or to complete projects in a trend known as executive temping. This trend clearly shows that the old stereotype of the lower-level contractor has become outdated.
But what's in it for the candidate? What would make them give up the perceived security of a traditional, direct hire position for a contract assignment?
What the candidate gets out of temp work
There are a number of reasons:
Flexibility — As mentioned by Blakemore, flexibility is key. More people are juggling careers with childcare and other responsibilities. Contract assignments, which are often project-based, can allow more flexible work schedules and locations (i.e., home).
Distrust of Corporate America — Anyone who experienced the layoffs of the recession knows there is no such thing as a permanent job or job security. With contract assignments, they know from the get-go that their assignments are temporary, so they are not blindsided.
The free agent movement — Many professionals, particularly Millennials, don't want to be tied to one employer for their whole careers. They want to be free agents who control their own destinies.
Challenge and variety — Professionals today want to make a difference and be challenged. Companies often use contractors to meet critical deadlines and complete projects, so it's easy for individuals to see the impact of their work – and then move on to the next challenge.
Reluctance to relocate — Candidates may be unwilling or, in this unstable housing market, unable to relocate their families, but they may consider working away from home on a temporary basis. Or they may be willing to try a new job and location on a contract-to-direct basis before uprooting their families.
Semi-retirement — Today's older workers want to remain active, and many can't afford to retire. "More mature workers have a lot to give," says Jeff Gipson, president of The James Allen Companies recruiting firm. "They still don't want to retire, but they don't want to work in a fixed position for another 10 years. Those people are very interested in contract staffing."
More money. Contractors have the ability to make more money because they are paid for every hour, including overtime. EMR Staffing Partners Managing Director Adam Greenberg told us that health IT contractors can make double the typical direct hire rate.
Demand and price for contractors "is going up"
"The staffing industry within IT is one of the businesses that most perfectly follows the law of supply and demand," Greenberg said. "In our business, when it gets very difficult to find people, the price goes up. And when they can't find full-time employees, they must fill their open positions with contractors. What we're seeing now is the price of contractors is going up as the demand is going up."
For these and other reasons, you should not assume that candidates are second-rate simply because they have worked a number of contract positions. These are candidates that can think outside the box and choose the path less traveled, a path in which they are picking up additional skills and expertise that could indeed make them the cream of the crop.