Every year, I look forward to two reports: The Deloitte Human Capital Trends report and the Kleiner Perkins Internet Trends report. I've written about the Deloitte report here and here; and the Internet Trends report here and here.
The 2017 Internet Trends report was published last week and it's a doozy!
Ever year Mary Meeker, from Kleiner Perkins, takes a vast look at what the Internet is doing to the world. How it is changing everything. While it's never about HR, per se, HR is in most nooks and crannies of the data that are shared. And it really should be required reading for all business leaders. Including HR.
This year, at 355 pages, the report is a blockbuster. And worthy of more than one post.
This year's report looks at several areas — global internet trends, online advertising (and commerce), healthcare and media, for example.
To be honest, I always start with the macro thoughts section. This is where she drops the aha! moments. Well, at least for me. And this year was no different. Part of the macro thoughts are about USA, Inc. and she leads off with the USA's income statement comparing F1986 through F2016. If you think of the USA as a business, this is eye popping.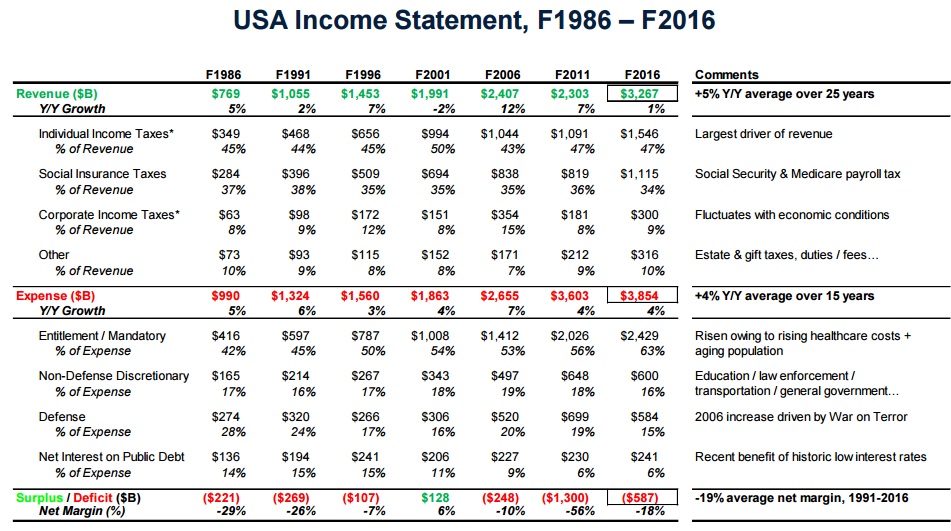 What does this have to do with HR? Well, nothing and everything. Understanding income statements is a requirement for any business leader today. Including those in HR. Understanding how our businesses spend and make money is key to being able to successfully lead and invest in people.
Understanding our nation's income statement should be a requirement for every citizen. Knowing how the taxes we pay are used, where our money is being invested, and the state of our debt are all important things for us to know. Be honest: have you ever really thought about our nation's finances from an income statement perspective? Even if you have, this ought to be under a magnet on your refrigerator door!
Knowing the state of our nation's finances will put into perspective the state of your employer's finances – and the choices that are being made nationally as well as at work. This is called perspective and it's a valuable thing to have.
Next week, we'll take a look at another aspect of the Internet Trends Report for 2017 that may have a more direct connection to the world of HR. In the meantime, you might take a look at it here. (And the 355 pages are PowerPoint pages, so they're pretty easy to move through.)
This article originally appeared on ChinaGorman.com.