Talk to most HR professionals, and they will generally agree that there's very little downside to having a fully diverse and inclusive (D&I) organization.
Not only is having a diverse workforce representative of the wider population increasingly seen to be the 'right' thing to do, it also sends out powerful messages about what that company actually stands for.
Oh, and that's not forgetting, of course, that there is plenty of data that says diverse organizations also enjoy significant business benefits.
For instance: diverse companies report better financial performance [2.5 more cash flow per employee, according to The Diversity and Inclusion Global Market Report 2022]; they have better engaged staff; and they generally have a much better external brand amongst both prospective employees and consumers [a Glassdoor survey finds 76% of employees and job seekers consider a diverse workforce to be essential when evaluating companies and job offers].
In other words, diversity provides demonstrably better business results.
So far so good.
But are there actually downsides to outwardly espousing diversity in the workplace?
This is a topic that's seldom talked about, or often downplayed.
But brand new research shared with TLNT suggests this conversation should indeed be worth having.
In fact, some of the data challenges the long-assumption that all diversity is appreciated by all (and therefore requires more thought about how to bring employees on board).
Downsides to diversity?
So what does this data actually say.
The research in question was by Resume Help, and it polled more than 1,000 workers.
Although most (81%) thought their workplace was diverse, researchers noted a sizeable minority that are neutral to inclusion (24%) or say it is unimportant or very unimportant (3%).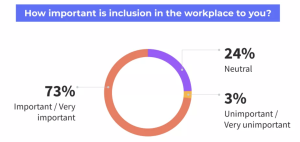 But drill down deeper, and there are more interesting findings at play too.
A sizeable 26% of employees polled said they thought there was "too much emphasis" on D&I in the workplace and less than half (48%) thought the amount of emphasis on D&I was "about right".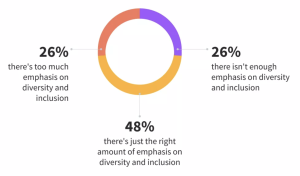 The so-called 'dark side' of a diverse workplace
To glean more detail, Resume Help delved further, and revealed what it calls the 'dark side of a diverse workplace.'
It found that rather than create a sense of cohesion, and cultural homogeneity, D&I policies could be the cause of conflict.
Some 79% of respondents said D&I activities at work create an increased risk of conflict between employees.
In addition to this, some 77% pointed to it adding more management complexities, while nearly three-quarters (74%) said it potentially breeds more misunderstandings and the same percentage again suggested cultural backgrounds actually create communication challenges (see graph below).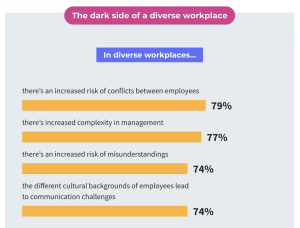 Perhaps more striking than all of this though, are additional doubts about diversity in the workplace.
A sizeable minority claim diversity policies do not impact motivation; while there is also similar skepticism around its impact on productivity.
A quarter say it has a negative impact, while in terms of it cultivating teamwork, more employees say D&I efforts have no (26%) or negative (30%) impacts on teamwork than say it has a positive impact (44%).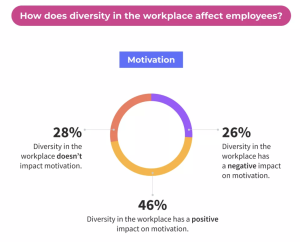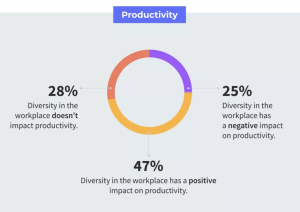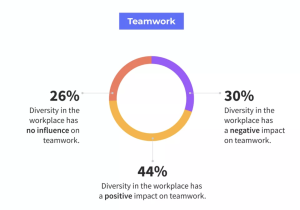 Why might this be so?
Why employees may think this – especially post George Floyd – and other popular movements have gathered pace is the $64,000 dollar question.
Not least because if this sample of employees do generally think this, then it's more than likely to be repeated up and down the country, with organizations having staff with similar levels of disquiet.
Help is at hand though.
What's significant about the Resume Help data is that it does drill-down, and find out 'who' (ie what employee populations) have D&I misgivings.
Here's what it finds:
Amongst those who say there is a risk of conflict:
Ethnicity: Ethnic minority (89%) vs white (78%)
Type of worker: Blue collar (88%) vs white collar (77%)
Industry: Manufacturing (88%) vs business/finance (72%)
Company size: 201-500 staff (87%) vs 1-50 staff (69%)
Annual income: $50,000-$74,999 (84%) vs $25,000-49,000 (69%)
Education: Masters degree (82%) vs no college degree (66%)
This makes interesting reading. Perhaps contrary to popular thought, it's not less educated, low income workers in small businesses who tend to think D&I initiatives risk raising conflict.
Rather it is higher earning, higher income workers, in large companies, that view conflict as being more likely.
Also, conflict is viewed as more likely to happen amongst ethnic minority staff.
Amongst those that say there is increased complexity in management:
Annual income: $50,000-$74,999 (83%) vs less than $25,000 (66%)
Education: Bachelor's degree (80%) vs no college degree (65%)
The same sorts of results appear to apply here too – with most higher paid, higher educated people expressing concern.
Amongst those that say D&I initiatives lead to communication challenges and/or an increased risk misunderstandings:
Age: 25 or younger (84%) vs. 41 or older (69%)
Ethnicity: Ethnic minority (89%) vs. white (73%)
Company size: 51–200 employees (80%) vs 201–500 (78%) vs. 1–50 (67%)
Annual income: $50,000–74,999 (84%) vs. less than $25,000 (61%
Why it's good to understand your employees
What the research isn't suggesting, is that these pockets of resistance to D&I are exactly the same everywhere.
And it's not suggesting that employees that fit these types of profile definitely will have exactly the same views.
What it does indicate though, is if CHROs do have clusters of these staff, perhaps they need to engage better with them about their D&I initiatives – to try and understand why resistance might be there.
The Resume Help research still finds – for example – that only four-fifths consider workplace diversity to be an absolute 'must' (17% say it's not, and a further 2% aren't sure) – meaning a whole fifth of workforces potentially need persuading of the benefits of doing diversity and inclusion.

When it asked whether diversity and inclusion contributed to a company's long-term success, a similar reaction was also found: 82% agreed, but nearly a fifth didn't. Some 10% either 'somewhat' or 'strongly' disagreed, while 8% said they had no opinion.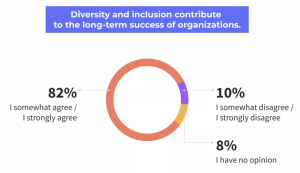 Shockingly perhaps, 22% disagreed with the statement 'diverse workplaces make us better humans', and a further 5% said they weren't sure.

So, what conclusions can we come to?
What's certainly the case, is that diversity and inclusion continue to be complex topics, and what's very clear is that common assumptions about the benefits of following strong D&I principles are not felt by all.
In better news, it's younger employees that seem most supportive of firms that follow good D&I.
The research found that workers aged 25 or younger (93%) and were most positive about promoting D&I at work.
And, it's still the case that 80% say inclusive workplaces make us better people, and that 81% consider diversity as a must.
But what this research really is saying, is that HR professionals cannot take it as a given that diversity and inclusion will be applauded by all.
They need to acknowledge that there is still significant work to be done to convince others of its need.
The road ahead is still going to be a bumpy one!
What do you think?
We'd love to hear your thoughts.
For the full results – including what people think about diversity and inclusion in the recruitment process, click here.