It's often said laughter is the best tonic – which is why one comedian is on a mission to convince HRDs that they should be building in official chuckle time at work.
Pre-pandemic Kevin Hubschmann (above), one of the founding members of events marketing software company, Splash, was moonlighting in New York's bars and clubs following his first passion – performing as a stand up comedian.
He wasn't bad at it either. Before long Hubschmann was organizing so-called 'bringer' shows, where he would bring in other talent (including the likes of Judah Friedlander – who has appeared in the likes of Sin City, Curb Your Enthusiasm, and Flight of the Conchords – as well as The Tonight Show regular, Mark Normand) – to create a 90-minute show, performing to sell-out crowds.
Like all comics Hubschmann is a convert to the idea that mirth is medicine. Charlie Chaplin once said "Laughter is the tonic, the relief, the surcease for pain," and little did he know how right he was – with science later proving laughter triggers an emotional response in the limbic system. This controls feelings of pleasure and fear, which in turn stimulates people's motor cortex.
In fact laughing is so beneficial, it can literally lower the sensation of pain, by reducing adrenaline levels and those of the stress hormone cortisol. In doing so, laughing improves mood and makes people's physical and emotional response to stress less intense.
Bringing laughter to the workplace
It's this that partly explains why Hubschmann no longer works at Splash, but instead decided to launch an intriguing venture – Laugh.Events – aimed squarely at bringing merriment to the corporate market.
You've heard of software-as-a-service, well this is 'laughter-as-a-service.'
"I saw that workers needed to sense that life should be more 'fun'," he says. "`I felt that if people had some proper, genuine, unforced merriment, companies would benefit too."
Laughter as a stress reliever
While other businesses have latched on to laughter – they tend to focus on teaching people how to loose their inhibitions by using breathing and belly-laugh techniques – this one differs by actually running comedy events.
And in a funny way (no pun intended), the arrival of Covid-19 was the perfect catalyst.
"With enforced remote working, companies no longer knew what their workplaces or cultures looked like anymore," recalls Hubschmann. "People felt lonely, disconnected, and anxious. By providing a comedic experience we created a way for companies to build in time where everyone could come together virtually, have a shared experience, and go away having had a good laugh and feeling better about themselves."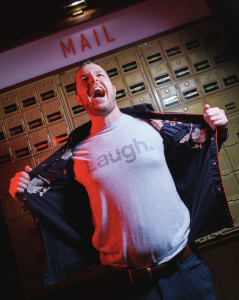 Hubschmann's mission: Laugh
Corporates are seeing the serious side of laughter
Although Hubschmann's services might appear frivolous, they have already caught the eye of the likes of Meta, Spotify and Microsoft (plus other) – who are all bona-fide paid-up clients.
The experience Laugh.Events can now offer is much more sophisticated too. It will spend time working with corporates to understand their culture and what makes their employees tick. It will then pair companies up with a comic whose brand of comedy best suits that organization (it has a roster of more than 100 comedians it works with).
And even though the pandemic may be waning, demand for its services isn't.
"Now we're in a different environment, and times are just as stressful for people," says Hubschmann. "Covid-19 has been replaced by political economic, as well as social tensions. People are still stuck in their homes, working ever-longer hours, and they just want a break."
Does laughing have long-lasting impact?
To bring in some much-needed light-relief, Laugh.Events offers everything from fully-interactive 60 minute shows (live or virtual) to short, sharp 15 minute interventions, which just break up the monotony of the day.
But while few would argue that some good old-fashioned jollity is much needed, can a show that's over (relatively) quickly really have long-lasting results that sustain – or even reinvigorate – the vibrancy of an organization?
Hubschmann concedes that it's a question he gets asked a lot. "We like to think we're more targeted than most – offering improv sessions (see pic below) that have a skills development and team building element also," he says.
"We'll help reward particular teams if that's what clients want, and I think organizations are latching on to the benefit of sprinkling these sorts of interventions throughout the year – almost as 'laugh breaks' rather than coffee breaks."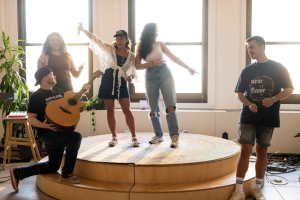 Shared experiences matter
What seems to be most effective – Hubschmann argues – is when companies carve out a proper time for unadulterated laughter, rather than try and put on enjoyment for the sake of it.
"We've been through 'Zoom-happy hour'-type events, but these are mostly nothing more than drinking and hanging out with people events without any real focus," he says. "I think it's why we now have 'Zoom-fatigue.'
Hubschmann claims his events help people build proper relationships/bonding: "Events have a shared experience," he says. "When you hear someone next to you laugh, or see someone laugh on one of our virtual events, people get a sense of validation."
He adds: "Getting people going, and vibing off each other is the key result here. That's when transformations start happening. I equate this benefit to like going to the gym. Go there for a one-off session, and there's no real benefit," he explains." But go regularly, and you start to see and feel the benefits."
It's a serious business
With a specific 'Laugh Breaks' proposition that aims to regularly "infuse moments of laughter, silliness, and playfulness into the workday," the business is squarely aiming at making laughter as important to organizations as engagement.
"What we've found through the interactive events we've already done, is that our sessions really do give people the confidence to speak up, and come out of their shells," says Hubschmann.
"We've followed this up with sessions around how they can communicate their goals, and map out their priorities, and work better with teams through playfulness. We also cover risk-taking, thinking on your feet, and story-telling and presenting"
He adds: "These things may sound 'soft', but they do have a real and massive business benefit."
And that definitely isn't a joke.
The science of laughter
Laughter enhances people's intake of oxygen-rich air
Laughing stimulates the heart, lungs and muscles, and increases the endorphins that are released by the brain.
Laughter can stimulate circulation and aid muscle relaxation, both of which are proven to help reduce some of the physical symptoms of stress.
Laughter can help lessen people's stress, depression and anxiety and may even make people feel happier.