There's an interesting analysis from The Talent Strategy Group that suggests CHRO tenure is closely tied to their CEO.
This recently released report reviewed the developments in CHRO employment last year at the Fortune 200. The quick read report of only 8 pages tells us there were 31 new CHROs installed in 2018 at these large companies including at such well known brands as Wells Fargo, Merck , GM and Intel. 65% of the 31 are women. A perhaps not surprising observation is that a female CEO will chose another woman as CHRO 77% of the time, whereas male CEOs pick a woman 61% of the time. The fact that women outnumber men in human resources by a substantial margin also factors into the selection equation.
There are other bits of absorbing demography such as the finding that of the 31 new CHROs 52% had never previously held that job and that 19% had little or no HR experience at all. But all of them have at least a Bachelor's degree; 48% have a Master's or other advanced degree.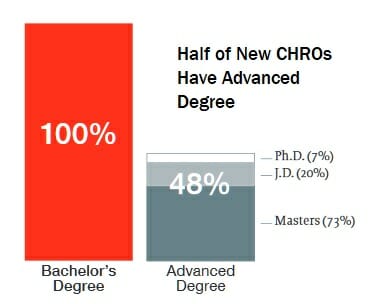 However, the most telling finding — at least for sitting CHROs — is that within a year of a new CEO, 43% of the CHRO jobs also turnover. The percentage bumps up to 52% when the three months prior to a CEO transition is included. Now correlation isn't causation, but it could be the case that CHROs are becoming as vulnerable as the rest of the C-suite to the well-established tendency of a new CEO to bring in their own team.
If so, that's further evidence that CEOs are recognizing the strategic importance of talent and are beginning to hold HR leaders as responsible for performance as they do sales, ops, marketing and finance.
We see a hint of that where the report talks about what it's author, Talent Strategy Group COO Zac Upchurch, calls the "War Time CHRO." Noting that the average stock price of the 31 companies with a new CHRO was down 15.8% last year, Upchurch says:
"The pressure to perform and drive investor value remains high, and organizations that aren't receiving the desired results are making changes to their Executive Teams, including the CHRO. The CHROs that replace the incumbents are expected to be 'War Time' CHROs – partnering with the CEO to drive new strategy and improved business results through people."
There's one data point that puts a "but" in there: 61% of the new CHROs were promoted from within. Now, if a CEO is bent on new strategies and sweeping change, they're more often inclined to bring in newcomers, rather than elevate an understudy. Admittedly, that's a generalization. It could mean, instead, that the new CEOs are savvy about the importance of culture and recognize that improving the company's market performance will involve changes best managed by someone with institutional knowledge.
Just a few months ago a TLNT article made that very point. The authors point out that, "HR is one of the few functions with an overview of the entire business… transformation is about architecting, managing, and directing behavior change in people — not just about implementing technology, but changing the way people work. HR is perhaps best-positioned to manage this type of change."
Upchurch suggests that as the likely explanation for selecting internal candidates. His data shows that the candidates promoted from within averaged 17 years with the company, implying, "that companies may value cultural or company-specific knowledge when they choose internal successors or that they are unwilling to take risks with less experienced candidates."
Whatever is behind the correlation of CEO and CHRO tenure, this report offers some tantalizing clues to the significance of the position among America's largest companies.