Of all the areas HR touches, it's probably safe to say payroll is one of those areas that – much like accountancy – is perceived to be necessary, but not exactly scintillating stuff.
In fact there's a basic HR maxim that pretty much does along the lines of payroll's two main functions being this: to make sure people are paid right, and are paid on time.
As we all know, however, this is not at all how payroll professionals see themselves, but sometimes it's perception that counts, and worrying, according to data in a recent report by Atlas, just 15% of companies sais they viewed their payroll strategy as "highly strategic."
In fact, as largely expected, the great majority see payroll more as a purely administrative function only; of being there for compliance rather than anything actually strategic that can help organizations fulfill their talent management goals and enhance the employee experience.
This though, would be a great dis-service to what payroll can (and should) be capable of achieving.
The benefits of payroll being strategic
The benefits of having an actual payroll strategy have been documented in the past by TLNT, including its influence on corporate culture.
But what this latest report brings to light is that over the past decade, companies haven't seemed to progress much on this front; in fact, one third of organizations haven't updated their strategies in three-plus years, if ever.
Considering the speed at which the HR industry is moving, this may explain why 55% of respondents say their company's payroll is either not strategic or only somewhat strategic.
But if firms really want to win the war on talent, and improve employee morale, enhance engagement scores, and build a lasting corporate culture, then having a stronger payroll strategy may actually help.
"One of the primary reasons we work – to receive pay – is, paradoxically, one of the more under resourced and deprioritized aspects of the business," said Kira Rubiano, vice president of global payroll operations at Atlas.
She adds: "It's not that companies are unaware of its benefits, it's just that it is taken granted and is treated as a function that will always be executed no matter what. Payroll is a bit like the legs of duck; working tirelessly to keep the duck afloat but underwater, barely seen."
According to the report, the top five barriers organizations face are largely based in changing economic factors, signaling a wobbly foundation that may be preventing payroll functions from being equipped to address new, emerging issues and trends.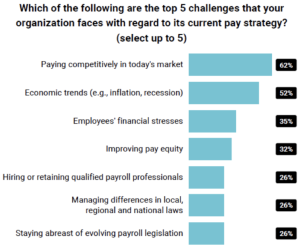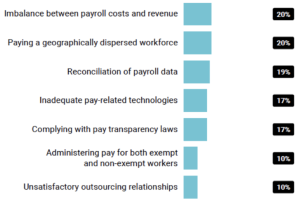 For example, in order to pay competitively in today's market, the company needs data. And lots of it – new data from a variety of credible sources, which can be a challenge of its own.
But, let's assume the company has all that right data, HR still needs to analyze the data efficiently and effectively, requiring a certain level of automation and technological integration, which calls for some flexibility in its payroll system.
All this, of course, requires an ongoing investment, which is only possible by developing a business case for 'why?'
To do that, a sound and thoughtful approach to demonstrating the value of payroll strategy is required, and for that, HR leaders need the resources and runway to build that out.
The point: Payroll issues aren't turn-key; they often involve peeling back the onion to see all the layers, which can be overwhelming and time intensive.
But a willingness to take the time to uncover these many layers is the key differentiator between "strategic" and "administrative" payroll functions.
Administrative vs strategic
Generally speaking, administrative payroll functions are more reactionary; they're focused on ensuring accurate payroll input and output, payroll practitioners mark their days by the deadlines that drive the payroll cycle.
This includes producing gross to net reporting and pay slips, issuing payment instructions, managing payroll tax procedures and ensuring employees queries are addressed. Not surprisingly, the Atlas report shows 25% of administrative payroll functions have never undergone a redesign.
By contrast, 43% of companies identified as having a "strategic payroll function" are currently redesigning or have redesigned their strategies in the past year.
These companies are more proactive with their approach; they have recognized that payroll departments hold the relevant information to the costs of business; they have an understanding of the local population, and also what pending changes in local labor legislation there might be.
Payroll is critical to global expansion strategy in order to assess requirements, cost and timelines to start employing.
So if you do fall in the more "administrative" camp, what can be done?
While there's no silver bullet solution, here are some easy steps that can be implemented today to help lay the groundwork.
Work to prioritize pay transparency
Don't try to boil the ocean. Focus on one issue at a time, and a good one worth starting with is pay transparency. New legislation in many states is putting pressure on companies to do this quicker and better. Whether you're in one of those states or not, being more transparent about salaries and ranges, communicating pay and tax-related mistakes, and sharing progress around actions to improve pay equity discrepancies can lead to nearer term gains.
Consider an audit
Determine what easy fixes can be done by lifting up the hood and removing any errors or inaccuracies. Mis-classifying employees, errors in tracking time, and tax-related errors are just a few common examples of quick fixes that can help.
Watch out for pay compression
In trying to win the war on talent, you may have over-extended on an offer, and now metrics may be skewed and/or older employees are upset. An audit can help identify areas where this may occurred for future prevention.
Emphasize payroll-related trainings
Consider the skills and expertise needed for today, yes, but also for tomorrow. Equipping your staff with the knowledge to build a best-in-class payroll function is a gift that will keep on giving.
Embrace technology
Outdated payroll systems often lead to poor information integration. Befriend technology and AI to reduce bottlenecks, adapt to changes in the business environment, and improve accuracy and productivity. If international laws and regulations are your challenge, consider an employer of record service to help you manage compliantly in new markets.
What's on the horizon that payroll needs to be more strategic about?
In December 2022, the SECURE Act 2.0 was signed into law which introduces new requirements for automatic plan enrollment and contribution escalation. Effective for plan years after December 31, 2024, they compel retirement plan providers to automatically enroll employees upon eligibility in new 401(k) and 403(b) plans and automatically increase the contributions of enrolled employees to that plan every year. As such, it's vital employers' HR information systems and payroll systems are such to ensure seamless SECURE 2.0 compliance.
Employers are being urged to look much more into Earned Wage Access – that is granting staff part of the wages they've already earned earlier in the month rather than waiting for the months'-end. According to The Workforce Institute at UKG, 72% of employed U.S. adults want access to their wages before payday, but only 6% currently have that access.
Offering programs such as charitable payroll dedication and corporate matching can showcase a company's investment in its employees and can help increase employee happiness and retention while boosting corporate social responsibility initiatives.
The good news:
According to new data by CloudPay, payroll in the US is the most efficient globally, and has the shortest cycle length – at just 2.9 days from start to finish.