Deloitte recently released its 2015 Global Human Capital Trends report, their annual comprehensive study of HR, leadership, and talent challenges compiled using data from surveys and interviews taken by 3,300 plus HR and business leaders in 106 countries around the world.
The report identifies 10 major trends that emerged from the most current research, and cites the capability gap (measuring the distance between the importance of an issue and organizations' readiness to address it) associated with each, as well as practical ideas for how to help organizations combat theses challenges.
Top 10 talent challenges for this year
Ranked by importance, the Top 10 talent challenges reported for 2015 are:
Culture and engagement;
Leadership;
Learning and development;
Reinventing HR;
Workforce on demand;
Performance management;
HR and people analytics;
Simplification of work;
Machines as talent; and,
People data everywhere.
Deloitte's data highlight considerable gaps in capability among all 10 trends, with the majority of capability gaps getting larger compared to last year.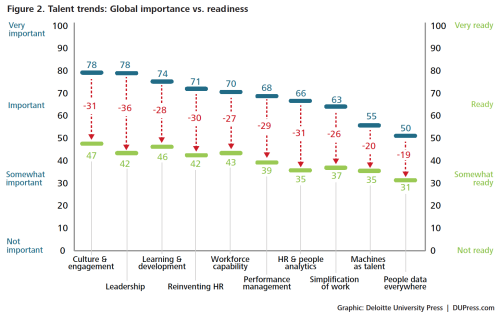 Digging into this year's Top 5 talent issues
Let's take a look at the top five talent issues for 2015.
Culture and Engagement ranked as the No. 1 issue overall for 2015 (not a surprise to us at Great Place to Work), barely edging out leadership, which ranked as the No. 1 issue in 2014. This highlights organizations' recognition that understanding their culture and focusing on building great cultures is a critical need in the face of a potential retention and engagement crisis.
Building Leadership ranks as the No. 2 talent issue for 2015, with close to 9 out of 10 respondents citing the issue as "important" or "very important." Despite this, Deloitte's data show that organizations have made very little progress towards meeting this challenge since last year.
Learning and Development jumped to the No. 3 talent challenge in 2015, up from the No. 8 spot last year. And while the number of companies rating learning and development as important has tripled since 2014, the readiness to address it has actually gone down (!?).
Reskilling HR came in as the 4th most important talent issue for the year, with business leaders rating HR's performance 20 percent lower than HR leaders' ranking (and that is with both HR and business leaders ranking HR performance as low on average).
Workforce on Demand was the No. 5 talent challenge for 2015, with 8 out of 10 respondents citing workforce capability as "important" or "very important" in the year ahead.
How organizations are approaching talent
Through data analysis and extensive conversations with organizations around the world about these challenges, Deloitte arrived at six (6) key findings that give us a bird's eye view of how organizations are approaching talent and work:
" 'Softer' areas such as culture and engagement, leadership, and development have become urgent priorities."
"Leadership and learning have dramatically increased in importance, but the capability gap is widening."
"HR organizations and HR skills are not keeping up with business needs."
"HR technology systems are a growing market, but their promise may be largely unfulfilled."
"Talent and people analytics are a high priority and a tremendous opportunity, but progress is slow."
"Simplification is an emerging theme; HR is part of the problem."
A deep dive — and some interesting findings
Each chapter in Deloitte's report takes a deep dive view into the 10 talent trends they uncovered through their research with some interesting findings.
For example (in looking at the No. 4 trend, reskilling HR) Deloitte notes that nearly 40 percent of new CHRO's now come from business, not from HR. Why are CEOs bringing in non-HR professionals to fill the role of CHRO? The answer may lie in their sinking belief in HR's capabilities and abilities to provide solutions to people-related business problems.
Deloitte puts it bluntly: Right now HR is just not keeping up with the pace of business, and a reskilling of HR professionals while reinventing the role of HR is becoming critical. This need however, also creates an unprecedented opportunity for HR to play a big role at the highest levels of business strategy.
Sobering advice for HR
But where do organizations start? Deloitte offers the following advice:
"Redesign HR with a focus on consulting and service delivery, not just efficiency of administration. HR business partners must become trusted business advisors with the requisite skills to analyze, consult, and resolve critical business issues."
"Rather than locating HR specialists in central teams, embed them into the business — but coordinate them by building a strong network of expertise. Recruitment, development, employee relations, and coaching are all strategic programs that should be centrally coordinated but locally implemented."
"Make HR a talent and leadership magnet … Create rigorous assessments for top HR staff and rotate high performers from the business into HR to create a magnet for strong leaders."
"Invest in HR development and skills as if the business depended on it … Focus on capabilities such as business acumen, consulting and project management skills, organizational design and change, and HR analytical skills."
Losing the confidence of the C-Suite
There are very useful insights in this report – as there are every year.
But this year the insights also serve as a warning to HR — a warning that it's losing the confidence of CEOs and other C-Suite executives. That 40 percent of all Chief  HR Officers are coming from functions other than HR should be sobering. That the top capability gaps are growing larger, not smaller, should be cause for concern.
Without bringing furniture into the conversation, this report is a credible and important HR wake up call!
This originally appeared on China Gorman's blog at ChinaGorman.com.