Demand for recruiters is rising as employers emboldened by improving economic signals in the U.S. and globally add new jobs, only to find it ever more difficult to hire the workers they want.
Wanted Analytics says the number of online job listings for recruiters rose 4.5 percent in August from the same 30-day period a year before. In the HR category, recruiter jobs are now second only to the listings for HR managers, says Wanted.
The research firm analyzes online listings from corporate sites, job boards, and elsewhere to create reports on the types of jobs being advertised and other information and business intelligence.
Recruiting positions frequently listed
"Recruiter" was the most commonly advertised job title, according to Wanted's analysis. Among the top 10 most frequently listed recruiting job titles were three naming specific niche areas: Technical recruiter, Information Technology recruiter, and Sales Recruiter.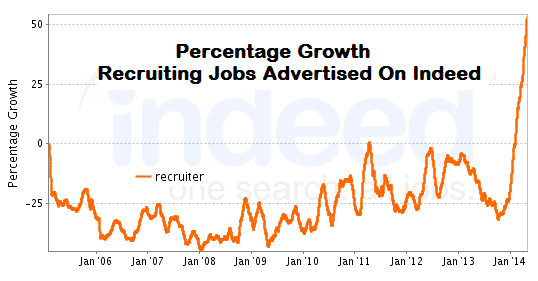 These are also among the hottest positions advertised during the 30-day period. Despite both sales and IT jobs being off from their highs, Wanted said sales job ads were the most plentiful online with 1,122,899. Not far behind were the 776,975 IT job openings.
"Recruiters are likely to be hard to fill," adds Wanted, scoring them at 72 (out of 99) on the firm's difficulty scale.
Job board Indeed.com, which offers a similar, if much-less-detailed job trends report, said it had 58,043 human resources jobs online in August, a 15 percent increase in the past year. There's no breakdown by function, but Indeed's trends report shows a steady decline in HR titled jobs, contrasting with a dramatic rise in recruiter jobs since this beginning of this year.
Additionally, Indeed's tally of the types of jobs seekers are clicking into offers clues to how difficult they may be to fill.
Increased hiring by executive search firms, too
There were 193,308 clicks into jobs with the specific title "Human Resources Assistant" in August. "Human Resources Generalist" got 169,666. "Human Resources Manager" got 131,441, while "Recruiter" got 121,300 clicks.
Looking at just those titles would imply high interest in "Recruiter" jobs. But add in variations of the different job titles — as in "HR Generalist," "HR Assistant" or "HR Coordinator" — and "Recruiter" job interest falls well behind other HR jobs. That ratio hasn't changed appreciably, even as the number of recruiter jobs has risen.
One other telling sign is the increase in hiring by executive search firms. Wanted found "Executive Recruiter" to be among the top 10 recruiting job titles advertised online in August. In fact, employment by executive search in the U.S. is at its highest point since 2000. The U.S. Bureau of Labor Statistics said executive search firms had 42,000 employees in July.