Open enrollment is barreling down the tracks once again. It seems to be gaining speed each year. More benefits. More systems. Higher costs. Increased employee demands. We are tired just thinking about it. Before you dive into the review, comparison, and selection of this year's benefits during your open enrollment, let us share a unique way to explain new benefits, and save money.
What might surprise you is that this will make employees and employers mutually happy. This isn't some trick, but maybe a fresh perspective and coupling of existing options. Sometimes re-arranging your table, can make you feel clean and refreshed. Here we go.
Benefits costs
You implicitly know that benefits costs are on the rise. But if you need to back up that feeling, you will be satisfied to know that according to the Bureau of Labor Statistics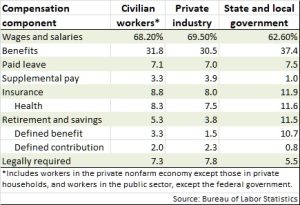 the cost of employee benefits (as measured in March 2018) represents 31% of total compensation costs.
The highest benefits expenses are health insurance (7.5%), paid leave (7.0%) and retirement and savings (3.8%) . To give you a dollar reference, the Kaiser Family Foundation found the annual premiums for employer-sponsored family health coverage reached $18,764 last year.
With these facts clearly established, what can you do to reduce costs while keeping your a la carte benefits looking more like surf and turf vs. cold left-over pizza?
Educate on the value

Ignoring paid leave for the moment, health insurance and retirement costs are manageable benefits expenses. As an HR professional, you can use a variety of tactics and strategies to reduce your costs without reducing your employee satisfaction.
To further complicate this equation, the value of individual benefits (or assumed benefits value) might vary greatly based on an employee's age or lifestyle. You are stuck bridging the gap to ensure value across every demographic.
Educating employees to understand the financial impact of their benefits, regardless of age, gender or dependent status can help employers refocus their benefits requirements. This can mean less cost for employers and more value, while still delivering the experience employees desire.
Employee education can help refine your perceived benefits offering. You can offer fewer, but higher value benefits. Bigger portions of each benefit will help reduce redundancies, increase efficiencies and leave you with a little more time in your day.
Oh, and don't forget about the value that cultural benefits can provide. While catered lunches are costly, simpler benefits like work from home options or casual workplaces, create no-cost additions. They can add incredible employee perceived value. And maybe some PR and recruiting value too?
Benefits that don't expire
The most frustrating open enrollment experience is that the benefits expire and must be renewed each and every year. This leaves long-term planning frustrating for both employers and employees.
While no benefit last forever, benefits like a 401(k) can be measured in dollars. When you leave your job, you own your 401(k). This benefit has created financial security for employees. 401(k) savings create a financial safeguard for your employees. What they do with those savings this year, next year and for years to come adds to your yearly open enrollment value.
Showcasing the value of long-term savings options like a 401(k), is the easy half of this equation, you still need to use some reverse engineering to manage the rest.
Add an HSA
Let's look at healthcare.
No matter your company size, your employees want options. PPOs, HMOs and HDHPs, top the list of likely health insurance plan options. Increases in healthcare cost, for both employers and employees, are rapidly shifting the cost structures of these plans.
As higher coverage plans, like PPOs, become out of reach from a cost perspective, alternatives are rising to replace them. Likely why 43.7% of Americans are enrolled in HSA-eligible HDHPs (high deductible health plans). These plans are quickly becoming the de facto choice for employers and employees.
Their cost savings is obvious to employers, but their higher out-of-pocket can leave employees looking for buried treasure to bridge the gap. That's where a Health Savings Account (HSA) can help. HSAs provide the only long-term tax-free health savings. On top of that, they provide a dedicated tax-free health expense account to help pay for the expected out-of-pocket medical costs that accompany HDHPs.
The 1-2 punch of a HDHP coupled with an HSA creates flexibility and a way to save for health costs for years to come. They just might be the rabbit you can pull out of your magic HR hat this open enrollment season.
Be creative
There are dozens of ways to calculate the value offering from the benefits offered in open enrollment each year. With rising costs and increased employee benefits demand, keeping employees happy and your finance team off your back seems next to impossible.
Approach this open enrollment with a refined focus to get more value from each and every benefit option. Use the programs you already have in place, to enhance the cost-value of your offering. To make cost-effective programs more valuable to employees, couple benefits like a HDHP and an HSA to create something completely new.