This week, SHRM released its annual Employee Job Satisfaction and Engagement Report.
It's interesting in how it segregates true "satisfiers" from the factors and conditions that help employees more deeply engage. Both are relevant measures, depending on what you are trying to determine or better understand about your workforce.
The 2 critical engagement factors
For example, SHRM makes the distinction this way:
Employee engagement may or may not be aligned with employee job satisfaction, as engagement is tied to employees' connection and commitment to their work and their particular organization."
Table 2 below (from the report) show the Top 5 employee engagement conditions as ranked by respondents. As you can see, the majority have something to do with two factors:
Connections with people at work; and,
Ability to do my best work within a context that is meaningful to me.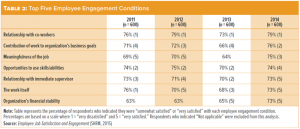 To my mind, those two factors speak to the evolving nature of today's workforce.
Our need to connect and contribute
More and more, we want to do good work with people we enjoy working with. We want to know the work we do has greater value – how does my daily effort contribute to the "big" picture both in terms of company goals and the greater good.
I'm not surprised these elements rise to the top of the list for engagement, as they are the very factors that speak to the human condition and our need to connect and contribute. It's also why I'm not surprised that the two newest aspects added to SHRM's assessment of employee satisfaction also rose to the top, above benefits and compensation/pay.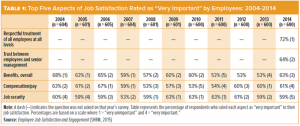 To me, it's obvious that respectful treatment of others and trust are foundational to creating strong relationships and the ability to give our best. With that information, we must focus our attention on how we foster trust, strengthen relationships, and help our colleagues see how their work makes a difference.
There are many ways to do this, of course, including deliberately creating cross-functional teams to encourage new relationships between groups that might not commonly interact. But the most straightforward, most impactful, and most personal way is through specific, timely, frequent recognition from anyone to anyone.
Honest and heartfelt appreciation
Now, this isn't a casual, "Hey, thanks! Love working with you!" To help strengthen the factors of engagement in Table 2 above, we need to take the time to respect our colleagues and tell them specifically:
"I really appreciate the work you put into the Metrix project. You really went out of your way to show initiative and dive into additional research sources and find trends that weren't readily apparent. It's these trends that helped us make a far more informed decision and arrive at a solution to benefits our customer as well as our business. Thank you."
Moments of honest, heartfelt appreciation and thanks go a long way to communicating meaning and building relationships.
What are the elements you find most important to employee engagement overall? What about your own engagement?
This was originally published at the Compensation Café blog, where you can find a daily dose of caffeinated conversation on everything compensation.