"People just don't stick around like they used to."
How often have you heard that phrase in terms of employee retention goals, usually coupled with statements about "there's just no loyalty anymore."
History shows that's just not true. For the last 25 years, tenure has been consistently low across nearly all age ranges. And the youngest generation in the workplace tends to stay the shortest amount of time (which is not surprising considering where they are in their careers).
More recent data published in The Wall Street Journal shows average tenure across occupations doesn't even reach five (5) years.
Getting ahead of the situation
This article focused on big data analysis for retention, looking at many different predictors to determine who might live so you can intervene.
But, as the article points out, "The big challenge for employers is what, exactly, to do with the information."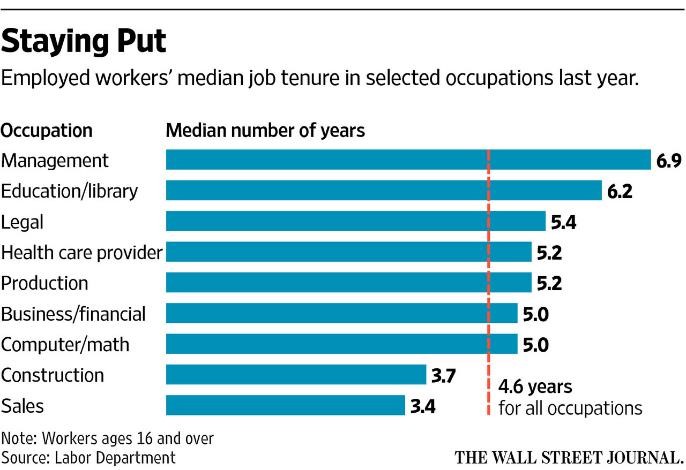 My suggestion is the rather obvious: Get out ahead of the situation whenever possible.
John Hollon pointed out in TLNT that too many companies are "stuck in recession mode" and are not investing in current employees as they should – either with opportunities for internal growth or ongoing feedback.
3 steps to address our "stickiness" problem
Addressing the "retention challenge" requires an attack on three fronts:
Create opportunities – Employees of all ages and career stages are looking for opportunities to increase their own knowledge and grow their careers. They will either do that in your organization or elsewhere. Sometimes we make it easier for employees to look for growth opportunities elsewhere. We need to refocus our efforts (and often our budgets) on learning, development and career advancement for our current employees.
Talk to the them more! – People need ongoing constructive conversations with their leaders, mentors and managers throughout the year (and I'd argue throughout the week). Too often, we allow the structured performance review process to dictate when we hold these conversations. Frequent and timely feedback, both positive and constructive, helps employees stay on track and stay personally invested in short- and long-term outcomes.
Recognize them before the traditional five-year anniversary marker – In traditional years of service anniversary programs, why do we typically recognize people at 5, 10, 15, etc., years? Because that's when the U.S. and Canadian tax laws offered tax-free award options. Tax law is a terrible reason to follow a specific approach. The Wall Street Journal graphic above is the perfect illustration as to why – you won't capture the vast majority of your employees if you wait that long. Celebrating anniversary milestone achievements is important, but it should start much sooner and occur in conjunction in ongoing peer-to-peer and manager-based recognition of desired behaviors and values.
How does your organization address retention, feedback and recognition needs? What do you seek yourself?
You can find more from Derek Irvine on his Recognize This! blog.