Sometimes it's easy for employers to forget that there's one thing that unites a good many of their employees: the fact they have children.
Moms and dads comprise approximately 38% of the US civilian labor force, and in 60% of married couple households, both parents go to work each day.
In fact latest US Bureau of Labor statistics reveal that of the nation's 83.2 million families, more than three-quarters (78.5%) had at least one employed member in 2021 – up from 78.2% in 2020. It means that for all the impact bosses 'think' team drinks, Friday beers, or away-days might have, it's far more likely that the perk most parent-employees want is simply being able to get away to pick their kid up from school, or to be there for their sports day, or any other symbolic moment in their child's life.
This is the overwhelming message that comes from new research from The Best Place for Working Parents – who in partnership with Southern Methodist University's Center on Research and Evaluation has just released its first ever Annual National Trends Report.
The report sets out to examine the benefits and policies of businesses that promote family-friendly work environments – from the competitive advantage it brings them, to boosting their ability to attract and retain employees.
Businesses from a range of different sizes were analyzed, to determine if family-friendly provision differed as headcount increased.
The research also sought to determine which were the 'tipping point' benefits that earned companies a 'Best Place for Working Parents' designation, with accredited companies assessed in closer detail to see what top ten family-friendly perks they offered.
Most offer paid time off, flexible hours and remote work
It may not surprise many to read that most family-friendly companies offer healthcare, paid time off, remote work, and flexible work policies ­– with 90% of Best Place for Working Parents designees having these policies.
Of these, paid time off is the overwhelmingly popular policy offered by family-friendly organizations (by 99.1%); followed by flexible hours (97.1%); remote work (94.9%) and company paid healthcare (94.2%). [See table below].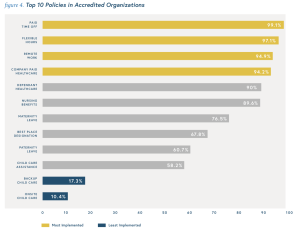 "What's definitely happened is that since Covid-19, there has been a demonstrable meeting of minds between what employees want, and what employers are willing to give," says Sadie Funk, national director of The Best Place for Working Parents, speaking exclusively to TLNT about the findings.
She adds: "Not only are we finding firms much more accommodating of simple, and very cheap perks – such as letting staff be present for their child's important assembly or award presentation, but there's been much more deliberate and intentional thinking about how they can meet working parents' needs."
She adds: "For instance, there has been a 10% increase in the provision of back-up childcare. Even though things like paid time off is still mostly the preserve of the very largest companies, we're also seeing smaller firms offer this, as a way of competing for talent."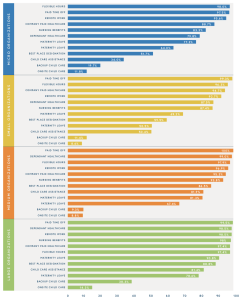 Consistently, the data reveals that the larger the company is, the more top ten family-friendly policies they offer – with flexibility, remote working and paid time off featuring prominently.
Here's how company benefits break down by company size:
Micro organizations (0-24 staff)

Of the ten policies identified as being family friendly, micro organisations typically offer just three: paid time off, flexible hours and remote working. But the research notes that this category of employer is demonstrating advancements in onsite childcare and backup childcare policies relative to the average – policies that are least frequently offered by employers of any size.
Small organizations (25-200 employees)
Small organizations, with 25-200 employees, typically offer employee healthcare, paid time off, flexible hours, and remote work policies. Areas of opportunity for this category include strengthening dependent healthcare, parental leave, and nursing benefits.
Medium organizations (201-999 employees)

The employers have strong healthcare, paid time off, nursing benefits, flexible hours and remote work policies. Areas of opportunity for this category include strengthening parental leave, and childcare assistance policies.
Large organizations (1000+ employees)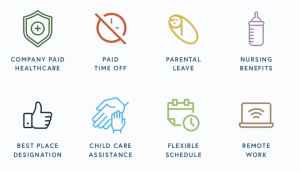 Overall, large organizations with 1,000 or more employees have strong policy implementation across eight of the Best Place for Working Parents family-friendly practices. Areas of opportunity for this category include onsite child care and backup child care.
What staff want
Despite sized-based variations on what's offered, companies are, it seems, responding to employee demands.
"Back in 2021 we actually asked employees what family-friendly perks they thought were most important, and flexibility came top (59%) followed by paid time off (56%)," says Funk. "So it's good to see that employers are now providing this with such uniformity." She adds: "Previous data we've released shows that 73% of women who were forced to leave the workforce say they would have stayed if they'd been offered flexibility – so we can really see how this is such an important perk to offer."
Quirks in the data reveal more micro organizations are offering benefits such as back-up childcare (19.7%) than small, medium and large businesses – which Funk says is a reflection of smaller businesses showing they can be the most flexible to their staff.
Funk also says that innovation was also happening at a sector level too, with some surprising improvements.
Construction, utilities, and contracting firms all offer above average levels of maternity leave (82.8% compared to the average of 76.5%), as well as above average child care assistance (62.1% vs 58.2%) and back-up childcare (29.3% compared to 17.3%).
"The fact that manufacturing and construction companies are taking a lead here was a nice surprise," she says.
What's missing?
Of all the family-friendly benefits coveted the most by staff, it's paid time off that tops the list. According to Best Place for Working Parents unlimited vacation time eliminates vacation liability for companies (an average cost of £1,898 per employee), and it's clear from the data that most accredited companies offer this.
The benefits found to be lacking most in terms of preventing companies applying for Best Place for Working Parents designation were maternity leave, paternity leave and nursing benefits (here there was a 20 percentage gap or more between designated and non-designated businesses).
For micro-business those not reaching the standard were found to be missing employer healthcare, maternity leave and nursing benefits the most. Meanwhile, for small organisations, they were missing a much larger list the most: everything from employee healthcare, dependent healthcare, maternity leave, paternity leave, nursing benefits, childcare assistance, flexible hours, and working remotely.
"Childcare provision is one of those benefits that remains stubbornly low," says Funk. She adds: "But, at the same time we do know more employers are looking at how they can help parents with their childcare more – whether this is providing it onsite, offering subsidies for it, or back-up care, so we do feel firms are stepping up." She adds: "I've even heard of some companies allowing staff to take their babies to work. This is great."
She adds: "I think we've reached an interesting transition point. Staff themselves are asking for different types of workplaces, and employers are having to react."
She says: "What's also interesting, is that some of the criticisms we used to hear about family friendly policies – notably people saying these benefits only reward parents – are starting to disappear. Things like flexibility, and working remotely benefit everyone – not just parents – whilst even back-up care can be accessed by people who don't have children – for instance, those who may have caring responsibilities for their elderly parents."
FAMILIES – THE STATS:
In 2021, 32.8 million families, or two-fifths of all families, included children under age 18
At least one parent was employed in 89.1 percent of families with children, up from 88.5 percent in 2020
Among married-couple families with children, 96.5 percent had at least one employed parent in 2021, and in 62.3 percent of these families both parents were employed.