It probably won't surprise you to read that more and more workers want their bosses to adopt a four-day week.
I mean, what's not to like? The prospect of staff pocketing a full weeks' pay, but only working for four-fifths of it is a popular one for employees at least – and the idea of a so-called 'four-day workweek' is already rapidly gaining momentum in the UK and Europe.
A recent experiment in the UK saw 60 firms trial it between June to December last year. More than 90% of participating businesses have opted to continue with the four-day week, with 18 adopting it permanently.
But – that's not to say employers are totally bought into it.
To many it feels counter intuitive to expect that reducing the working week will improve productivity. How can it, one might legitimately ask, if each member of staff is working 50 less days per year? And why should staff get paid for when they're 'not' actually working? Traditional thinking is still hard to shift.
And if that's the perception in Europe still, what about in America, where longer working hours are already deeply the norm?
What isn't different is the fact staff here also want it. Around 71% of Americans say they support the concept of a four-day workweek.
This is according to a recent poll for Newsweek. In this same research, 83% of employees believe they can complete their weekly workload in four days.
 The reality is much different of course. Few have really given it much thought.
Yes, there has been some notable companies experimenting with it. One is Massachusetts-based Knowledge Futures Group, which ran a trail where staff would work a 32-hour week. The trial was in July 2021, and its since decided to stick with it, but it's one of very few that have.
But what is the likelihood of more companies following suit?
The one thing HRDs are missing is confidence.
They won't go for it (or even test it) unless they are convinced it could work for them. Part of deciding this is by reading up on the experiences of others.
But evidence is so far scant.
Well, we though we'd try and change this.
TLNT decided it would be a good idea to add to the small, but growing pile, of assessments of four-day workweeks.
We exclusively spoke to one of the few organizations – Poll Everywhere – that has tested it; to hear from directing from them – warts and all – about their experience of a four-day workweek.
Here's what boss Robert Graham has to say about it.
We think it will provide some interesting food for thought: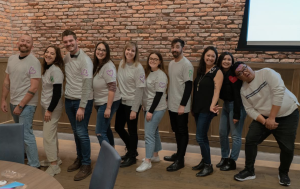 Team testing: Poll Everywhere decided it would trial a four-day workweek
Q: First of all, why did you decide to trial a four-day working week? Were you suffering issues around employee burnout – or did you just want to find out what all the fuss was about?
A: "As a company, it's our mission to have a growth mindset and use data to drive results. We'd already done extensive research about shorter working weeks, and so we had a sense of the improved creativity, mental health, and employee engagement it would likely bring. We also saw that a four-day workweek might help improve burnout. However, we did have legitimate concerns about how our customer facing teams would meet their contractual obligations. Ultimately we wanted to be able to report on it ourselves, and so the only way to do that was to actually try it out. We decided to pilot a four-day workweek and collect data on productivity, employee engagement, and employee wellbeing."
Q: What were the main details about the pilot?
A: "We did an eight-week pilot from June-July of 2022, where the salaries of employees were not impacted. Teams were simply told of a new requirement to work 32 hours across four days – although we prepared the ground beforehand, making sure both customers and teams working for them were prepared. To maintain Monday-Friday cover, our customer-facing teams rotated their days off to ensure that customers always felt supported. This ensured a team member was always available to customers, but it also meant staff could still take advantage of a three-day weekend."
Q: Given you need to meet/exceed customer expectations, was the decision to try a four-day working week considered a risky one?
A: "The majority of employees believed they could complete their typical work week in four days. However, given that our company's foundation and reputation rests on providing customer satisfaction, we worked hard to develop a strategy for how we would handle scheduling for each of our teams that deal with clients on a daily basis. This led to slightly different working practices being implemented by our sales, success, and support teams during the pilot. Support staff alternated between either a four-or five-day workweek, beginning on a Thursday. As a result, we were able to fulfill our obligations to clients and have some back-up employees for staffing across time zones. We sent thoughtful messages to managed clients under our care and rotated at least one senior team member into a position that was accessible for any minor Friday escalations. When it was their turn, additional team members were able to completely unplug thanks to how well it worked for the group. A comparable plan to was implemented by the sales team as well. We value prompt responses to inquiries from clients and leads, and we were able to do it by using a few straightforward coverage techniques. We also developed customer service scenarios, drafted correspondence, and confirmed that by the start date all customers and employees were properly briefed."
Q: Did staff have any anxieties – for instance that they might have to work more hours during their four days?
A: "Our four-day workweek pilot was set up to allow as much flexibility as possible for our employees. We didn't really do much beyond requiring total number of hours worked. A few things though were made clear: If employees had their work done by Thursday, they could take Friday off. We explicitly did not ask folks to work four 10-hour workdays. That said, if employees didn't wrap up their work by the end of Thursday, they were expected to sign on Friday morning and not sign off until the remainder of their work was finalized."
Q: Were staff asked to monitor their own sense of wellbeing, productivity, happiness etc. before, during and after the trial?
A: "Effectively, yes. We did multiple surveys and check-ins throughout the experience. We also asked about subjective feelings about work, productivity, and mental health/well-being. Through these surveys we have been able to arrive at some conclusions about how a four day work week suited our business, culture, and employees…"
Q: Can you tell us what they were?
A: "Quite quickly it was revealed that Mondays were considered to be the most productive day of the week for ideas and motivation. Some employees felt more efficient, but the majority reported identical or small decreases. That said though, most employees felt they could complete their standard workweek in four days. Managers and executives did report that the workweek was felt to be more rigorous; however the extra day off compensated for this, and allowed staff to return to work feeling more rejuvenated and creative than previously."
Q: Were there any negatives?
A: "There was the occasional issue around missed deadlines, but this could be attributed to logistical preparation as much as to the concept of working four days a week. When creativity increased, execution decreased, resulting in a loss of 10-15% productivity in exchange for 20% of workweek hours. Interestingly, the group we expected to benefit the most (non-customer facing employees), were negatively impacted and struggled with the lost time to collaborate. Meanwhile, the customer-facing teams struggled less than expected. This indicates that the experiment may have helped people be more creative in their work. Overall, we think that with training, and a re-emphasis on our culture, and practices, we can reduce this anticipated loss of production. In a longer format examination, it is feasible that the creativity will outweigh our challenges with missed execution and communications. In other words, we still believe the experiment's loss of productivity may be solvable."
Q: Did you find staff did drift into working longer hours for the four days there were working?
A: "We did see more intensity in the four days, but we also observed that the extra time off allowed folks time to invest in the things outside work that they find meaning. They returned recharged and eager for the challenge of being productive in four days."
Q: If people can get all their work done in four days, did it not make you wonder why you are paying them for five?
 A: "We pay for work and for outcomes. When folks do intellectual, creative, and demanding work that delivers value, then it's not clear that hours spent are the best way to view what that work is worth. We're not assembling widgets in a factory. All hours worked aren't equivalent."
Q: Has it been good for your employer brand/recruitment?
A: "We have seen some uptake in interest from our four-day workweek experiment and continuing program. We believe that the impact on recruiting is like the advantage that being able to work remotely previously held. One thing for sure, is that this isn't for everyone, and nor is it for all people at every career stage. But there is a lot of talent that covets this specific benefit and this way of working. It can turn off talent who would prefer to work in an office. But, on the other hand, it dovetails well with our positioning as a remote employer, and we're excited about how it operationalizes our values."
Q: So, the big question…what next – will a four-day workweek stay?
A: "The case for a full-time, four-day workweek is difficult to make, but the benefits are significant and impact the lives of all employees. We want to repeat the program and improve some things that fell short. So, this year we will repeat it again, with an extra month. We think that improved productivity is plausible though. We didn't lose an amount of productivity that was commensurate with the time lost, and we do believe there is some slack in how we work in five days. There are also some advantages in having extra time overlap to schedule collaboration or meeting time. We also believe that a seasonal step-down in work pace can be beneficial if we don't find a path to a full-time, four-day workweek. We are open to a permanent four-day work week, but only if we can find ways to collaborate that make it a win for all."