Sometimes, the best leadership examples come from someone who does not have the lofty titles.
We watch in amazement how one tiny gesture ends up giving us the wow factor in multitudes (as the video below shows). Ordinary people, or those in professions that would not be synonymous with leadership, set an example for all of us to follow.
It always brings a smile to my face when I see these random acts play out.
My first foray into human resources was in training & development, but one of the things I found limiting was that when someone would call me and want to send "John" to a management class.
In their mind, we were supposed to miraculously send this person out as a bad manager, and what we would get in return was a flawless leader? However, what usually would return was an individual that was pumped for a few days, and for the most part, then settled back into the comfort zone
What is your vision of leadership?
A good leader knows that respect is something you earn: from the customer, employees, investors and, eventually, the industry at large. To earn respect, listen to your people, and treat your employees like people.
Treat them as if they are partners in your business, because without them it is all a bad dream. Do not ever get into the mindset like they are subordinates.
A global CEO remarked to me a while back that regardless of nationality, everyone want to be treated with respect and recognized for their hard work.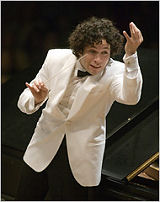 Treating people with respect also breeds happiness, and the happier your employees are, the more likely they will stay, grow, and refer others to your company. In other words, happy employees equal happy customers. Everyone is in this strategy thing together, not just the senior team.
I recall a story that I read about Gustavo Dudamel, the conductor of the L.A. Philharmonic. When you normally think of leadership there is always a certain image that always pops into your head.
You would not normally associate an orchestra leader with organizational leadership. The board was skittish about hiring someone as young as he was in his mid-20. What he did after he was hired is still talked about to this day.
Every interaction counts
Doodle told the Philharmonic board that his first performance would be special and it would be a private affair. I could almost imagine the glances around the room. He told them the attendees would be made up of the parking attendants, ushers, plumbers, electricians, and porters. He wanted all the people who made each performance happen to be a part of it. He wanted his orchestra to play a special performance for "his" people
The vast majority of these people had never attended a symphonic performance. He told the story that as he looked out into the audience, he saw tears running down their faces. They were all dressed in their "Sunday clothes."
The orchestra members told of the pride they had in that special performance. It gave them such a joy to perform for this special audience, that in a lot of cases, are the overlooked people within an organization.
Real leadership lessons vs an off-site
I learn more about leadership from these type events that all the seminars and off-site event can offer.
What we need to do is more connecting with our team whether you are a supervisor, foreman or an EVP. It does not matter where you are on the totem pole. People want to be treated with respect. If you want it you have to give it. Leadership is a two-way street.
There is no one-way street anymore, and as a matter of fact, all of our interactions could benefit from this approach Those interactions could be the game changer in a lot of different ways.
Giving is the best communication!
I recently saw one of the most profound videos on Facebook the other day. The story was about a little boy caught stealing medicine who was caught by the storekeeper.
He said that he had picked up these items because his mother was sick. Another shopkeeper saw the interchange and stepped in and not only paid for the items, but gave the boy some groceries to take home.
Years later, that same shopkeeper suffered a heart attack in his store. When he got to the hospital they were able to save him, but the hospital bill was enormous. However, the doctor that was treating him turned out to be the same child that he gave the groceries to and paid for the medicine for his sick mother.
As the family agonized over this huge bill, the last scene shows the new bill and the balance is zero — as in paid in full. That same child that became this man, this doctor, gave a helping hand and returned this favor the shopkeeper did for him 30 years later. In his letter, he reminded the man's daughter that he was the young man her father helped out and that this was his way of repaying.
According to this script, the child grew up to be a doctor, but there was another scene in the movie where a homeless person wanted something to eat. As was his custom, this same shopkeeper did not discriminate; the homeless man also received a small bag of food, the same as that child.
Every interaction counts with EVERYONE
As we venture out each and every day, we never know, or consider, that the people we interact with each day could someday play an important role in our lives. Our problem, especially in our organization, is that we gravitate towards the lofty titles.
From the VP's on up, they always get the star treatment and we walk past others without even the most basic "good morning, how are you?" Those five words could have a powerful impact on the receiver.
I was reminded of a story from an HR Director who told me that her CEO always talks about how he connects with his employees. The flip side is that he walks in every morning, walks past numerous offices and cubicles, and never utters just the basic "good morning" greeting.
Remember the things you do and all those words you speak. The way you treat others has a lasting effect on all those around you, and an eternal effect on you.