If your company hasn't made a "Best Places to Work" list, you should be asking "Why not?"
There are hundreds, maybe thousands of these lists. The Great Place to Work Institute has what is arguably the most prestigious. Companies spend tens of thousands to make the Top 100, and even then, many don't.
But that's no excuse for not making some list, somewhere.
There are also "best places" lists compiled by business journals. SHRM chapters have them, as do any number of organizations. Every state has one; some have several. And there's one in practically every city of size, including in the Yukon, where Home Hardware made the list.
Google is tops in the U.S. and UK
While the bragging rights are indisputable, so many of these lists are little more than fundraising efforts by the sponsoring body. A company can make the list simply by collecting employee votes.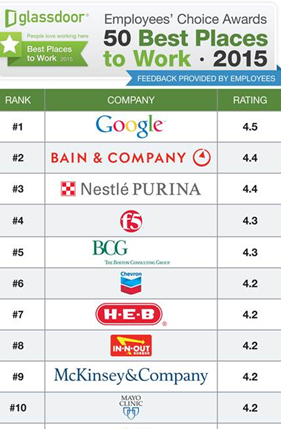 Then there is Glassdoor's Employees' Choice Awards that focuses on the 50 best Places to Work. Culled from 800,000 anonymous evaluations completed in the 12-month period ending Nov. 2, Glassdoor crunches the scores companies are given by current and former workers to come up with its own "Best Places to Work" list.
This year's list has Google on top. Not only is the company No. 1 in the U.S. for the first time in the list's seven-year history, but Google is also No. 1 in the UK. The company is one of only five firms to make the U.S. list all seven years.
In the small company category (fewer than 1,000 employees), The Motley Fool topped the list for the second consecutive year.
According to Glassdoor, the rankings are derived from employee opinions of their company, both pro and con.
Overall satisfaction is key
Employees rate their overall satisfaction, how well they feel their CEO is leading the company, as well as key workplace attributes like career opportunities, compensation and benefits, culture and values, senior management, and work-life balance.
In addition, employees are asked whether they would recommend their employer to a friend and what their opinion is on the company's business outlook in the next six months.