The last two years have taken their toll on employers in many ways, but what's arguably impacted them the most is the sheer number of resignations they've had to cope with.
In 2021 some 47 million employees decided to up-sticks and leave. It's a trend that has continued well into this year, where every month a staggering 4 million people have left their employers.
This scale of this cannot be under-estimated. In 2009 the monthly quit rate in America was just 1.2%. For the past two years, the rate has been more than double this.
Part of the reason was the sheer number of other, competing jobs available – they rose by 55% during 2021-22 according to recent data.
But…(and maybe we should just whisper it for now)…could the so-called 'Great Resignation' have actually peaked?
And if so, what does this mean for employers?
Quitting intent is 'falling'
While the pace of recent resignations has risen more quickly than one would have expected from labor market tightening alone, data is beginning to suggest that optimism (what quitting arguably represents), is now falling, and the risk of moving to somewhere new feels heightened.
This is one of the core conclusions from just-published research by payroll provider, Deluxe.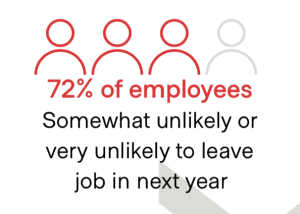 Its 'State of the Workplace' survey reveals a significant 72% of employees say it is 'somewhat' or 'very' unlikely they will quit their current job in the next 12 months.
This represents a significant change in sentiment from other studies, which predicted upwards of 40% of staff wanting to quit within the next year. While there are age-group differences in the data (Deluxe finds the most likely age group to quit are those aged 18-24, at 47%, compared to those aged 55-65 at 18%), it suggests firms can "find comfort" in the fact staff are more likely to stay than leave.
Is there really light at the end of the tunnel?
This research is amongst the first to even hint that resignations could be falling.
It certainly suggests that external events are really beginning to be playing their part. It finds employees' fears about the stability of their job, and worries about being laid off being the number one thing that causes stress for them (see chart below).
But should HRDs be content with retention based on their staff being afraid of the unknown?
Now's the time to invest in staff?
The OECD finds that the reason resignations spiked was because organizations were 'failing too many employees' and that if resignations are to be driven back to pre-pandemic levels, employers can't just rely on a cooling economy to persuade staff to think twice about leaving.
Anthony Klotz, professor of management (organization and innovation group), at UCL School of Management says: "The primary reason that resignations have the potential to be driven back to even below pre-pandemic levels is because organizational leaders have come to recognize this moment as a golden opportunity to craft a more humane world of work." He adds: "When the Great Resignation began a year ago, there was still an inclination by leaders to return to the old normal, in part because CEOs and HR professionals were still in the midst of dealing with the havoc that the pandemic wreaked on their businesses. But since then, leaders have shifted their mindsets and now view this current moment of disruption as a time to invest in employees and to experiment with new more sustainable ways of working."
So what areas should employers be concentrating on to craft a reduction in resignations?
The Deluxe research offers some answers. When asked, the number one action employees said they wanted was – perhaps predictably – flexible scheduling; that is scheduling that allows them to adjust their work hours as they see fit. Other actions included having a focus on employee mental health (see below):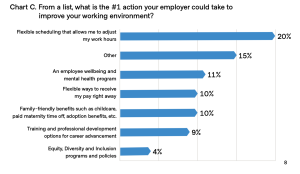 The value of this shouldn't be under-estimated. When given a choice between a 5%
or 10% raise over having a more flexible job schedule, a surprising one out of three employees said they would prefer flexibility over a raise. That's even in the midst of rising inflation, and pressure on finances.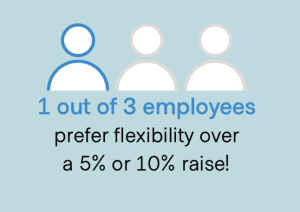 Reinforce, reinforce, reinforce
But perhaps the biggest message HRDs can take from the research is that organizations don't necessarily have to be offering ever-more fancy benefits to boost retention, they just need to better communicate what staff already have.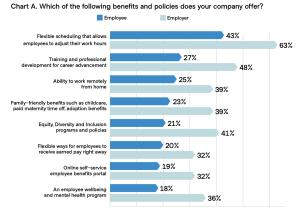 In every single category of benefit being offered, the data (see above) found employees have less awareness of them than employers had – sometimes substantially so (such as wellbeing programmes). With the Deluxe research finding only 61% of employees are 'somewhat' or 'very' satisfied with the benefits they feel they are being offered [and dissatisfaction is known to drive people to look elsewhere], improving awareness of benefits provision is a quick win to boost retention.
Thank staff for staying – even the 'cuffers'
If quitting really is beginning to tail off (only time will tell if this is true), the correct thing for employers to do is thank them for their loyalty – even if the reason for staying is because they are afraid to jump ship. An employee who has been recognized is 63% more likely to stay at his or her current job within the next three to six months than one who is not.
Offering thanks even extends – arguably – to so-called 'cuffers'.
In the dating world, autumn/ winter is known as 'cuffing' – where single people look for short-term partnerships to help pass the colder months of the year. Typically this last-ditch effort to be paired up for the winter isn't always a match made in heaven, and the partnership breaks up once spring arrives. HR commentators refer to this time of year also being the 'job-cuffing season' – where, just like singles, job hunters look for something casual.
But these people needn't be those spring-time quitters if employers treat them correctly. Says Rick Hammell, CEO and founder of global human experience platform Atlas: "People want to feel that they are joining an environment with the opportunity to personally grow and feel recognized for their contributions to the overall purpose. Flexibility is crucial in this new age of work. So, it's essential to be mindful of your people's needs first and foremost. The war on talent and 'Great Resignation' are all indicators of what talent wants: flexibility, work-life balance, learning and development opportunities and purpose-driven work."
It's a simple message: if you want quitting to fall, don't just rely on a cooling market helping you out. Invest now in the sorts of perks and recognition they want to make sure they do stay.
QUITTING: THE STATS
Who's quitting?
The Accommodation and Food Services Industry lost the most workers in 2021, with 892,000 leaving their jobs.
There were three sectors with quit rates higher than 4% in 2021: accommodation & food; leisure and hospitality and retail.
The Federal Government Industry had the lowest quit rate in 2021, at only 0.7%.
Why were they quitting?
37% of Americans said: "pay was too low" as the major reason they left their job.
33% said lack of advancement opportunities was the major reason they quit.
35% said feeling disrespected was the major reason they quit their job.
Quitters by demographic
Those with a High School Diploma or less were more likely to quit their job, with 22% quitting.
Those between the ages of 18-29 resigned more than any other demographic, with 37% quitting their jobs in 2021.
Women are 11% more likely to quit than men. During 2021 20% of women quit their jobs, while 18% of men did.
Hispanic and Asian people resigned more than any other race, with 24% of each demographic quitting their jobs. 18% of Black Americans quit their jobs and 17% of White Americans did.
Those with lower incomes were 2x as likely to quit their jobs when compared to upper-income employees.

Source: www.zippia.com