Indeed's tagline used to be "One search. All jobs." Looks like Google took offense.
Long rumored to be getting back into the job search game, we got our first visual confirmation of that a few weeks ago, when Google Hire first surfaced. There wasn't much to see, but what there was led to speculation Google was testing an ATS.
Now, we have new sightings showing how Google may integrate job postings in search results. Last week, Dan Shure tweeted some screenshots showcasing Google's apparent beta testing of job postings.
Take a gander.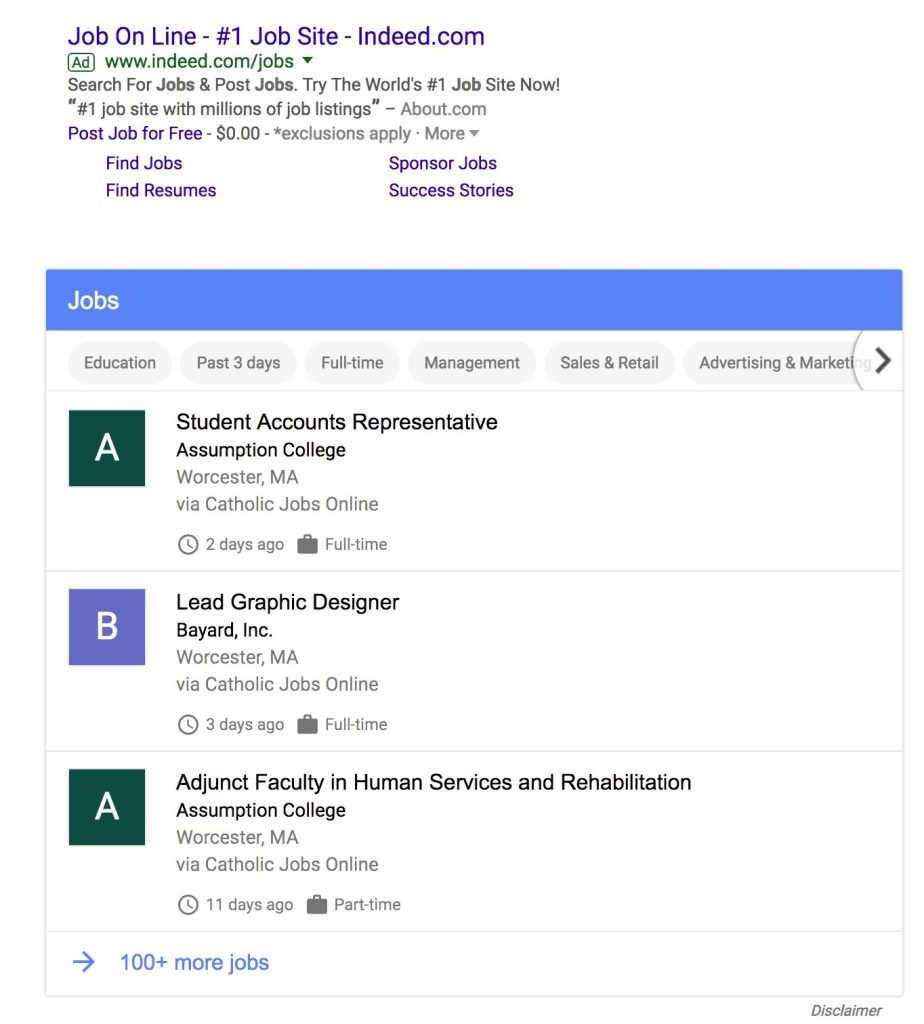 He also made a video.
Chances are you won't see this search yourself, as Google likes to roll things out gradually, testing frequently before unleashing new features onto the world. However, what evidence we do have from this apparent beta test tells us the following:
It takes up a lot of real estate. If you're not an advertisement, there's a good chance Googlers will see this native search way before they see links to job sites. Bad news for job boards that have spent a lot of time and money optimizing their web pages.
Segmentation. A generic search like "jobs online" gives the visitor a broad range of ways to funnel their search. For instance, searchers can break their query down by date, full-time or part-time, and management-level. This is in addition to specifics like job category breakdown.
Location-specific. Even though the search is for "jobs online," only jobs in Worcester, Mass., where Shure is based, are shown. This indicates Google is localizing opportunities without the user having to specify a location.
Date order. Fresher jobs seem to get higher priority than older ones.
Logos. The screenshot shows "A" and "B" but that's only because there are no logos associated with those employers. A separate screenshot shows a GAP logo when pulling from www.gap.com, and another pulling from Glassdoor shows a Converse logo.
Google-like results. Once you click on a job, the interface is very similar to what you might see on Google when doing a local search for a barber or a bar.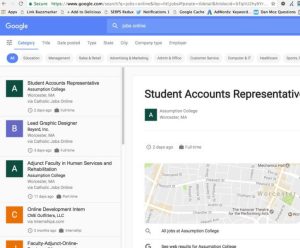 Sample. The information a user gets on Google seems sparse, with a link to view the entire job visible. Users can also see all job and web results for the employer. A map can be seen as well.
Robust segmentation. Clicking into this interface reveals a ton of options to filter results. Here's a screenshot showing the vast options:
Apply. Clicking an apply now-style button from Google takes a user to the source of the job. This can be a board or a corporate site. They leave Google at this point.
It's important to note this is an apparent test phase and that things could certainly change as Google learns more about user behavior. There seems to be no doubt, however, that Google really is getting into vertical search in a real way. And the nail-biting you hear is coming out of Indeed's offices.
As a test phase, there are also a few questions. Here's what we don't know at this point:
Winner and losers. We don't yet know why Google selects one job site over another for its results. We don't know why they may pick a corporate site over a job board. Those sites left out in the cold are going to be in big trouble.
Mobile. We have no idea what this will look like on mobile devices, or whether or not this function will be available on smartphones. As more and more job searches happen this way, the impact of this feature may hinge on its mobile-friendliness.
Advertising. No clues into the information we have now whether or not there will be a paid option to highlight job postings, as well as get them indexed in the first place. Doing so would be smart and would likely shift a lot of money from Indeed and others to Google.
When Google Base hit over a decade ago, it felt experimental. There was too much in the hands of human beings uploading content. This, however, feels much more strategic and calculated. It's a direct strike at vertical search providers, and it's a direct hit on those who make a living just passing around duplicate content and creating poor experiences for job seekers.
"Over 50% of my traffic still comes from Google," a job board executive who wants to remain anonymous told me recently. "Google doing this means the next year is going to be about the rats jumping off the Titanic. What has been death by a thousand cuts is going to be one big as sword to the gut."
Yikes.