"The secret to winning is constant, consistent management" – former Dallas Cowboys coach Tom Landry
Choosing good managers is one of the most important decisions that companies make – and bad leadership is often at the root of business failure.
You might be surprised then that recent Gallup research suggested that companies choose the wrong management candidate 82 percent of the time.
How do we get it wrong this often? Do we need to change the way we promote people? Or are there just a deficit of good managers out there?
Recent research has suggested a number of interesting possibilities but, whatever the underlying cause, we all have to work on weeding out bad management in our organizations.
No one wants to be a manager
We seem to accept ambition as a natural human quality. We also assume that everyone wants to get to the top, that they strive for promotion as a recognition of their talents and performance. However, a recent Careerbuilder survey suggests that this may not be the case.
Out of the thousands of workers surveyed, only one-third said they aspired to leadership positions, and a mere 7 percent were interested in C-level management positions. Around 50 percent claimed that they were satisfied in their current roles.
Management has an aura of unpleasantness, and you're constantly charged with balancing the interests of your employees and those of the company. It seems that many view it as more trouble than it's worth.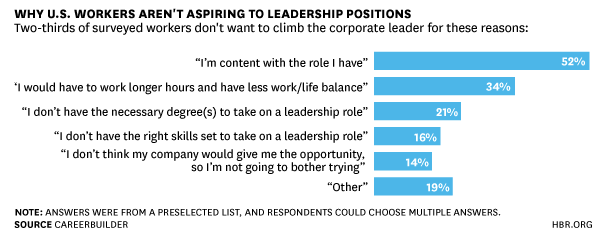 Others were concerned about changes to their work-life balance. The fast track to the top involves extra hours, and many aren't willing to put them in. Work-life balance is undoubtably important, a recent Accenture study suggested that it is the key to career success, but promotion and achieving balance are not mutually exclusive.
The key here is ensuring that you have a work-life balance, not a work-life blend. As long as you stop the demands of your career seeping into your personal time, and as long as you don't feel guilty when you're not working, then there is no reason why being a manager would negatively affect other areas of your life.
There are likely to be many talented workers who would make fantastic managers. It's clear that they may be holding themselves back, unwilling to sacrifice the benefits of their existing situation for an enhanced role within their company.
Do you have what it takes?
We all have great stories about awful managers we've encountered – their blunders, their ineptitude, their total inability to manage. The irony is that to get promoted, these figures are likely to have been high flyers in their respective fields.
Clearly, past success clearly does not guarantee strong leadership.
Gallup leaders Randall Beck and James Harter argue that instead, the best managers are made up of a unique blend of talents and skills.
The best managers are:
Motivational — They're great at encouraging their team to take action. They get everyone excited in the company vision.
Great decision makers — They ignore politics and personal preferences when making decisions. They understand that productivity is the best barometer for judging employees.
Assertive — They have the confidence to create long-term goals and stick to them. Decisiveness builds respect.
Communicators — They understand the importance of relationship building in the workplace. They promote transparency and create a two-way dialogue between management and employees.
Accountable — They accept responsibility for their own mistakes. There's no passing the buck, they promote a culture of accountability.
This isn't universally attainable. Gallup research suggests that roughly 1 in 10 of us have the capacity to be great managers. Instead of promoting those who deserve it, we need to recognize and reward the qualities that guarantee great management.
These "special" people are in short supply – we all need to evaluate our team and work out if there are any diamonds in the rough.
A coach on the field
In a recent Harvard Business Review article, Monique Valcour argues that the very best managers are great coaches. Some 70 percent of employee learning and development happens on the job, and not in formal training programs, and it is this special breed of supportive managers that can bring the best out in employees.
Valcour believes that you can teach "old school", results-focused line managers to coach their employees in this way. What we need to change is the "I speak, you listen" mentality that sometimes pervades management.
Establishing a dialogue between employees and their superiors is paramount to success. The best managers can succeed by challenging their team to improve and helping them reach their own goals.
No secret sauce required
Encouraging employees to take ownership of their own development in this fashion helps you avoid micro-management and actually results in stronger bonds with your team.
The best part? If this really is the secret to great workplace leadership then, as Monique Valor argues, anyone can learn it. No secret "leadership sauce" required.
This originally appeared on the Seed Jobs blog.