For many recruiters, digital content is nothing more than a vehicle for SEO. And for some, "strategy" means simply dumping keywords into uninspiring blog posts in the hope of climbing Google's greasy pole.
But when used effectively, a clear digital content strategy can revolutionise any company's recruitment process. The team at Inspiring Interns, the UK's leading graduate recruitment agency, have assembled a handy guide to show you just how powerful digital content marketing can be. It is an introductory guide for recruiters new to branding and content marketing. Far from being a comprehensive discussion of building a branding strategy, the guide instead is a brief list of the various elements with simple descriptions covering:
Blogging
Infographics
Whitepapers
Email campaigns
Social media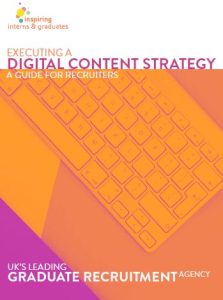 And while many of us use these media every day, Inspiring Interns' guide explains in broad terms the impact they can have. Here are just a few of the ways a strong content strategy can transform recruitment.
Stand out by building trust — With so much noise in the recruitment sector, it's pivotal that your company stands out as a respected source of information. Sharing up-to-date, accurate insights about your industry encourages candidates to see you are a reliable and trustworthy company. Like any marketing campaign, the goal of recruitment content marketing is to set yourself apart from the crowd. Offering the kind of news, articles, blog posts, and thought pieces they can't find anywhere else is a brilliant way of turning one-off visitors into applicants.
Bring the talent to you — For years, online job boards have been offering generic content and job searching advice. By offering tailor-made content about your industry, real accounts from current employees, quotes from successfully placed candidates and an insight into the day-to-day working of the business, candidates will find your content far more valuable. Attracting content directly can save you some — or all — of the estimated 30% of budget employers spend on job boards.
Understand your target employee — Employing cultural fits will be a key trend of HR in 2019. Chief HR officer at Randstad North America, Jim Link, says, "We will see more and more employers place an emphasis on training existing or future hires, especially when they find the culture fit they are looking for." But assessing the values and ethics of a potential employee is nearly impossible through online job boards. Recruiters should instead invest in a website that highlights the company culture, explains its mission and values and gives candidates a view of the environment. Blog posts, articles and videos highlighting the cultural ambitions of your company is a brilliant way to attract like-minded job hunters to your company. Enabling candidates to make a smarter decision about whether they would be a good fit, saves your recruiters time and reducies the possibility of making a bad hire.
Retaining leads — With talent shortage is the biggest issue facing recruiters, keeping good candidates interested in your company should be a priority. When you find top talent, you want to be able to stay in contact with them, even if you don't have the perfect role for them at present. By sending out content such as your top jobs of the month or the latest blog post, you can keep the strongest candidates interested in potential roles that could arise. Building a pipeline of candidates by keeping them up-to-date on the industry and your company helps to ensure that when a vacancy comes up, you have a ready supply of candidates.
But content has to be both broad and diverse. The goal of any content strategy should be to build a base of candidates who are suited to both existing roles and future roles. When recruiters create content that is limited only to current vacancies, many people find the content irrelevant and stop reading.