HR is in the midst of a significant change. In fact, HR executives themselves aren't quite sure what the future holds – a new report from Sage People found that a whopping 82% of HR and people leaders anticipate that the role of HR director will be completely unrecognizable in 10 years' time.
This is thanks, in large part, to the ever-changing world of work, requiring HR teams to rethink how they attract, manage, engage and retain talent.
For companies that want to get ahead and win the war for top talent, there is a recognized need to place more emphasis on creating personalized candidate and employee experiences with a more people-focused approach.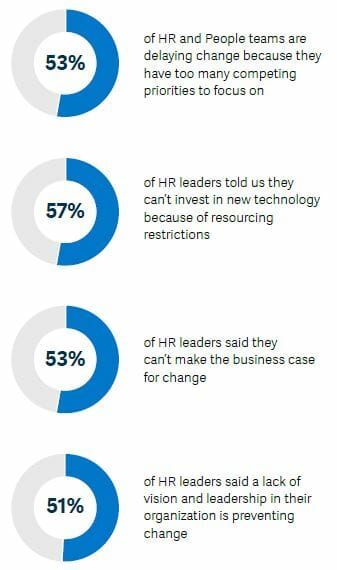 As a result, HR needs the flexibility to support both traditional and new ways of working. Older, transactional HCM applications may no longer be adequate in supporting HR and people teams, creating a need for new employee-centric applications.
These new apps are not designed purely for HR but for the whole organization, providing HR teams with the ability to bridge from more traditional to new ways of working; providing employees with the ability to engage with the business on-demand; and providing managers with tools which help them better engage and coach their teams.
All of this means that HR and people teams are free to focus on people and have wider support to do so from the rest of the business. These employee-centered organizations – or, "People Companies" – are organizations that truly put their people at the heart of what they do.
Flexible teams in the minority

It is perhaps of little surprise to find that many HR and people teams are still very much aligned to working in traditional hierarchical or matrixed organizations as a function.
Fewer (only 29%) are organized for flexibility or adaptiveness, with a focus on projects or contributing to solving problems as part of a team.
Usually, there's a tendency to think about new ways of working across the wider organization, but perhaps there is equally an opportunity for HR to think closer to home about how it can become more agile and responsive to changing business needs as a team themselves.
Barriers to change
Sage's research has also identified some of the barriers that HR and people professionals can face in making the transition to employee-centric people companies.
First, 51% were concerned by the lack of vision, with no clear business purpose being communicated.
Second, 43% of HR and people executives believe their organization will not keep up with changes in technology in the next 10 years, with 75% lamenting the fact their teams are not sufficiently tech savvy.
Another concern for 57% of those polled is the inability to invest in new technology because of resourcing restrictions.
An HR skills gap

86% of HR executives surveyed also noted the need to manage to close what they perceive as a skills gap in HR.
Today's skills challenges include limitations around being tech savvy, a lack of creativity and analytics competencies. Interestingly, creativity and analytics capabilities are seen to be ongoing future problems, with communications also being identified as a critical skill.
HR leaders are looking to plug the skills gaps by upskilling existing teams, working more collaboratively and cross-functionally, while also hiring new skills into the function. This suggests that HR might become a great new destination for people who have not previously considered this as a career option.
As more companies leverage automated technology for their HR departments, new titles and roles will come to fruition and provide a glimpse into how much this technology can and will continue to disrupt the workplace.
Be the Face of Change
With the ongoing shift from HR to People, it is essential that HR embrace technologies (including AI) that allow for more actionable insights using predictive and prescriptive analytics.
This turns attention from understanding the past (what happened and why), to be better able to address the future (what is likely to happen, and what can – and should – we do about it).
The opportunities for HR and people teams in using technology to get ahead are significant. Companies should be prepared to seize the opportunity and adapt as the shift to employee-centric organizations continues.
Interestingly, 69% of HR leaders polled believe that employee expectations of the function are changing, and this is going to have the potential to drive new thinking as to how HR can add more value to the business.
What a great opportunity for HR to lead from the front and be the face of change in their organizations.