According to a Boston Consulting Group study, the ability to deliver on recruiting has a larger impact on revenue growth than all other HR areas, including onboarding and retaining new hires, managing talent, and developing leadership.
Yet despite the importance of the talent acquisition function, recruiters still continue to rely on the embedded analytics in their applicant tracking system (ATS) for the data they need to make fact-based decisions on recruiting and hiring.
As I mentioned in this article on the critical limitations of the ATS, these systems have an inherent flaw: none of their analytics are built using data from the full employee lifecycle, which prevents recruiters from readily accessing information on hire performance and progress, and hinders them from consistently making quality hires.
It's also become clear that the ATS neglects to provide a goldmine of information on another important lifecycle associated with the hiring process: the applicant lifecycle.
The 4 stages of an applicant
Just as an employee goes through several stages during their tenure at your organization, an applicant also passes through different states as they filter through your talent acquisition process. To your ATS, an applicant is a single entity — a name attached to a requisition that goes through a linear process in your hiring funnel and ends with them either being hired or not hired.
But an applicant is never "just" an applicant. There is a lifecycle that a person in your funnel goes through that lines up with the state of the requisition, but isn't directly tied to it. Each person goes through a different state as they progress through this applicant lifecycle and each state in this lifecycle tells you a different data-rich story about your recruiting process. These states are:
New — These are brand new applicants who have just been added to your system for the first time.
This state contains data such as when they entered the system, where they were sourced from, etc.
Current — These applicants are attached to a requisition that is currently open. They can either be a possible hire or part of a volume of candidates that you're sifting through.
This state contains data such as what requisition receives the most or least amount of applicants, what attributes top applicants share, how long it takes to fill the requisition, who the hiring manager was, where applicants get stuck in the process, etc.
Past — These applicants are attached to a closed requisition.
This state contains data such as who was the successful hire, when they were hired, did any applicants abandon the process, etc.
Rejected — These are applicants not allowed back into the candidate pool for various reasons.
This state contains data such as why these applicants were removed from the process, who sourced the applicants, what requisition they were tied to, etc.
As you can see, you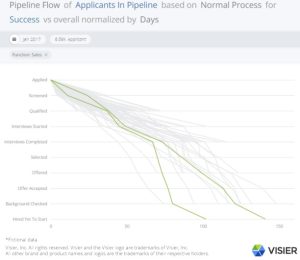 need data from all four states to truly understand what is working and what you need to do to drive towards success. Unfortunately, your ATS can't process an applicant to this level of detail. In fact, no transactional system is capable of extracting meaningful insights from any of this stored data.
The need for a more complete picture
This 2016 hiring manager study found that in spite of the increased investments that organizations are making in talent acquisition, a significant proportion of hiring managers said that in order to increase the quality of people they hire, HR needs to improve the recruiting process.
So long as your ATS looks at applicants from one lens only, you won't be able to get all the information you need to improve talent acquisition. At least, not with your ATS alone.
Connecting this system — as well as all your other transactional HR and business systems — to a people strategy platform enables you to analyze and drill down to every state of the applicant lifecycle and extract a full range of insights from your data.
With this information, you can chart a path that shows the amount of effort it took to fill a role so you can hire better and faster next time the requisition comes up.
Whether the applicant is in the New, Current, Past or Rejected state of their journey, all the information collected from these states can be connected together to provide in-depth answers to questions such as:
Who was the quickest hire? The slowest?
What are the attributes of a rejected applicant? Of a successful one?
When do applicants get stuck and when do they start flowing through again?
Where do applicants abandon the process the most?
Why would applicants choose to apply and then abandon the process?
As you explore the analytics, keep in mind that this is not a one-and-done process. You may have a need to use the analytics today, but providing a golden candidate experience to your applicants and a successful recruiting process to your stakeholders takes continuous thought and work — and the right technology will ensure you can do this as swiftly and efficiently as possible.
This article originally appeared on the Visier blog.