It's commonplace for experts/commentators to say things are in danger of reaching a 'tipping point' – be it the global climate emergency or the breakdown of relationships, or the point at which unhappiness turns into depression.
In HR circles this descriptor is often used too – slightly less scientifically, it has to be said – to describe everything from the point at which employees might leave if they don't get 'X' pay rise, to whether there is any point adding benefits if it doesn't yield any engagement or productivity gains.
But while both these metrics might still be up for debate in many businesses, new data suggests that in one area at least – skills – a genuine tipping point is now being reached. And it's around demand for hard versus soft skills.
For years employers have been bemoaning how soft skills in particular are most lacking in today's new entrants to the workplace – things like inter-personal skills; being able to plan; having resilience; being a team player, or thinking for oneself.
Employers tend to argue that hard skills can typically be taught on the job, and that it's attitude and willingness to learn that matters most (but which is in the shortest supply).
Well, new data seems to suggest a tipping point towards soft skills is finally about to happen.
Flexible office space provider, Instant Offices, recently took a global look at job postings made across sectors typically in need of hard skills: FinTech, education, digital marketing & advertising, e-commerce and healthcare.
It analyzed the wording on these ads to find out how employers were prioritizing hard skills, compared to how many were focusing on soft skills.
What they found was significant: that preference for hard skills is now just 4% higher than soft skills (see chart below).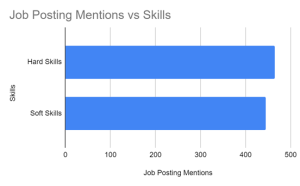 The research argues that – most likely this year – soft skills are poised to be preferred over hard skills for the very first time, and that by as early as 2030 soft-skill intensive positions will make up 63% of all jobs.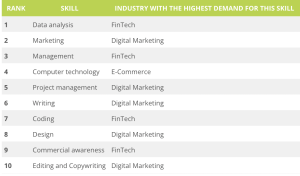 According to the data, the top 10-ranked hard skills are indeed still quite 'hard' – the top one being data analysis (most in demand in FinTech – see table above); while other hard skills also include the ability to do project management (most desired in digital marketing); coding (most preferred in FinTech); and having commercial awareness (Also FinTech).
But what the research also says is that soft skills matter too. The most in-demand attributes are communication, teamwork, organisation, emotional intelligence, time management, attention to details, adaptability and problem solving – see below: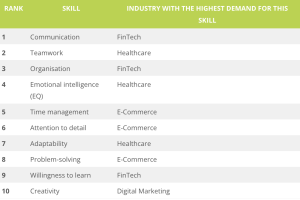 Why does all this matter?
It's a natural reaction to question why this matters.
The truth is, is matters for a number of important reasons.
Firstly, if you're an HRD/recruiter, and are automatically demanding that anyone applying for a job with your company needs a college/degree-level of education (because that's what you've always asked for), there is a serious question mark over whether that's really necessary anymore.
In fact, by sticking to this time-honored requirement of a degree, you could be vastly limiting the pool of people that might want to work for you.
The data also suggests that if HRDs haven't taken a thorough assessment about what actual skills different roles require, they really ought to.
As Jennifer Paylor, VP head of global talent innovation & skills transformation at Cap Gemini says: "Recruiters have been trained to cost and paste job descriptions so they can hire really, really fast. But they're not looking at what the world of work requires, and what skills are needed."
Degrees being shunned
Already there have been signs that degrees are being shunned by those who are realizing that soft skills may matter more.
A recent study by recruitment firm, Jefferson Frank revealed, 55% of cloud tech professionals said having a degree was not an important factor in finding a role in the ecosystem they currently work in.
This compares to only 33% of cloud tech professionals believe a degree is important for working in tech more generally.
Commenting on this data, its chairman & CEO, James Lloyd-Townshend says: "With a majority feeling that having a degree hasn't been decisive in their career journey in the context of the digital skills gap, HRDs can't afford not to be pursuing and supporting the untapped talent pool of people who may not have gone to college."
Are you doing skills-based hiring?
In a report published this week, LinkedIn describes the change that's needed as one that needs to focus on adopting a 'skills-first' strategy (see research box below).
This is where hard skills don't necessarily dominate, and where HRDs need to be "open to hiring candidates that don't have degrees."
LinkedIn reports that one-in-four job postings on its platform do not now require a four-year degree. It predicts that this number is "expected to grow." (See chart below)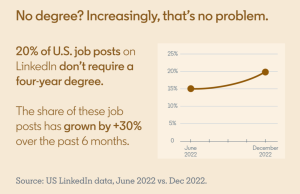 Jennifer Shapply, VP, global talent acquisition, LinkedIn says: "A skills-first strategy goes beyond just hiring."
She adds: "It involves looking at the larger picture; whether HRDs understand the skills that their business needs, and whether they understand the skills that employees have (or that they can develop), and what skills they need to hire so they can build their talent strategies accordingly."
Are you up for the challenge?
The good news is that pending legislation will soon actually require skills-based assessments in hiring – for federal employees at least.
The 'Chance to Compete Act' was passed at the start of this year, wants to make hiring more targeted by using subject-matter expert interviews and skills tests.
It argues these skills-based tests will level the playing field for those who show exceptional skills but may not actually possess a college degree-level education – people who might previously have been overlooked.
If soft skills really do matter for firms, then the message for HRDs is clear.
They need to practice what they preach, and re-calibrate their job requirements.
They also need to re-brief their recruiters, and update their recruiting processes to genuinely ensure that they give those who demonstrate soft skills a fair crack of the whip compared to those with an impressive looking academic pathway.
Teamwork tops job seekers' soft skill
If you're not recalibrating, you could be out of step with job seekers.
For it's worth remembering that job seekers themselves now rank teamwork as their top soft skill.
Instant Offices also looked at the most prevalent soft skills and hard skills mentioned in LinkedIn CVs across the five sectors studied.
It found teamwork was the number-one soft skill found in CVs for the e-commerce, education and digital marketing sectors.
Communication is also a high priority, with top rankings in the healthcare and FinTech industries. (See below)

The message to employers is clear. If you're not regarding soft skills as important, you're potentially turning off a trove of people that want to work for you.
Remember too that between 2009 and 2020, total undergraduate enrollment decreased by 9%.
While some of the fall is a reaction to the cost of education, some of it too is down to young people themselves questioning the benefit of further education.
Basically: Job seekers are telling employers they don't see hard skills as so necessary anymore.
So maybe it's true, that a soft versus hard skills tipping point really has been reached.
This being so, employers and HRDs both need to accept that soft skills are what they need to be looking and need to be hiring for.
HOT OFF THE PRESS:
This week LinkedIn released its 'Future of Recruiting' report 2023, and found:
Talent acquisition had become more of a strategic function over the past year
94% of recruitment professionals believe that understanding the skills employees do, and do not have, is necessary to make informed talent decisions
A 'skills-first' hiring model will increasingly become the 'gold standard' for employers, with skills filters increasing 25% over the last year
Recruiters are 50% more likely to search for skills than they are to search for years of experience
Gen Z entrants are 45% more likely than Gen X to prioritize opportunities to learn new skills once they've actually been hired