Is pay for performance — specifically that which we think of as "merit pay" — worth the hassle?
I recently ran across a research paper (Michael C. Sturman, Evaluating the Utility of Performance-Based Pay) that takes an interesting run at answering that question. (Hat tip to AonHewitt, who featured outtakes from the research in a recent presentation.)
One of the things I particularly appreciated in this research was the authors' deliberate effort to examine the question by looking through the lens of economic value.
Accounting for both costs AND benefits
They observe that considering the utility of performance pay from a cost-based perspective alone (i.e., via those who rely on accounting data to guide decisions, like our cohorts in Finance) will lead to the conclusion that aggressive pay for performance is not worth the investment it demands. They explain that aggressive differentiation in merit increases may even raise costs related to such things as turnover ("movement" costs associated with low performers deciding to separate) and salaries themselves (a higher performing workforce may cost more than the status quo).
Sturman and his team focus, instead, on creating a model that accounts for both costs and benefits (the positive impact that changes in the performance distribution of an organization's workforce can produce). In doing so, they explore several alternates (grounded in utility analysis studies) for estimating the dollar value of individual performance variation.
The value of an above average performer
fThis data alone, even using a more conservative estimate, is a bit mind-blowing. Check out the chart below, which highlights the researchers' conservative estimates of the economic value of employee performance at different levels.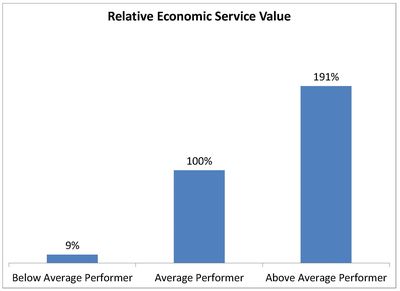 What this data suggests is that it takes two (2) average performers (and 20 below average performers) to create the same positive economic impact of one (1) above average performer.
How's that peanut butter, spread-the-budget-around merit pay plan looking now?
Don't forget the value of performance management
A couple of the points I take from this:
Let's not underestimate either the value of employee performance or overlook the importance of the performance management systems and tools that support managers in understanding and communicating with employees about their performance. Yes, I know some of you hate performance management and the challenges associated with honestly appraising employee performance, but let's keep our eye on the ball here and not forget the importance (and economic value) that this practice has the potential to deliver.
This should also reinforce the importance of a business-grounded HR voice, which can offer an intelligent and data-grounded counterpoint to the accounting/cost oriented assessment of practices that our colleagues in Finance might offer.
What's your take?
This was originally published at the Compensation Café blog, where you can find a daily dose of caffeinated conversation on everything compensation.