Regular visitors to TLNT.com will know that we are unabashedly proud about the power of progressive HR.
But to really be the voice of the HR sector, it's the views of HR practitioners themselves that matter.
That's why we've kicked off a brand new series that we're calling 'It works for me…'
Comprising articles written by ordinary HR folk, about the issues that impact them on a day-to-day basis, we aim to present easily actionable observations made 'by' HR professionals 'for' HR professionals.
Last time we heard from Anna Richardson, VP of human resources at cloud infrastructure company, Aiven, about her approach to benefits – more specifically replicating in the US what's seen as normal in Europe.
Today, we hear from Lori Tyler, HR director at power management company Eaton, who works out of the global company's Raleigh, North Carolina division headquarters (base for its Critical Power and Digital Infrastructure division).
As part of the company's commitment to preparing for the future of work, Eaton recently completed an overhaul of its Raleigh office, known as "The Hub@Raleigh." Initially closing at the onset of the pandemic in March 2020, Eaton recently welcomed its Raleigh employees back to the office after nearly two years, with a reimagined collaborative workspace.
Here's what she has to say…
It works for me…. Creating a 'destination office'
Spanning five floors and 90,000 square feet, it's fair to say that our Raleigh office – home to 300 or so people – was much like your typical office space: A bit dated, dark, and far from inspiring.
And then the pandemic hit.
Like most other employees, very quickly the majority of office employees at Eaton transitioned to working from home. But out of this essential necessity came an opportunity; one we knew we couldn't let pass: to make use of the time we were given to transform our office into the destination we always felt it needed to become.
Suddenly, we had an empty workplace and a block of time to work with. Knowing that the pandemic was going to permanently change the way people worked, we wanted to redefine what we knew our employee offering would need to be, by creating a space where people could have what we call 'meaningful' collaboration. We wanted to create a place where colleagues would have new and better opportunities to connect, and where people could re-establish or forge new relationships.
Crucially, we asked staff exactly what they wanted [words that often came back were ones like 'flexibility' and collaborative'], and we established employee steering committees to oversee the whole process.
The feedback we continually received was that our people really wanted a workplace that suited both different styles of working and different requirements for working – for instance, having quieter areas when they needed to knuckle down, but having more social spaces when collaboration was key. They wanted somewhere they enjoyed going and that made them comfortable when they were there.
I'm proud to say that we believe we have achieved our goals on all fronts. We have transformed old-style office cubicles and mostly eliminated the idea of designated desks and offices. The newly reimagined space is a fresh, vibrant, and bright workplace. It incorporates an entire 'quiet floor' where people can go when they don't want to be disturbed. There are also meeting room spaces, places where everyone can congregate; balconies (previously there were none) and common areas that include a large amphitheater-type space, modern kitchen space and even game spaces.
The new-look office has been open since January of this year and, while employees can still work with their managers to flex their work location based on the needs of their day, we definitely feel like we've created a work environment that people 'want' to travel to and be a part of.
The lobby – Before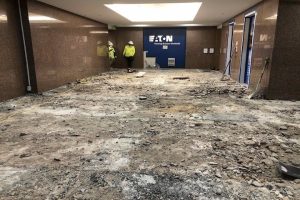 After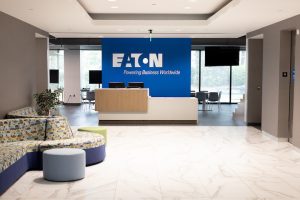 Thus far most people are working on site around two or three days per week. But what we can definitely say is that not only have we attracted people that may not have wanted to leave their homes otherwise, but these people are making new connections and evolving our culture.
When people come in, they're there to truly be collaborative – to talk and enjoy face-to-face connectivity.
Unlike other companies, we don't feel we've had to try and lure people back. With the offering we now have, people want to come back, and they do so of their accord.
Second floor – Before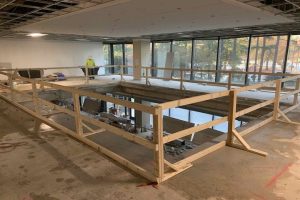 After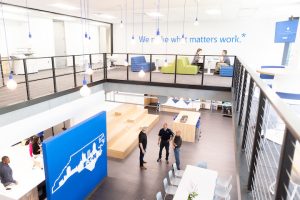 Of course, people have had to make a transition. However, what's been so gratifying about this project is that people understand that as their working demands change throughout the day, there's an environment they can move to somewhere in the building to suit these changes.
As you can see, the change – see the before and after photos – has been dramatic.
Walls and ceilings have come down, cubicles have been rethought and more light has been added where previously there was less. We've also incorporated wall decorations and signage that reflect Eaton history, elements of creative marketing campaigns and original artwork (including a commissioned mural), all of which remind employees of our unique culture.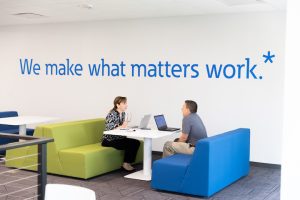 I'm a believer in the value of creating a space that grants people flexibility and enables them to manage their working lives better so that they are happier and more productive as a result. We want people who are fulfilled at both personal and professional levels and we believe having a great working space helps accomplish this.
For a building that's served Eaton for a long time, people now see it in a different way. They come to collaborate (group breakfasts are popular); they come to relax and they come to work. We're not creating (nor do we want) a brand-new culture. However, through our reimagining, we've definitely created a path toward evolving our culture.
We couldn't be happier with how this project has turned out, and we have no doubt our employees agree.