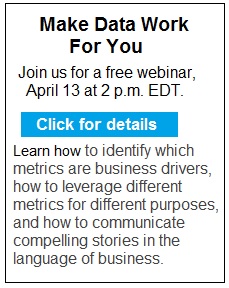 Picture this: It's a Friday morning, and five senior executives walk into a conference room to meet with the CEO — Operations, Sales, Finance, Marketing and Human Resources.
The Operations VP starts with a dashboard clearly indicating improved operational efficiency, productivity gains and cost savings for the quarter, as well as projections for the remainder of the year. The Sales lead follows and not only looks at current sales, but models the predictions for the next year, including details about how those goals will be achieved.
The Marketing VP goes next illustrating customer purchasing trends over time, and how they correlate to various marketing activities. The analysis includes how to leverage factors to increase prospective clients and revenue related to those clients. Then, Finance links it all together  by demonstrating impact on the bottom line through visualizations of both actuals and forecasts.
Finally, it's time for the senior leader of Human Resources to provide an update. This includes a dashboard illustrating year-to-date results for hiring, diversity, attrition and compensation. Then, there's a review of HR-driven projects and initiatives, and reminders for action around performance reviews, the upcoming succession planning cycle and launch of corporate wide learning.
What's wrong with this picture?
Every department communicated their achievements, failures, and plans of action based on predictive analytics and created forward-thinking strategies — but HR simply gave a historical recap of what has already happened with little insights into what could occur.
The promise of analytics
It's true that more and more HR leaders have achieved status as a strategic partner with a "seat at the table" in the past few years. Talent management pros are learning to leverage their business knowledge to speak the language of their clients, and proactively address talent challenges.
But being a business-savvy partner isn't enough to keep that seat for years to come. Instead, HR leaders also need to demonstrate that they are credible, data-driven advisors — focused on how certain changes to the talent strategy can impact the future of the business.
People analytics and big data have been hot topics for a few years, yet HR departments —unlike other areas of business — have just started to explore strategic analysis. Two years ago, according to Deloitte's 2014 Global Capital Trends report, only 14% of HR and talent management departments were then using data analytics, compared to 81% of companies who use analytics in finance, 77% in operations, 58% in sales and 56% in marketing functions.
The good news is that last year saw significant progress, with companies recognizing the impact workforce data can have on predicting improvements in productivity, sales, retention and compliance. Deloitte's 2016 report found that 32% of organizations felt ready or somewhat ready for analytics, compared to 24% in 2015. In addition, 77% of organizations around the world believe people analytics is important.
That said, although analytics is seen as important, HR still seems apprehensive, and it's leaders require something more than having the right technology or 'clean' data to move ahead.
Analytics is a balance of science and art
Sharing compelling results about the existing or future workforce inherently has some degree of risk, because the information is likely to challenge current practices. When it comes to people analytics, you're often asking leaders to take a leap in a new direction and replace some of their gut feelings with objective information. If the recommendations are coming out of the blue, they might be met with discomfort and doubt. In other words, becoming proficient in people analytics is a necessary, but not sufficient, condition to elevate HR's status.
If HR leaders want to be considered true "strategic partners" they need to balance the science of analytics with the arts of influence and communication. There are a few key ways to accomplish this:
Get out of the HR comfort zone: Immerse yourself in the business by spending time on the front lines and being visible outside of the HR department to truly understand critical issues.
Incorporate business results immediately: Incorporate business metrics such as costs, productivity, revenue, and/or customer satisfaction into your existing reports and dashboards.
Generate interest and build curiosity: Hypothesize linkages between business issues and people issues, initiating dialogue on future talent strategies. Once you know their most pressing questions, you can explore how data can provide insights.
Drive change: Be innovative, challenge the status quo, and present novel ideas and solutions, rather than waiting for others to take the lead
By building trust as a credible, data-driven, business advisor, HR can come to the table with insights that illustrate the value of investing in talent, propose scenarios for workforce changes, and predict how people will play a critical role to achieve the business strategy.
This article originally appeared on ReWork, a publication exploring the future of work.