The job prospects for this year's college seniors are better than they have been in years, say two different employer surveys.
CareerBuilder's survey of 2,175 hiring and human resource managers found 65 percent of them planning to hire one or more of the upcoming graduates, an eight-point increase from last year's survey and the largest percentage since the year before the recession.
The National Association of Colleges and Employers, which conducts a related survey, says its member companies, which include a large share of the Fortune 500, intend to up their college hiring. The 162 responding companies told NACE they intend to hire 9.6 percent more grads this year than last. That's the highest expected increase in NACE's spring survey since 2012.
Math, science majors still in high demand
As evidence that the increase is more than just an expectation, the employers told NACE that on average they posted 49 more jobs for new college graduates than they did in 2014, when the average was 99.
Like NACE, CareerBuilder's survey found business, engineering, and computer science to be the most in-demand majors. Math and statistics majors and those with degrees in health professions and clinical sciences were also high on the list.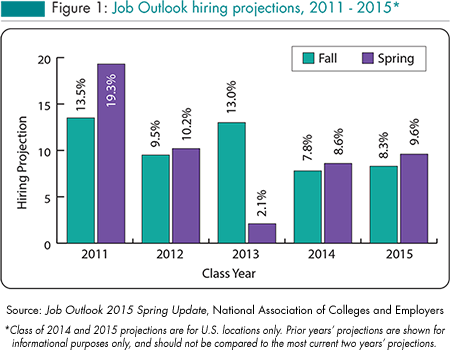 CareerBuilder found that employers are willing to pay more to get the graduate with the degree they want. A third of employers said they're offering a higher starting salary this year; 57 percent reported no change, and 10 percent expect a decrease. However, 65 percent of employers are willing to negotiate their offer.
What jobs do they most want to fill? Not surprising, 30 percent of hiring managers have IT jobs and 28 percent want to fill customer-service positions. Accounting and finance, sales, and business development jobs are also among the top positions available.
The biggest concern recruiters and hiring managers have when it comes to hiring grads is that they feel colleges put too much emphasis on "book learning instead of real world learning," a sentiment expressed by 46 percent.
Their second biggest concern? Some 38 percent say it's the need for "workers with a blend of technical skills and soft skills gained from liberal arts."