The number of displaced workers reached 6.8 million from 2015 to 2017, according to the Bureau of Labor Statistics' most recent displacement report. Though fewer than the 7.4 million workers displaced in the previous three year period, the number is still staggering.
"Displaced workers are defined as persons 20 years of age and over who lost or left jobs because their plant or company closed or moved, there was insufficient work for them to do, or their position or shift was abolished." – BLS
Displaced workers have their own set of needs and expectations stemming from their unique circumstances. If you're sourcing for these candidates the same way you do everyone else, you could be missing opportunities.
According to recent research by our team at Berke, changes to your sourcing process must focus heavily on cultural fit. Displaced workers revealed that a cultural mismatch is the No. 1 reason they'd refuse a job offer. In today's world of talent shortages and skill gaps, you can't afford to lose qualified candidates, like those in this talent pool.
To start successfully attracting displaced workers, give candidates a strong sense of your corporate culture from the very first point of interaction.
Follow these three steps to use cultural fit to attract displaced workers:
1. Get the facts before you begin
Understand what displaced workers need from your company. They've been through intense, life-changing moments that were out of their control. Nearly 45% of displaced talent in our report declared they're uncertain about their future job security.
This level of uncertainty changes the aspects of company culture that they view as valuable. Following displacement, c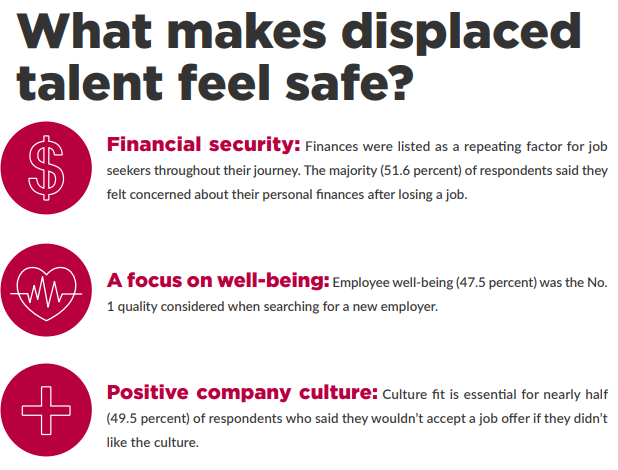 andidates want a culture that revolves around what's best for employees. For example, displaced workers noted employee well-being was the No. 1 quality considered when searching for a new employer.
A focus on overall well-being includes physical and mental health, financial stability, and career growth. All of which show displaced candidates that your company cares for them as a person, not just a numbered employee.
Start by surveying current employees to discover your company's cultural strengths that appeal to displaced workers. Ask questions like:
What are your favorite employee wellness initiatives?
What makes you feel like you can trust your manager and colleagues (i.e. psychological safety)?
How does your manager make you feel supported?
If someone on your team was once displaced, reach out to them privately. Ask them what makes them feel secure and valued or what decreases their fear that they'll be displaced again.
For a broader view, go to employee review sites, like Glassdoor. Research your own company to find out what former employees appreciated — or didn't — about your company culture. Look for mentions of employee wellbeing, security, and stability to highlight in company culture branding materials for displaced workers.
2. Tailor recruitment marketing strategies to displaced workers
Once you understand what about your company culture is attractive to displaced workers, create a recruitment marketing strategy tailored to them.
Select employee brand ambassadors to share experiences that resonate with displaced workers' situations and needs. These can range from what the company does to improve employee wellness, to the success employees have found after taking advantage of career development opportunities.
Take their stories to social media to connect displaced workers to your culture before they even apply. Research specific hashtags that will reach your target audience. For example, create Instagram stories or videos around one person's journey using #laidoff. Show how they came back from losing their job and are now excelling. If you have accolades, such as Best Places to Work nominations places those icons on career pages and social media.
3. Infuse culture into every part of the hiring process
Showcasing your culture needs to go beyond recruitment marketing campaigns. It needs to be a part of your entire hiring process. Review all interactions that candidates have with your organization to ensure they accurately reflect the culture. Your goal is to authentically show displaced workers your company culture and to prove that it could be the best cultural match for them.
People infer details about the culture from job postings, so use language that reflects your corporate personality and values. Make sure the sentiments that your employees use to describe your culture are reflected in the job postings. Their sentiments will help candidates see your company is a place where they'll be safe both now and in the future.
All conversations and interactions with candidates provide context about the culture. For example, when candidates come for in-person interviews tell them what kind of attire is appropriate. If your office is more casual, let candidates know so they can plan accordingly. Small details like this help candidates feel welcomed into the culture.
Additionally, make sure to plan time to walk candidates around the office, to introduce them to team members, and to describe the day-to-day details of office life.
Displaced workers need proof that they're a good cultural fit before considering your open roles. So make sure that the culture of your organization shines throughout the recruitment process.