It's Epic by name, and some say it's 'epic' in nature. Meet the company you might never have heard of with arguably the coolest HQ:
It's 12 miles from Madison, Wisconsin – situated right in the heart of farming country – but for the close-on 12,000 employees that work at technology and healthcare services company, Epic, it's literally like being in a mini Disneyland.
The complex – which has been described by some as incorporating a heady mix of 'childish design', mixed in with movie-set style installations, with references to the likes of Indiana Jones and Harry Potter – is about as far away as is possible from a traditional corporate HQ.
Grown over time, and the vision of CEO Judy Faulkner (whose motto is "Do good. Work hard. Have fun. Make money"), the fantasyland site is now 1,100 acres large, featuring everything from a tree house for a conference room, to a Wizard of Oz-style Emerald City building (complete with green tiles) and a Jules Verne building with hints of Around the World in 80 Days and Twenty Thousand Leagues Under the Sea.
Gingerbread houses, an upside-down room, and a cafeteria designed to look like London's King's Cross Station are just some of the other highlights the beguile and bewilder in equal amounts. A blue waterfall flows under a bridge, a moat and a medieval drawbridge lies between modern glass buildings, and a giant auditorium five stories underground is able to seat 11,000. In short, nothing about this campus is normal.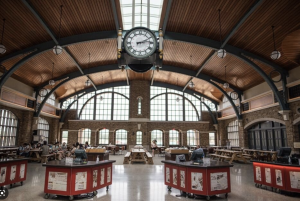 Not surprisingly, the company has seen its headquarters win numerous AIA (American Institute of Architects) design awards throughout the years, and its location and quirkiness is attributed with it being able to attract and retain staff that might otherwise be bedazzled by the bright lights of Google, Facebook or Apple.
But can being a cool workplace alone really achieve such high engagement?
"The spaces we provide people are there to inspire them to be creative," says Epic's recruiter, Nicole Hilsenhoff in an exclusive interview with TLNT.
"The buildings help make work feel special for people, and the are inter-connected either above or below the ground." She adds: "We had five buildings to start with, when we first opened in 2005/6. Now we have in excess of 20 and we're still adding to them as we speak."
According to Hilsenhoff, most of the people who work at Epic have relocated specifically to do so, and live within a 45 minute commute (so much so, that the campus is equal in population to the size of nearby town, Verona).
But she says the spectre of what people see when they get there literally "changes the recruitment conversation," with the buildings and environment being a huge pull to attract people to work there.
"We recruit nationally, but for sure, this is now very much a 'destination'," claims Hilsenhoff. "Even when we video interview, we include visuals of the on-site experience that employees will get, and the reaction is always one of surprise and awe." She adds: "Even those who have heard about us from their friends or other people they know who work here are always taken aback with they actually see the place for themselves."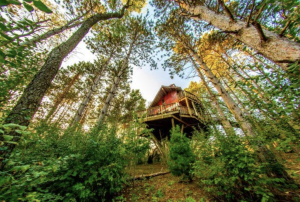 Want a tree house to work in? No problem…
Epic's HQ is such an unusual place, that the company even runs guided tours of the place for tourists, and even though the company was forced to go remote during the pandemic, since then employees have gradually returned to the site because – well, who wouldn't want to?
"Around 70% of the space we have here is communal space," she says [other features include having gardens, picnic areas and it having a small farm], and we just feel that setting this tone from the start makes us different." She adds: "Culturally it just feels right for us."
But here's one key question: Reaching a conference room by a rickety, swinging bridge, or travelling along the Indiana Jones tunnel is over (complete with vines, a golden idol, and the sounds of dripping water and roaring animals on loop), might sound cool at first. But once the wow-factor is over, does working at Epic simply become 'normal' after a while, and an office much like any other?
"It's certainly true, that over time, the surroundings probably do become a bit more subtle, and less in your face," says Hilsenhoff. "Yes, people are all starry-eyed when they first see it, and over time you do tend not notice the small details [such as the 'Shark Pond' or the Alice in Wonderland room – entered into by a slide, and featuring miniature furniture].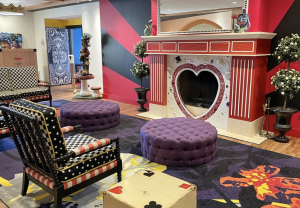 Epic's Alice In Wonderland-themed room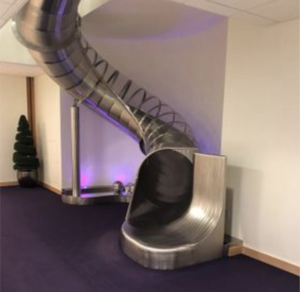 But she insists that the environment is still one that engenders creativity and innovation. "We really do talk about our environment's 'value-add," she says.
Hilsenhoff adds: "We have staff attracted here from all 50 states, and from 90 different nationalities. We're regularly rated for being one of the country's top places to work. We're not in a metropolis, but we continue to attract the people we need. Sure, we've had to get creative – such as offering new staff assistance to help people relocate – but essentially we all love this cozy vibe, and the beautiful outdoor spaces that we can all enjoy."
She concludes: "I'm very lucky to be able to work here, and I know this sentiment is shared by the rest of our staff."
EPIC by name, EPIC by nature:
The company's 'Deep Space' auditorium – a five story, state of the art venue situated 74-feet beneath the landscape's grassy, rolling hills – recently won the Associated General Contractors of America 'Best New Building'
Dry-cleaning services are available at the company's New York Sock Exchange.
Through partnerships with organizations like Niman Ranch, a collection of 750+ family farms that provide sustainable and organic food, employees and visitors receive restaurant-quality dining at the nine staff restaurants and bakery for a fraction of the cost.