The recently released 2014 Edelman Trust Barometer highlights a degradation of trust between people and the institution of government, recording the biggest gap in trust since the study began in 2001.
Edelman attributes this gap to "a continued destruction of trust in government that began in 2011, and a steady rise in belief in business since its nadir in 2008."
In almost half of the 27 countries surveyed, Edelman recorded a gap of 20 plus points, with some countries reporting a divide of nearly 40 points. This means that people trust business more than they trust their government.
Globally, falling trust in government
The study is the firm's 14th annual trust and credibility survey; it sampled 27,000 general population respondents with an over- sample of 6,000 informed publics ages 25-64 across 27 countries.
Globally and overall, trust declined over the last year. Edelman cites the reason for this decline due largely in part to falling trust of government in many countries.
Poland, the United States, and Mexico experienced the most major trust declines (-13, -10, and -9 points), while the biggest increases in trust occurred in the United Arab Emirates, Indonesia, Australia and Argentina (+13, +10, +8, +8 points). General public populations reported substantially lower trust levels than informed publics, with a global trust difference of 9 points.
Government saw the largest decline in trust of any institution in 2014, with the largest drops in trust in government seen in the U.S., France and Hong Kong (16, 17 and 18 points). Media also saw a decline in 2014, with nearly 80 percent of countries reporting trusting media less over the last year.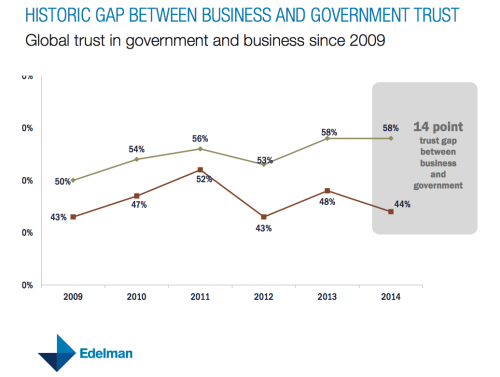 Stakeholders deserve a say in new regulations
Edelman's Trust Barometer reports that trust in business has achieved an amount of stability since the implosion of trust in 2008 and 2009. With trust in business leveling out, and trust in government declining, you find the historic gap of 14 points globally between trust in business and trust in government.
Despite this decline in trust of government though, the survey reports a strong demand for government regulation of business to protect consumers, with over 50 percent of respondents viewing government protection of consumers from business as important.
The majority of respondents did not, however, see government as capable of delivering the necessary regulations on its own. Some 79 percent of respondents agreed with this statement: "When policymakers are developing new regulations on businesses and industries, they should consult with multiple stakeholders (i.e. NGOs, academics, the affected businesses/industries, etc.) before making final decisions."
As the survey states, this indicates "a significant level of permission for business to play a role in the debate and design of regulation."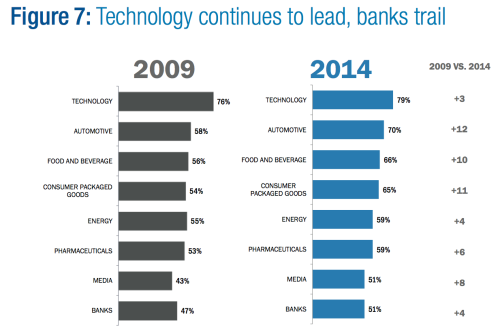 CEOs rank low in public trust
When it comes to trust in specific industries, technology leads the front with a trust level of 79 percent. Media companies and banks trail when it comes to trust, seeing little improvement since 2009.
The top five countries with the highest levels of trust in markets were (in order): Germany, Sweden, Switzerland, Canada and the U.K.. BRIC (Brazil, Russia, India, China) countries recorded the lowest levels of market trust.
When Edelman asked respondents to rank levels of trust based on business ownership structure, family owned and small and medium-sized business outperformed big business in all regions but Asia, where publicly traded and big business companies received higher trust levels.
A major concern, however, is the plateauing and distrust in leadership that the Trust Barometer records. Academics and experts (67 percent), technical experts (66 percent) and "a person like yourself" (62 percent) are the most trusted sources of information about companies (trust in "a person like yourself" increased significantly since 2009).
CEOs and government leaders, however, remain at the bottom of the list for both informed and general public, with extremely low levels of trust.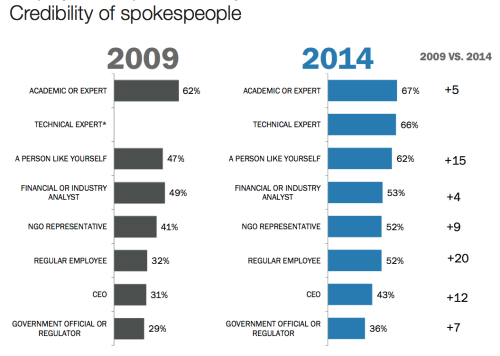 Though concerning and perhaps daunting, this survey speaks clearly to an opportunity that leadership has to engage and communicate transparently – an opportunity to begin to regain a credible voice and change perceptions.
3 actions that can build trust
For leaders of companies, trust in them is explicably linked with the trust in the company, and the influence they wield because of that cannot be ignored. The Edelman Trust Barometer identified specific actions CEOs can take to build trust, and each actions level of importance to the general public. The highest-ranking actions included:
Communicating clearly and transparently (82 percent);
Telling the truth regardless of how complex or unpopular it is (81 percent); and,
Engaging with employees regularly (80 percent).
Other high-ranking actions include being visible during challenging times, and having an active media presence.
Though the low levels of trust in business leadership seem to indicate it's a complex thing to build, respondents indicate it's simply about going back to basics.
Engage, support, and don't forget that important rule folks — honesty is the best policy!
This originally appeared on China Gorman's blog at ChinaGorman.com.