A disturbing trend I've noticed in the 60 plus meetings, conferences, and conventions I attend each year is the increasing frequency of how many of these events get thrown off schedule.
When attendees are still clustered around the coffee stations 10 minutes after the meeting begins, or they refuse to disconnect from their smart phones in sufficient time to get to their seats on time, it delays or interrupts the program, irritates those who are on time, and sets into motion a series of undesirable outcomes often delaying everything else scheduled throughout the day.
This "fashionably late" mindset not only impacts off-site meetings and conventions, but has also become a disruptive force in the workplace.
What would happen if meetings really started on time?
Not many years ago, it was considered rude and inconsiderate to walk in late to a meeting or appointment leaving the offender red-faced with embarrassment. Now it's so commonplace that people are surprised when their meeting starts on time and late arrivers are perceived as VIP's who must have more pressing issues to attend to than the business at hand.
However, when "the business at hand" is deemed significant enough (i.e. kickoff at the Super Bowl, an international flight, the curtain rising at a top-rated Broadway show, etc.), rarely is punctuality an issue.
It makes you wonder what would happen if event organizers started their meetings on time?  Rather than beginning with boring housekeeping announcements, if they opened with something compelling, attendees wouldn't chance missing it.
Punctuality in practice
Last week, I presented to an audience of nearly 4,000 high school students in attendance at the Ohio FFA Convention in Columbus. The session was scheduled to start at 10 am, and at 10 am sharp, virtually every student/member was in their seat.
That's pretty shocking considering that the closest hotel to the arena venue was five (5) miles away.
"Why were the students on time?" you ask.
As a part of Ohio FFA's organizational culture, each of the five general sessions held over the two-day convention is preceded by an optional pre-session that starts 30 minutes before the general session's gavel goes down. Not wanting to miss a minute of the pre-session festivities, the student delegates flood in the hall the moment the doors open.
The pre-session that occurred before my keynote address featured a sensational musical performance, several entertaining student-produced videos, and then, right before the National Anthem, they presented a "Bobbing for Spam" competition.
You want the visual of this main stage activity?
How bobbing for Spam gets people on time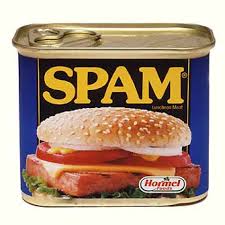 Six student volunteer participants were divided into two teams and each individual was covered head-to-toe in plastic to shield themselves from the mess that was about to occur. On the stage floor in front of each team was a large clear tub filled with cold water.
In relay style, one team member at a time was charged with dropping to their knees, placing their hands behind their backs, and racing to eat all the contents from a can of SPAM that a judge dropped into their tub. As soon as the judge declared that a participant had gobbled up all the submerged floating chunks of SPAM, it was the the next team member's duty to repeat the process as the judge dropped a fresh can of the meaty substance into the water. The audience roared with cheers, laughter, and applause.
No wonder the audience took their seats on time. How could anyone risk arriving late and missing out on this brand of controlled chaos?
The pre-session was hilarious, inexpensive, participatory, and incredibly effective as the gavel hit the podium at 10 am, sharp.
Get creative and reward the punctual
ON POINT – If you're frustrated with the lackadaisical manner in which your people are showing up for meetings, or for work, don't think the only way to correct the situation is to scold, threaten, and/or punish the offenders.
Instead, get creative and reward those who are punctual.
From here on, begin all your meetings on time, but start with something that has such value to attendees (some kind of entertainment that concludes as the meeting begins, or an unexpected perk that only those arriving a few minutes ahead of schedule receive) that all last-minute doddlers and fashionably late arrivers end up kicking themselves for missing out on and are left asking others, "What just happened? Why is everyone laughing? What did I miss?"
When applied consistently, this small change can have an enormous positive impact on your entire culture.
This was originally published on Eric Chester's blog Chester on Point.