We all know that a stressful work environment can impact employees' mental, physical, and emotional health, as well as impact their engagement and productivity, but a new study from Monster reveals just how many employees are saying no to "sticking it out" in stressful work environments, and seeking jobs elsewhere.
Monster's international Workplace Stress study surveyed nearly 1,000 job seekers on the Monster database via an online survey which ran from March 12, 2014 to March 18, 2014. The study revealed that 42 percent of U.S. respondents have left a job due to an overly stressful environment, these respondents stating: "I have purposely changed jobs due to a stressful work environment."
42% have changed jobs because of stress
An additional 35 percent have contemplated changing jobs due to a stressful work environment, and 42 percent of people say they have purposely changed jobs because of stress!
This seems like a frightening number of people and begs the question, what are U.S. organizations doing to change such work environments? Monster's study reports that 55 percent of their respondents experience very stressful lives, and 57 percent of people experience very stressful work environments – more than half of respondents.
Comparably, only 3 percent of respondents report experiencing no stress in their work life.
On the international front, employees in France and the UK experience the most workplace stress, with 48 percent (a 6 percent increase from U.S. respondents) reporting that they have left a job due to stress.
Employees in India are least likely to leave a job due to stress, with only 19 percent of respondents reporting that they have ever left a job because it was too stressful.
Reasons employees get stressed out
What exactly is stressing out the workforce? Monster's study found that the most commonly reported workplace stressors are:
Supervisor relationship (40 percent);
Amount of work (39 percent);
Work-life balance (34 percent); and,
Co-worker relationships (31 percent).
The study also found that:
84 percent of respondents claim that their stressful job has impacted their personal lives;
26 percent report sleepless nights;
24 percent report depression;
21 percent report family or relationship issues; and.
19 percent reporting physical ailments.
When respondents were asked what their office does to help alleviate stress in the workplace, 13 percent reported "extra time-off," 11 percent reported the "ability to work from home," and dishearteningly, 66 percent answered "nothing."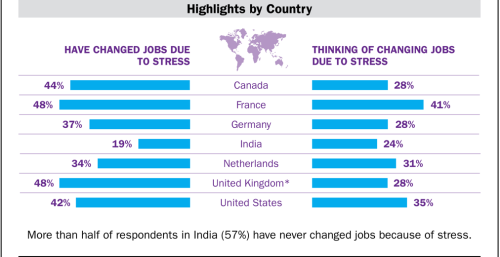 While many of the figures in this study may seem shockingly high, when we consider all the data that surrounds us about the amount of work/life balance challenges American's face, the high percentage of workers leaving jobs due to stress makes a little more sense. However, though it might make more sense, it doesn't mean pushing employees to their limits, and fostering stressful work environments, is right.
In fact, at Great Place to Work we have 20 years of data proving that fostering a transparent, safe, and fun workplace culture creates an incredibly more satisfying and productive environment than a high-stress/high pressure one. Check it out!
This originally appeared on China Gorman's blog at ChinaGorman.com.