It's an issue that organizations seem consistently faced with today: A lack of skilled workers that can further their growth, success, and ability to compete with competitors.
This "skills gap" is explained by the U.S Chamber of Commerce Foundation | Center for Education and Workforce's new report titled Talent Pipeline Management: A New Approach to Closing the Skills Gap, as a result of education and workforce systems in the U.S that are failing to keep pace with the changing needs of the economy.
So how do we remedy this talent shortage and close the skills gap?
92% of execs believe there is a serious skills gap
This is a hot topic among organization leaders and management, and USCCF's report offers an interesting strategy that, while different, may be an actionable way for organizations and institutions to start remedying this challenge.
The strategy proposes to apply a supply chain management approach to talent, leveraging lessons learned from innovations in supply chain management and engaging employers to expand leadership roles, acting as "end-use customers" of education and workforce systems.
USCCF's approach — dubbed talent pipeline management — is expected to provide more effective transitions for students into the workforce and improved career advancement for current workers. Talent pipeline management foresees a demand-drive approach to closing the skills gap. This approach is intended to create and share value among all partners in the talent supply chain.
The report states that 92 percent of executives believe there is a serious gap in workforce skills, and nearly 50 percent are struggling to fill jobs. If left unaddressed, they hypothesize that the skills gap could cause more than 5 million positions to go unfilled by 2020, an issue likely to be exacerbated by increasing retirements and a shrinking workforce.
Employers, however, have substantial resources they can leverage to engage this demand driven system. Employers invest upwards of $486 billion each year on training that is almost exclusively focused on upgrading the skills of their current employees.
The 3 foundational principles
The U.S. Chamber of Commerce report points to a supply chain management approach to talent recruitment and development to help organizations stay competitive in today's economy, explaining that:
The conditions driving that perspective — such as growing business uncertainty and longer lead times to fill positions — are similar to the challenges that led to innovations in supply chain management."
Three (3) key foundational principles are identified as forming the basis of a demand-driven system, and provide the framework for the "talent management pipeline," are:
Employers Drive Value Creation — Employers play a new leadership role as the end-customer in closing the skills gap for those jobs most critical to their competitiveness.
Employers Organize and Manage Scalable Network Partnerships — Employers organize and manage flexible and responsive talent pipelines in partnership with their preferred education and workforce providers.
Employer Measures and Incentives Drive Performance — Employers work collaboratively with their partners to develop measures and incentives designed to reinforce and improve performance across all partners.
For employers to be successful in this strategy for talent acquisition and development, they must link their talent strategy to their business strategy: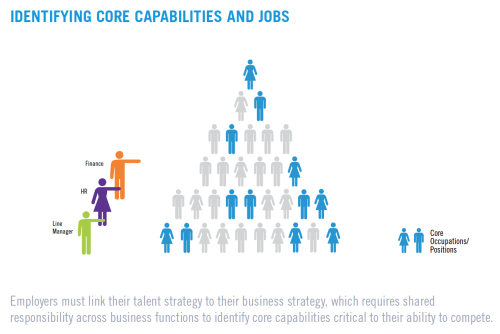 Discarding talent acquisition strategies of the past
Each capability may require a different sourcing method, and USCCF's report urges organizations to move away from talent acquisition strategies of the past like "spot marketing" through job posting and screening: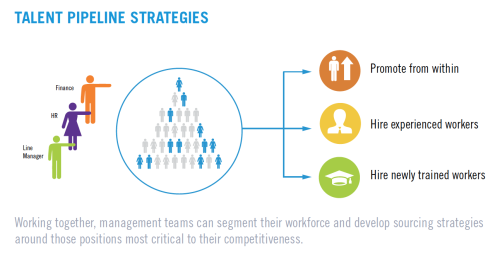 Once organizations have developed talent pipeline strategies, they should decide what can be done in-house and what should be done through external partners: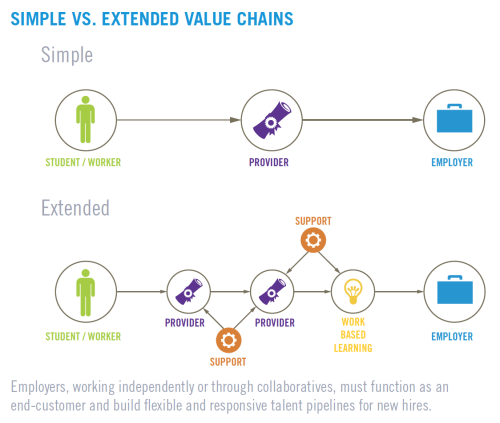 Measuring performance of the system
Once a talent pipeline network and demand planning system is in place, organizations must measure performance the of this system based on whether they are meeting the needs of the end-customer and creating value across the full network of partners, looking at factors such as time, cost, and quality across all internal units as well as education and workforce partners.
Organizations can additionally support their leading providers through incentives (such as work-based learning opportunities, performance-based funding, and equipment) as well as through continuous improvement strategies.
For more detailed information on the implications of the talent management pipeline on key stakeholders such as education and workforce providers, students and workers, and policymakers, make sure to check out the U.S Chamber of Commerce Foundation's full report on Talent Pipeline Management: A New Approach to Closing the Skills Gap.
This originally appeared on ChinaGorman.com.