Numbers from the TechAmerica Foundation and a count of online job postings over the summer suggest there is a slowdown in tech hiring.
Online tech job postings for the third quarter were down 3.4 percent from last year, reports Wanted Analytics.
The research firm, which collects and analyzes public online job postings, says most tech specialties had fewer advertised jobs over the summer compared to 2012. Demand increased only for two specialties: application software developers, up 1.9 percent to 215,000 postings, and computer systems engineers/architects, up 3.4 percent to 62,000.
"Concerned" at rate of tech job growth
A TechAmerica report mirrored that finding, saying its analysis of government data showed tech job growth in the first half of the year was slower than the same period in 2012. The Foundation said tech jobs grew by 1.7 percent. A year ago, tech jobs increased by 1.8 percent. And in 2011, the increase was 2 percent.
"We continue to be encouraged by the consistent growth of technology jobs," said Matthew Kazmierczak, vice president of research and reports for the TechAmerica Foundation. "However, we are concerned that the rate of growth in the technology industry is lagging behind that of the overall private sector."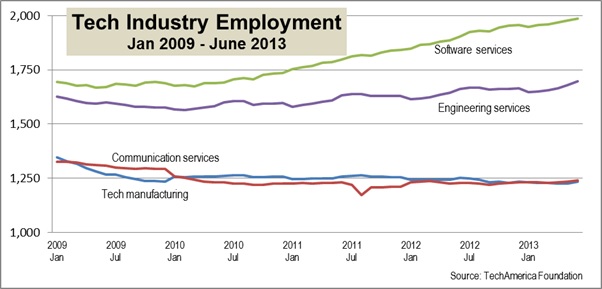 In the first half of this year, private sector jobs increased by 3.6 percent. In 2012, private sector jobs in the first six months of the year also grew 3.6 percent. For all of 2012, the rate was 4.1 percent compared to the tech sector's 2.6 percent.
However, TechAmerica includes a broad range of jobs in its tech employment counts. In addition to software development, and computer systems designs and engineering, the non-profit industry group counts manufacturing jobs, telecommunications, rocketry electronics, batteries, and multiple related occupations in its tech totals.
The most recent data from the 
U.S. Bureau of Labor Statistics
 tells a better story. Software development, engineers, network administration, and related jobs, what the BLS classifies as "computer systems design and related services," grew by 38,900 jobs between January 1 and September 30, a 2.34 percent increase (not seasonally adjusted, the same basis used by TechAmerica).
Is a shortage of talent slowing growth?
These are the jobs recruiters typically are looking to fill. Engineering and software were the two strongest growth areas in the TechAmerica report as well, contributing a combined 91,000 of the 103,000 total new tech jobs created between January and June 2013.
Wanted's job posting analysis, meanwhile, found the biggest decline in demand over the summer was in the New York metro area, where tech postings were off by 13.1 percent over last year. Not far behind was Atlanta, down 12 percent, and  the Washington, D.C. region, which saw an 11.9 percent decline.
These were the only major regions with double-digit declines in listings. Most other metro areas saw smaller decreases. However, even that tech hotbed, Silicon Valley, saw a 1.7 percent decrease in demand.
Hiring managers shouldn't get too sanguine about the prospects for hiring tech talent. While job listings may be off, and growth cooling somewhat,  there are still more open positions than there is talent to fill all the jobs. Manpower's 2013 Talent Shortage Survey listed IT staff 7th on its list of the 10 most difficult positions in the world to fill.  In the Americas only, engineering and technician jobs were at the top of the list.
Indeed, TechAmerica's report suggests that the shortage of talent may in part be responsible for the hiring slowdown.
"Too often we hear from technology hiring managers and executives about the difficulty in finding qualified and eligible workers," said Kazmierczak  "This is particularly troubling for an industry that is at the center of the innovation economy."