Temporary help across the nation is on the rise, growing so rapidly  Staffing Industry Analysts described it as a "secular shift."
Almost 3.1 million workers were employed by staffing firms in September, according to the Bureau of Labor Statistics. That's a rise of 92,100 since the beginning of the year, the largest 9 month increase since 2014. And the Palmer Forecast is predicting a 3.7% increase this quarter.
That all adds up to a temp staffing penetration rate – temporary workers as a percentage of all workers — of 2.08%, the highest since the government began tallying employment records.
"The temporary penetration rate continues to increase at a solid pace, even at record levels, giving more evidence of a secular shift," said Tony Gregoire, director of research, the Americas, at Staffing Industry Analysts. He made his comment in August, before the most recent employment tally was released.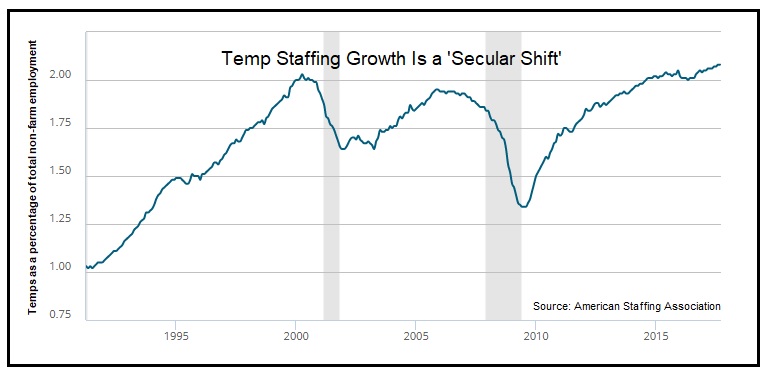 Last week, in releasing its 4th quarter forecast, G. Palmer & Associates, echoed those comments, saying,  "The momentum in the temp help employment market continues to be positive due to GDP growth and sentiment around the anticipation of lower corporate tax rates and less government regulation."
The Federal Reserve, too, noted that the outlook for temporary staffing was positive. In its "Beige Book" release last week, four of the Fed's 12 districts specifically referenced the continuing demand for temporary help. The Minneapolis Bank reported that one of its contacts called hiring "robust. I have no issue getting clients. If I had 100 people, I could put them all to work."
Temporary staffing is no longer purely a fill-in or seasonal workforce supplement. Agency temps and contingent workers as a whole have become a significant part of a strategic workforce mix. In less than two decades, the temp workforce has doubled as a percentage of the total American workforce, and that's after suffering a steep slide during the recession.
However, the government's official numbers tell only the easily measured part of the story. The BLS data doesn't include freelancers, independent contractors and those temps hired directly by companies without going through a staffing agency.
The government began collecting that data last spring, but until numbers are released, the best estimates of the total size of temps and "gig economy" workers comes from surveys. The most recent comes from Upwork and Freelancers Union. Counting everyone who earned anything doing temporary, project, supplemental or contract-based work, the figured 57.3 million workers will earn money freelancing this year.
More eye-popping than just the sheer numbers is how fast freelance work is growing. Since 2014, the first year the survey was conducted, the number of freelancers has grown 8.1%. The American workforce during that time increased 2.6%. At the current rate of growth, the survey predicts the majority of workers will do some freelancing by 2027.
The growth is driven strongly by technology, enabling people in knowledge based industries to do their work anywhere. Technology is also changing how work is performed by allowing it to be broken into discrete tasks requiring specialized talents, but only for short periods.
"The workforce is experiencing changes as never before, with economic transformation driven by new technologies and automation," said Sara Horowitz, founder and executive director of Freelancers Union.
Much of the momentum comes from millennials. In 2014, the first year the survey was conducted, 38% of those 18-34 reported earning freelance income. In this year's survey, 47% of them did. Driving this interest in freelancing, according to the survey, are: 1) a desire to be their own boss, 2) to choose when to work, 3) to choose their work, 4) to choose where they work, and 5) to earn extra money.