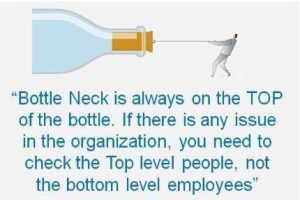 When I came across this image the other day, a slow smile came across my face. All I could say was YEP!!!
I was always amazed that when you begin to have a serious discussion around engagement, culture, or some of the other underpinnings of the corporate foundation, leaders' eyes glaze over. A few buzzwords here and there. A few pleasantries and viola, conversation over. And then they wonder why.
That is why the bottleneck metaphor is so apropos.
The example is set at the top
Leaders and their group should be the shining example for everyone else to model. They are, whether they like it or not, the success model. The leaders are the "face and pace" of the company, so it is important for them to get clear on their personal goals; define their accountabilities, and outcomes; and define the processes that drive the company.
Leaders can spout off core values, mission and purpose, but if you do not exhibit that each and every day you might as well be a foreman or supervisor. Senior leaders and their teams should exhibit a level of competency that puts high priority on the workforce.
Close the door on leadership
I recall someone telling me a story of standing in the elevator alone and off in the distance he could see the CEO walking towards the "waiting" elevator. He told me he slid sideways pressing the button to close the door. Just in time, the door closed and he said he was excited; excited because he did not have to ride up with the CEO.
When I asked why, he told me a story that I have heard numerous times. This big shot CEO never acknowledges anyone. Walks the hallways and will not even make eye contact. This is unless you have a few initials related to your title. Then he is all smiles, friendly, excellent at small talk, etc.
Customer engagement vs. employee engagement?
This same cluelessness exhibits itself when engagement is discussed. When you find companies with award-winning work environments, they are in that category for a reason. That reason is the have leaders that get it.
"Get it" means they understand the importance of a workforce that drives their business goals. They understand the slogan, "Employees First, Customer Second." They understand that if they take care of their employees, the employees will in turn take care of the customers.
Imagine for moment if a company's customer service scores came back and were dismal. There would be an all hands-on deck meeting to try to get to the bottom of it. However, when they see engagement scores there is kind of a shrug as in "It is not that important."
Linking it to compensation?
United Airlines, just announced that executive pay will now be tied to customer satisfaction. I feel this does not go far enough, because the question is, "Who is interacting with that customer 24/7?" If you have not figured it out by now it is that most important asset. It is those employees who play such a huge part of those customer scores, not the executive team. The team will have to refocus on getting the dynamics of the workforce aligned with their mission and core values. That will take a different kind of executive, probably than the ones that occupy that lofty space now.
While strategy development, organizational goals are all important, it is the strategic roles, core and supporting roles that will make it all happen. It is the workforce that will make it happen. They are the key to your success. Master that connection and the violins will play.
As the famous line in the 'Godfather says "it is not personal, it's strictly business.