After taking off three weeks for vacation and business travel commitments, it's time to be back considering new research and data of interest to the HR community. And here's an interesting report from Oracle and MIT Technology Review.
My friends at Oracle sent it to me, and I'm glad they did. The report might signal the start of a new era of respect, cooperation, and, dare we say, organizational friendship between HR and finance.
Finance and HR: The Cloud's New Power Partnership is a recent publication providing interesting data, analysis, and commentary about the cloud's opportunity to drive greater partnership, cost savings and actionable data through a strong HR and finance relationship.
It's a quick read at 14 pages, and it's based on survey data collected from 700 respondents that included senior managers and their mid-level management counterparts from finance, HR, and IT, as well as more holistically inclined C-level executives. Organizations participating were from the Americas, Europe, the Middle East and Africa, and Asia. About 75% of the participating companies generate annual revenue between $250 million and $1 billion from a range or industries. So a global sample of large employers. Just the segment that would be wrestling with the cloud opportunities. And just the segment that would see value in a closer relationship between HR and finance.
Among businesses that participated in the survey, 35% plan to create a shared finance and HR function within a year… 42% of respondents say they are motivated by improvements in productivity and performance. Respondents view closer finance and HR collaboration in the cloud as a strategic necessity, promoting operation excellence and accelerating innovation.
Wait a minute. I think I felt the ground move! Shared finance and HR function? Within a year? That's an eye popper right there. Not because it doesn't make sense; it really does. HR is becoming more data driven every day. And finance has been data driven for years. Getting them together to analyze people data's impact on the business and its growth plans is critical. And getting HR and finance together through a technology bridge makes sense. Both HR and finance need more and more data to manage the business. More and more analytics capabilities. More and more ability to predict the future based on today's data.
It's fascinating to me that technology may be the puzzle piece that finally brings HR and finance together. And the results – so far – look substantial: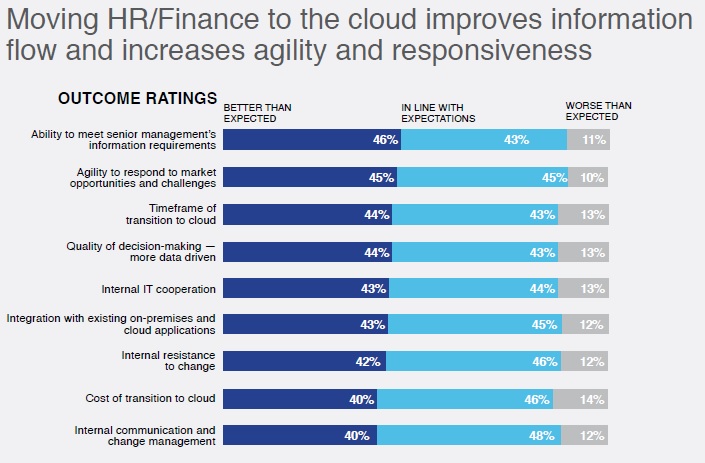 These outcomes, though pretty generic, show an enormous upside opportunity for HR and finance to migrate jointly to the cloud. When do we ever get these kinds of outcome ratings on large-scale organization change initiatives? Or just on HR projects? Or just on finance projects? It seems as if organizations are succeeding in generating real benefits from moving to the cloud by creating teams from natural adversaries. And how interesting it is that the IT team is the attractor beam bringing HR and finance together.
The report shares a few short case studies – from the education, energy, and financial services sectors – that underscore the benefits of integrated ERP-HCM cloud systems deployments. (Note: This is a white paper underwritten by Oracle.) There are a number of interesting graphs in the report all underscoring these benefits. And they're interesting to think about.
This is a quick read and it could help inform your thoughts about moving more HR functions to the cloud. And to get you thinking about the inevitability of working more closely with your colleagues over in finance. Better to have some informed opinions before your CEO, CHRO, CFO, or CTO starts asking questions.
This article originally appeared on ChinaGorman.com.