As the practice of human resources evolves with the advent of sophisticated SaaS tools, AI, distributed workers and more, are the core skills HR professionals need to succeed going to remain the same?
At Culture Amp, as we prepared for the launch of our Career Hub, we set out to discover the skills that are, and are becoming in-demand. We analyzed job postings in the US, UK, and Australia in November and December of 2018, examining jobs including terms like: "CH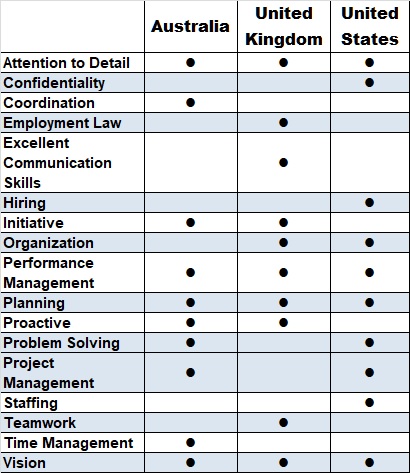 RO," "People Analytics,"  "Head of People," "HR Business Partner," and similar.
From these, we extracted lists of skills keywords, compiling them by geography.
As we would expect, there is some crossover of skills by geography. Planning, vision, performance management, and attention to detail are HR skills we found listed in the top 10 across all three geographies.
Unique skills
In addition to compiling each country's top 10 skills, we also analyzed the skills unique to each geography among those most frequently mentioned.
Australia: Time management and verbal communication
In Australia, time management and verbal communication skills were in-demand. There are many parallels between time management and productivity, a unique skill in our US dataset.
"Verbal communication" may be just another way of asking for "excellent communication skills," though specifying verbal suggests the position will involve speaking with individuals one-on-one or in groups.
UK: Employment law
In the United Kingdom, employment law was listed as a top 10 skill. While it also among the second tier skills in the US, as the date of Brexit nears, it's not surprising that employment law is an important skill for UK companies. According to the Society for Human Resources Management, "After Brexit, the government will have control over immigration from the EU in the same way as it has currently over immigration from non-EU countries. Apart from the Settled Status Scheme, what the immigration regime will look like post-Brexit is currently unclear." An HR leader who is skilled in employment law and capable of learning and adapting quickly will be an invaluable resource.
Excellent communication skills and teamwork were also high on the unique list for the United Kingdom.
US: Productivity and supervision
In the United States, productivity and supervision were stand-out skills. Companies want an HR professional who can juggle multiple tasks, accomplishing them efficiently. Listing productivity as a skill seems like stating the obvious; no one wants someone who is un-productive. But it could also signal that the position may be for a generalist with responsibilities in many or all HR areas.
Supervisory skills likely means the company is looking to fill a more senior role, leading an HR team. Companies in the United States want someone capable of motivating a team and ensuring that they are productive as well.