PayScale has produced its 8th annual in-depth report on compensation best practices: Comp is Culture. If you have anything to do with paying people – so, that's virtually every manager, everywhere – reading this report will be well worth your time. Even though I'm not an HR professional, much less a compensation professional, I found it fascinating. Especially the impact that compensation practices have on organization culture.
For more on compensation and culture and what the PayScale report calls "The Corporate Chasm" see "Your Comp Plan Is A Reflection Of Your Culture."
The report is based on responses gathered in November and December, 2016 from 7,700 respondents, of which 5,136 were in the U.S. and 641 in Canada (as well as respondents in Australia, India, South Africa, the United Kingdom, and others); 12% worked for enterprise organizations (5,000+); 13% large organizations (750-4,999); 29% mid-sized organizations (100 – 749); and 46% small organizations (1-99).
Not surprisingly, the report identifies the following as the biggest talent- and culture-related challenges in 2017:
Finding and growing great talent
Employee retention/engagement – large number of retirements anticipated in 2017 as well as continued millennial job-hopping
Competition from younger stage tech startups
Hiring and retaining the right employees in the face of high growth
The fierce talent competition shifting the balance of power to candidates
Improving company culture and fighting attrition for newly trained employees.
The picture here is clear: [clickToTweet tweet="The war for talent hasn't abated. In fact, in may just be beginning in earnest." quote="The war for talent hasn't abated. In fact, in may just be beginning in earnest."]
As it relates to pay practices and culture, the PayScale research found the following:
When it comes to pay, only 20% of employees said they were paid fairly, whereas 44% of employers said their employees were fairly paid.
In a similar vein, employers were significantly more inclined to say their employees were appreciated at work (64%), whereas only 45% of employees said they felt appreciated at work.
A question around pay transparency revealed more of the same – 31% of employers said their company had a transparent pay policy, whereas only 23% of employees agreed.
There are a number of discussions and supporting graphs to keep even the most nerdy among us engaged, but these discussions and graphs are also easily understood and the information flows simply and logically. There's a lot here, and it's all good.
Being focused on all things relating to organization culture and leadership's impact on it, I found the following chart very interesting: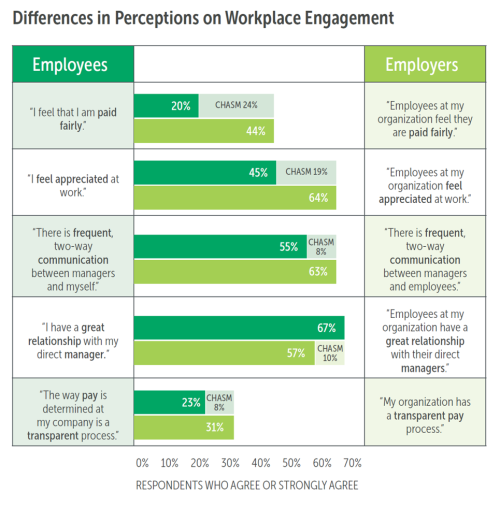 There are two points here that are worth pondering if you think the data might apply to your organization:
The percentage of respondents in both the employees and employers categories who agree or strongly agree on all five statements is higher than might be expected, with the exception of the final statement.
Only one statement has a higher percentage of agreement from employees than from employers – and it's the statement about the state of the employer/employee relationship. Employees report that their relationship with their manager is stronger than the managers report. With rising turnover and many organizations struggling to increase retention, who saw that coming?
This report covers the waterfront in terms of compensation practices, their impact on culture, and employees' perception of many of the aspects of their pay. There are a number of surprising nuggets of information that could impact your organization's compensation practices. It's not an easy read, but it's a good read. I recommend you spend some time with it.
This originally appeared on China Gorman's blog at ChinaGorman.com.