Ending the year much as it began, employers hired a modest 156,000 new workers in December, bringing the total for 2016 to 2.16 million new jobs. In 2015, employers added 2.74 million.
While this morning's jobs estimate from the Labor Department came in lower than the 180,000 analysts in a Bloomberg survey were expecting, the report confirmed what economists had been

predicting for some time: Hourly wages for all non-farm employees rose by an average of 10 cents during the month. For the year, the government said hourly earnings rose by an average of 2.9%. That's the largest increase since the start of the recovery.
"With the unemployment rate down and the labor market tighter, you would expect to see wages move higher and that's what the data is showing," Michael Gapen, chief United States economist at Barclays, told The New York Times.
With the decline in unemployment — the rate inched up in December to 4.7%; it was 5% a year ago — and a labor force participation rate that is one of the lowest in 40 years, employers are finding it difficult to fill jobs.
Another measure of under- and unemployment declined slightly in December to 9.2% from 9.3% the month before.
SHRM's LINE report shows hiring difficulty in the service sector rose by 3.4 points in December. The percent of employers saying recruiting is getting more difficult has been rising each year since at least 2013.
"Many HR professionals are still having challenges with talent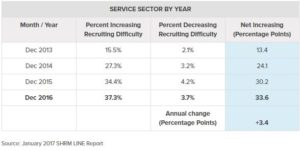 management and recruitment," SHRM's January LINE says. 68% of the HR professionals surveyed in a report issued in June said recruiting conditions were challenging.
Still, SHRM's report says fewer companies raised new hire compensation in December when compared to the year before. December's 4.9 point drop was the first in four years.
Economists, however, predict that wages will increase in 2017 at a faster rate. Gapen told The Times he expects the average increase to be 3.5%.
The December labor report said the private sector created 144,000 of the 156,000 new jobs. As has been the case for years, the strongest growth was in health care which added 43,200 jobs.
Here's a look at changes in other sectors:
Leisure and hospitality +24,000 with nearly all the increase coming from bars and restaurants.
Financial services +13,000, most of that coming from central banks.
Transportation and warehousing +14,700
Manufacturing +17,000
Temp agencies cut 15,500 jobs