Notwisthstanding reservations about the short-term state of the US economy, statistically at least, many of the indicators we look for point to a current labor market that remains strong. Some 517,000 new jobs having been added in 2023 thus far (and counting).
In fact many HRDs will know that in the midst of this, the US continues to experience severe labor shortages.
To try and mitigate this, I see many employers either preparing to – or are currently rolling out – more robust benefits plans in order to find some way to stand out in this competitive market.
This includes introducing pharmacy benefits plan offerings – whether they be prescription coverage with some form of co-pay agreement; prescription coverage after meeting a deductible or prescription coverage with a spefical prescription drug deductible.
It's not difficult to see why.
Data has long suggested that more than 131 million people, or some 66% of all adults in the United States, regularly use prescription drugs.
But recent CivicScience poll results (2023) also find that number of US adults who report taking at least one prescription medication per day is now 70%, a 14 percentage-point increase from 2019 data.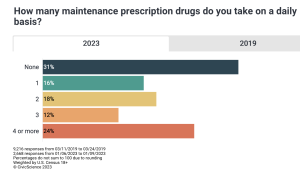 And, more worryingly, nearly one-quarter (24%) of US adults prescribed prescription medication have skipped taking medication due to cost in the past year.
But is offering this benefit a good thing?
Offering assistance to staff with their drug costs seems sensible.
But I believe human resources leaders still must consider all sides of the coin when it comes to pharmacy benefits.
First is the question of whether it is beneficial to offer a fully- or self-insured pharmacy plan. [Pro tip: if properly set up, self-insured plans cost sponsors less than fully insured plans]
Second, if a self-insured employer offers a premium plan, they'll need to evaluate opportunities to control costs as drug spend continues to increase and insurance premiums rise rapidly.
However, if a robust plan is not offered, it could mean devastating effects on an employee's health — and in turn, work productivity and business operations.
The cost of not having a robust pharmacy benefits plan
The cost of prescription medications are rising at alarming rates, with little to no signs of this slowing down – despite regulatory efforts we might hear about.
Specifically, specialty medication costs currently account for 50% or more of most employer plan's total drug spend.
And the specialty-drug market is only expected to hit new heights and reach $310 billion this year.
So with the market expected to increase, is there a benefit for a self-insured employer to consider offering a robust pharmacy benefits plan?
Put simply, yes.
A robust pharmacy benefits plan could mean the difference between an employee getting the care they need to perform at full capacity, or an employee skipping out on proper treatment to manage their condition that could lead to adverse health effects and lower productivity levels at work — ultimately impacting a company's ROI.
Remember, with medication non-adherence also rising due to consumers being unable to afford the prescription drugs they need, this too could be detrimental to an employee's health.
In some cases, not taking the right dose or foregoing treatment can have negative effects on a person's condition — running the risk of disease progression with prolonged treatment or even hospitalization.
Is there an option to have it all with stop-loss insurance?
Leaders shouldn't have to choose between an employee's health and their company's profitability. Despite its cost-saving benefits, in a self-insured benefits model, it can sometimes feel like both outcomes are not achievable as the liability risk of being hit by a catastrophic claim becomes real.
All it takes is one new diagnosis, a child being born, one new hire or a number of other very common scenarios — making it not a matter of if, but a matter of when such an event will occur.
That's when a business might introduce a layer of protection such as stop-loss insurance designed to protect against large, unpredictable high-cost specialty pharmacy claims.
Unlike traditional insurance plans, stop-loss contracts put an employer's needs first rather than the member.
In this model, an employer can be reimbursed for costly drug claims that exceed a determined amount. Therefore, an employer is able to offer the benefits plans their employees want (and need), to achieve a better quality of life, and recoup the improved work performance, this will bring, while avoiding the risk of bankrupting their business.
However, even stop-loss insurance is not a holistic solution that is free of limitations.
For instance, contracts are typically limited to the current year before a big claim is "lasered" out.
This can leave an employer exposed to high costs the following year — potentially blowing up an employer's plan budget.
Thankfully, there are areas of opportunity to fill such gaps left by traditional insurance options such as supplemental pharmacy stop-loss insurance for catastrophic specialty drug claims.
So, before your company nails down a strategy for its pharmacy benefits plans, consult an expert that truly understands your business and employee needs to find a right-fit solution.
Even if your health insurance plan is already locked-in for the rest of this year, there are still options to further build your pharmacy benefits package to meet your company's individual needs as the labor market continues to shift.