Fortune's 2019 100 Best Companies to Work For list was posted on Valentine's Day. That's highly appropriate, when you think about it, because to get on this list your employees really have to love your organization. The winners are selected according to a rigorous application process that includes an employee engagement survey, which counts for two-thirds of the final score. Companies on the list nearly always have more than 90% of employees saying that theirs' is a great place to work.
How many people you know would give their employer a valentine?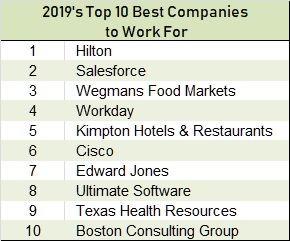 I'll be going to the 2019 Great Place to Work For All Summit next week and I'll learn more, specifically, about what companies are doing to earn all that love. But I've been helping organizations like these (including many on this year's list) tell their stories for years, so I don't expect too many surprises. Here are a few things I already know about what makes most 100 "Best" companies stand out:
Their ethics are genuine — Leaders at every level don't just parrot a list of values, they model them, and are held accountable for doing so. In the best organizations, the values themselves are decided on by a democratic process that brings in the voice of employees.
They are mission-driven… — These organizations have a strong sense of what they do better than anyone else, and why they are on this earth to do it.
… And everyone is part of the mission — Employees at every level, in every position, share that sense of mission and understand the role they play in it. We're talking the shopping cart collectors at Wegmans, or the housekeeping staff at Mayo Clinic.  Everyone. And do I really have to spell out that this includes people of every gender, ethnicity, state of physical ability, etc?
Employees are compensated fairly… — Pay policies are even-handed and transparent, and — in the best organizations — rigorously analyzed to ensure equity across gender. Plans are in place to give employees a share of the profits. Benefits policies are not stratified—sure, some perks like vacation time increase with length of service, but any policy differences are not based on role or pay structure (i.e., hourly vs. salaried).
…And their successes are celebrated — The best organizations have both formal and informal cultures of recognition. There are awards ceremonies, trophies, and prizes. Managers thank employees regularly and often there is a system for peer appreciation. Teams take the time to enjoy their successes, and when the organization has a win, everyone celebrates.
Communication is robust — I spend a lot of time shouting this one  from the proverbial rooftops, but it can't be said enough. Organizations that are loved by their employees communicate candidly, authentically, and often. They also listen. Communication goes both ways at these organizations, with employees at every level knowing that if they have a question it will be answered, if they have a comment it will be heard, and if they have an idea, it will be taken seriously.
They believe in development — In these organizations, employees get the education and training they need to both do their jobs and to grow in their careers. They may even feel good about the performance review process (a stretch, I know), because it's less a tedious and potentially humiliating bureaucratic task, and more an opportunity to set personalized, reachable goals and be given the resources to achieve them.
They are good citizens… — Employees feel good about working for organizations that give back to their communities — especially if it is hands-on, and employees are included. The best organizations offer individuals or teams opportunities to make decisions about what causes to support, offer paid time to volunteer, leave room for pro bono work, and encourage fundraising activities.
…and recognize people have a life — These organizations give employees as much control as possible over their own time—the flexibility to do their work where and when they see fit. Workloads are reasonable, with long hours and weekend work the exception, not the rule. Both men and women are given the paid time they need to grow and care for their families, through generous parental leave policies, and ideally other supports are in place, as well: back-up dependent care programs, concierge services, lactation support, and so on. (Not all of these have to break the bank, by the way.)
Of course, not every organization on the 100 Best list has every one of these down pat. But they've done enough to inspire the love of their employees, and that's really saying something. Happy Valentine's Day, every day.